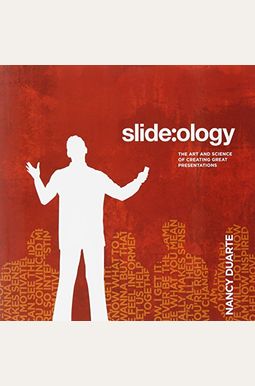 
 
Slide: Ology: The Art And Science Of Creating Great Presentations
Book Overview
No matter where you are on the organizational ladder, the odds are high that you've delivered a high-stakes presentation to your peers, your boss, your customers, or the general public. Presentation software is one of the few tools that requires professionals to think visually on an almost daily basis. But unlike verbal skills, effective visual expression is not easy, natural, or actively taught in schools or business training programs. slide: ology fills that void.

Written by Nancy Duarte, President and CEO of Duarte Design, the firm that created the presentation for Al Gore's Oscar-winning film, An Inconvenient Truth, this book is full of practical approaches to visual story development that can be applied by anyone. The book combines conceptual thinking and inspirational design, with insightful case studies from the world's leading brands. With slide: ology you'll learn to:


Connect with specific audiences
Turn ideas into informative graphics
Use sketching and diagramming techniques effectively
Create graphics that enable audiences to process information easily
Develop truly influential presentations
Utilize presentation technology to your advantage
Millions of presentations and billions of slides have been produced -- and most of them miss the mark. slide: ology will challenge your traditional approach to creating slides by teaching you how to be a visual thinker. And it will help your career by creating momentum for your cause.
Frequently Asked Questions About Slide: Ology: The Art And Science Of Creating Great Presentations
Book Reviews
(12)
Did you read Slide: Ology: The Art And Science Of Creating Great Presentations? Please provide your feedback and rating to help other readers.
Daily driver if you can think critically

Derived From Web

, May 16, 2022

Couldn 't help, but precisely counter some negative reviews on their criticism. I can agree that it isn 't bad, but that isn 't a didactic and linear thing. If you feel disorienting topically, it can feel good. If you find the ideas and work through it, what you accept is that you circle back to the ideas earlier and things hang in amazing ways together. What is more, since it is not trying to create a linear progression, I find pieces I can pull as focus areas and work through. When I go into a new area, I use the material of your audience to center. When I work on creating templates for various streams, I first start with knowing the brand and then progress through the palette, font and graphical styles. When I am stuck on trying to design a concept, I go to the metaphors of design. For the past 8 years, I have worn this book as a daily driver to center how I communicate.
Post PowerPoint era has finally arrived

Derived From Web

, May 16, 2022

Don 't get me wrong, I love Microsoft and admire how it has changed the world more than 20 years ago, but PowerPoint reached the creativity limit that falls behind the expectations of the users. New tools like PREZI and others are popping up and delivering creative approaches and methods, aiming at keeping the audience interested in content. The beauty of this book is that Nancy Duarte gives life back to PowerPoint unintentionally by giving us the basics of presentation art. I have been presenting things to the business audience for nearly 30 years and i wish I had a fraction of Nancy's book, my life would certainly have been easier.
A guide to presentation mastery

Derived From Web

, May 16, 2022

Nancy Duarte is known as a master of slide presentation. She creates presentations for Al Gore and Steve Jobs, among others. And this book does not disappoint. If you want to take your presentations to the next level, take a look at this great book for practical advice and some beautiful full-color examples of presentations done right!
Good tool

Derived From Web

, May 16, 2022

I make a lot of presentations and therefore it was very useful for my work and my surroundings. It really liked it.
Katallac

Derived From Web

, May 16, 2022

I found this book very thoughtful and thorough in its approach to the science of presentation ''. It takes the average trainer from dull boring bullet points to understanding color, eye movement and inspirational visuals, fortified with all the science behind the way people learn visually.
presentation must have

Derived From Web

, May 16, 2022

Last research book for creating good presentations. The ideas and images show how to create a presentation that is interesting, meaningful, and impactful!
Must have for presenters

Derived From Web

, May 16, 2022

This book has been loved. It is even valuable for seasoned presenters. Even if you have done hundreds or thousands of presentations, there are wonderful insights and a ton of valuable resources.
Learn How to Make Exciting Slide Presentation

Derived From Web

, Jul 14, 2020

When we do it, we then do the same thing, with the same results. I have webinars and do for over 14 years. I was able to use some of her techniques immediately to improve my webinar presentation.
Good Information, Difficult to Read, Poor Typography Choices

Derived From Web

, Jan 4, 2020

After hearing about the author's references, I purchased the book. The content of the book is very good with many useful insights on how to prepare better slide-based presentations, but I have found what is a significant problem for me. The font choice in size and color makes the book in general room light nearly unreadable by even the sharpest youngest eyes. Under direct light from a desk lamp, the pages can be read, but the ink has such a shine that I am always tilting the book one way or another to eliminate the glare on the paragraph that I am reading. For a book offering suggestions to improve the presentation design, I am puzzled by the design choices made for the publication itself. An attractive layout induces eye strain.
Content is 5 Stars but the Form Factor is 2 Stars

Derived From Web

, Feb 25, 2019

Content left with 5 stars, but the form factor of the book is MUCH to be desired. Beautiful binding and everything but the print on the page was way too small. The author or publisher sacrificed readability to have a lot of white space on the pages. Consequently, many of the illustrations with texts were very difficult to read and the whole book was hard on my eyes. Great content, though, and definitely recommended.