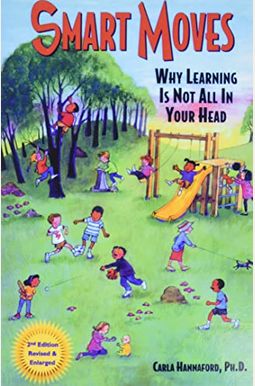 
 
Smart Moves: Why Learning Is Not All in Your Head, Second Edition
Frequently Asked Questions About Smart Moves: Why Learning Is Not All in Your Head, Second Edition
Book Reviews
(9)
Did you read Smart Moves: Why Learning Is Not All in Your Head, Second Edition? Please provide your feedback and rating to help other readers.
A Practical and Courageous Book

Derived From Web

, May 26, 2022

This book talks quite courageously about the causes of the problem, since it seems somewhat taboo these days to question our frantic pace and de-humanizing style of life. More to the point, she provides a number of excellent measures to rectify the problem. These measures are not transformative solutions in the sense that trying them once is instant, but some effect should be seen in the beginning and the effect builds with continued practice. We are so disengaged from these systems that we don 't recognize the maneuvers that wake them up.
Really fascinating

Derived From Web

, May 26, 2022

I really enjoyed the book, which gave me a good understanding of brain development and the connection it has to movement. Strangely '' I found it a page turner, because the information was so interesting and explained succinctly.
Solid information

Derived From Web

, Mar 20, 2022

I think the book may lean towards educators as the audience, which is great except I had a little bit of hard time reading parts of it.
Ideas for keeping kids moving

Derived From Web

, Apr 9, 2020

This takes me a while to read because it is so full of interesting ideas and factual evidence. As a teacher for 30 years, I know how important it is for my students to move and integrate new learning, and this book is full of ways for students to learn and body code.
Good info but have to focus some medical info detailed reading

Derived From Web

, Feb 20, 2020

Lot's of information, but overall, helpful to understand why some children learn differently than others and what we can do to help them.
Free excercises for the brain

Derived From Web

, Dec 4, 2019

The book is in newexcellent condition very small writing, but the diagrams labels are readable as well. Just started reading it, reading it. If it is helpful, then it is worth it, THIS IS NOT NEW OR USED OVER PRICED. Considering the free exercises you get.
Fascinating AND Practical Read

Derived From Web

, Mar 13, 2019

This has proven extremely useful with exercises and other suggestions that I can incorporate immediately into our day.
You Have to Move to Learn

Derived From Web

, Oct 24, 2018

This is an outstanding resource for anyone who wants to understand how the brain functions in general and how cross lateral movements in particular facilitate communication between the brain hemispheres. It is full of examples of how Brain Gym TM and similar physical movements can help in learning and neuroplasticity. I'm 68 and taking a Brain Gym TM class and these simple movements are very helpful to me, especially in helping me to become calm and focused. The only downside of the book, in my opinion, is that the author draws the illustrations of the brain and the images are not as good as they could be.
Good background material

Derived From Web

, Apr 3, 2017

Great book about the connection between the mind and the body. Haven 't completed yet, but so good so far. I may also invest in the book Brain Gum as a good investment.