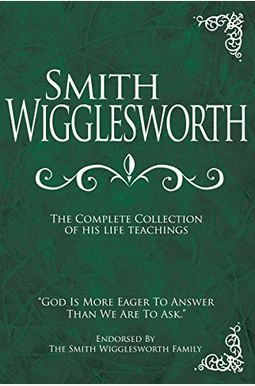 
 
Smith Wigglesworth: The Complete Collection Of His Life Teachings
Book Overview
God confirmed Smith Wigglesworth's ministry through powerful signs and wonders. A few of these included the restoration of hearing and sight, the creative formation of missing limbs, the disappearance of cancerous growths, the recovery of mental wholeness by the violently insane, and the raising of several people from the dead. His words continue to provide spiritual, financial, emotional, and physical healing as they inspire and build faith.
You, too, will find that you can:
Do exploits for God
Conquer fears that have defeated you
Receive the Master's healing touch
Take authority over Satan
Be an effective soul winner
Find God's power for daily living
Frequently Asked Questions About Smith Wigglesworth: The Complete Collection Of His Life Teachings
Books like Smith Wigglesworth: The Complete Collection Of His Life Teachings
Book Reviews
(16)
Did you read Smith Wigglesworth: The Complete Collection Of His Life Teachings? Please provide your feedback and rating to help other readers.
Clear, Solid, Inspiring Words

Derived From Web

, Jun 4, 2022

I have been inspired by this book, encouraged and led by God in the ways of the Holy Spirit and his Holy Spirit, again and again. There is a very genuine and humble tone to Wigglesworth's words, and he expresses awe at the things he was blessed to experience. Strongly recommended to anyone who wants to delve deeper into the mysteries of God, where we learn to trust Jesus Christ more, and to surrender control of our lives so that the Presence of Jesus Christ will flow from us daily into a hurting world.
Smith Wigglesworth

Derived From Web

, Jun 4, 2022

I have never read a book other than the Bible that spoke the truth like this. He heard God and he obeyed God and moved in his life and worked through him because he let him have complete control over his life. If you want to know God and how to serve him, this is a book to read and keep and over and over its more than a guide to how to serve God.
I found a modern man that God could fill by His Spirit - Smith Wigglesworth!

Derived From Web

, Jun 4, 2022

This is the most relevant book I have read separately from the Bible! A little over two years ago, God opened me to Wigglesworth's ministry and writings and since then I have never been the same! Eventually, I decided to buy this complete collection from Roberts Liardon. Amazing man of God, who fully trusted God, died to himself, so that God would be magnified in his life. God allowed Him to sculpt him into a vessel in which he could live richly by His Holy Spirit! Wigglesworth is my number one mentor in my Christian walk, without question among God's children in the last two hundred years! It is my prayer that the Lord will mold many of His children, including me, into vessels in which he can dwell richly to show His love, compassion, salvation, and power to a lost world, to a depraved generation! God's Glory!
Insight into the Heart of a Man of Great Faith

Derived From Web

, Jun 4, 2022

I was interested in several of Smith Wigglesworth's books and decided to get this collection of his sermons instead. I have been very happy. The sermons are compiled in chronological order and reveal the extent to which this holy man was constituted by and led by the Holy Spirit. The sermons contain inspirational and uplifting stories, providing examples to support the lessons they contain. Disproves the theory held by some denominations that Christ 'apos ; apostles and disciples could only perform regular miracles.
A Wonderful and Powerful Book

Derived From Web

, Jun 4, 2022

I ordered this book as a gift for my father, who read Smith Wigglesworth when he was a young man, and never knew that he could get access to this literature today. He was a little shocked when I gave him this as a Christmas gift a few years ago. He has read and re-read and studied and emphasized this book over and over and he gets tears in his eyes when he talks about this book. He has told me that this is the best gift ever given to him and his favorite book ever in addition to his Bible, of course.
Be prepared for BIG FAITH

Derived From Web

, Jun 4, 2022

Be prepared to learn closer to God and grow more than you ever knew about the Holy Spirit! Amazing, amazing stories that ignite your faith! A great book to have in general is to really bring excitement and great faith into your relationship with God. If you have a need in your life that you want to grow your faith for, buy this book!
This thing is great. Entries are short - reads like a devo ...

Derived From Web

, Jun 4, 2022

This is great news : Entries are short reads like a Devo, like Smith is delivering a complete sermon in 4 pages. In general, very good resource, but also a neat glimpse into the relationship between Smith and God.
5 Stars on Indepth spiritual truth very rich in content ...

Derived From Web

, Jun 4, 2022

5 stars on Indepth Spiritual Truth : Very rich in content. Wigglesworth was a very dedicated man. The reason I give it 2 stars is that the binding has begun to loosen some of the pages have started separating. I had the book for 3 months.
This amazing man learned to seek GOD fully

Derived From Web

, Jun 4, 2022

This awesome man has learned to fully seek GOD. Therefore he was FULLY used... His faith, trust, and actions stand for ALL who claim GOD!!! to know and love! Then ask yourself for the rest of us to follow his example.
A Faith Giant

Derived From Web

, Jun 4, 2022

Each selection stimulates my faith and I find myself a little rocky in my walk. Mighty men of God, who have gone before me and call me through the Word of God to achieve higher things.