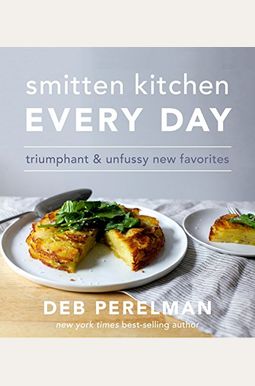 
 
Smitten Kitchen Every Day: Triumphant And Unfussy New Favorites: A Cookbook
Book Overview
The perfect Mother's Day gift for any mom who loves to cook.
Deb Perelman, award-winning blogger and
New York Times
best-selling author of
The Smitten Kitchen Cookbook
, understands that a happy discovery in the kitchen has the ability to completely change the course of your day. Whether we're cooking for ourselves, for a date night in, for a Sunday supper with friends, or for family on a busy weeknight, we all want recipes that are unfussy to make with triumphant results. Deb thinks that cooking should be an escape from drudgery.
Smitten Kitchen Every Day: Triumphant and Unfussy New Favorites
presents more than one hundred impossible-to-resist recipes--almost all of them brand-new, plus a few favorites from her website--that will make you want to stop what you're doing right now and cook. These are real recipes for real people--people with busy lives who don't want to sacrifice flavor or quality to eat meals they're really excited about. You'll want to put these recipes in your Forever Files: Sticky Toffee Waffles (sticky toffee pudding you can eat for breakfast), Everything Drop Biscuits with Cream Cheese, and Magical Two-Ingredient Oat Brittle (a happy accident). There's a (hopelessly, unapologetically inauthentic) Kale Caesar with Broken Eggs and Crushed Croutons, a Mango Apple Ceviche with Sunflower Seeds, and a Grandma-Style
Read More chevron_right
Frequently Asked Questions About Smitten Kitchen Every Day: Triumphant And Unfussy New Favorites: A Cookbook
Book Reviews
(9)
Did you read Smitten Kitchen Every Day: Triumphant And Unfussy New Favorites: A Cookbook? Please provide your feedback and rating to help other readers.
Unapologetic recipes for beginners or professionals.

Derived From Web

, Jan 6, 2022

I first found Ms. Perelman's recipe when I went looking for a chocolate cake recipe. What a video! She was what hooked me forever. It's Tuesday, right? It takes two hours to make a cake. Got a new neighbor? It takes two hours to make a cake. Her recipes are not overly complicated and can be made with most grocery items you'll find in a store. Substitutions are fine, changing the quantities of items in the recipe, Melissa said. She says her recipes are designed to bring joy and not frustration into the kitchen. Great photos and clear instructions, Mr. D'Antonio said.
Fun things!

Derived From Web

, Jan 6, 2022

I love the simplicity of the book and the down to earth attitude of the author.
I'm afraid I gotta agree with the other negative reviews

Derived From Web

, Oct 19, 2021

It's a terrible idea to buy a dishwasher without reading the reviews first, based on loving almost everything about it. I thought the Everyday in the title would be my ticket to great weeknight meals. I don't consider grilled squid, chicken under a brick, street food style chicken and rice with about twelve steps to get it ready to serve, or anything involving wonton wrappers, to be truly Asian. It's also heavy on deserts. They are great weeknight meals, too.
Going to return it

Derived From Web

, Nov 10, 2018

It should have the trusted reviews where it has low ratings. Not much I would actually want to make of it, Mr. Rule told the judge. Sorry, Deb, love your blog but this book, not so much.
Fussier than advertised

Derived From Web

, Sep 25, 2018

Second, I love Deb. Her blog is my favorite and the first resource I check when trying a recipe. It's a book, not an everyday cookbook. It's frustrating when I read an introduction saying that dinner will be done in 30 minutes, then read the recipe, and realize that it will take well over 90 minutes. I love the meatballs, but they take forever. Same goes for so many of these recipes. The original book was a lot better.
that I have tried from Smitten Kitchen - the website or her books - has been awesome, and I either have made

Derived From Web

, Apr 25, 2018

Only in the past few weeks have I come to fully trust her. Yes, I am exaggerating when I say that every time. McCartney, who has battled drug problems, released a statement Wednesday night: "I am very pleased with the results of the recent U.S. Supreme Court case involving the rape of a young woman by two New Jersey police officers." This recipe calls for two parts: browning and seasoning. that I have tried from Smitten Kitchen — the website or her books — has been awesome, and I either have made, or will make, more than once, she said. She is a true writer, super entertaining and not OMG THIS IS THE BEST RECIPE EVER!!! It's just that you will love it. She has promised me she will buy every cookbook she writes until she dies. I know this sounds exaggerated, but I have tried many new techniques through following this cookbook and the blog, and I will always be grateful!
Great for dietary restrictions, people with kids, or busy folks just craving delicious + simply weeknight meals

Derived From Web

, Mar 8, 2018

This was our recent choice for my monthly cookbook club and I've loved all the recipes our group made so much that I ran out and bought the book the next day. Easy, everyday recipes that we can make on a busy weeknight. One of my kids has a medically restricted diet that emphasizes fruits and veggies, and this book has been easy to adapt for him. Almost everyone I know has a dietary restriction in their house and really love that this book has an index at the back to help you find recipes inside that are dairy-free, gluten-free, etc. This is an excellent book for homecooks with kids – although there are plenty of fun recipes for people without kids too. My kids have not turned their noses up at a single recipe, even though it's a homerun in our house.
THIS IS MY FAVORITE. Deb has done it again with the delicious

Derived From Web

, Jan 17, 2018

FAVORITE? And those blueberry muffins.
I have Deb's first book and just love everything she does

Derived From Web

, Jan 6, 2018

I have her first book and she just loves everything about it. Really, really wonderful food, Mr. Dhaliwal said. If you don't have the first book, go for it. If you think this is a bad idea, you won't regret it.