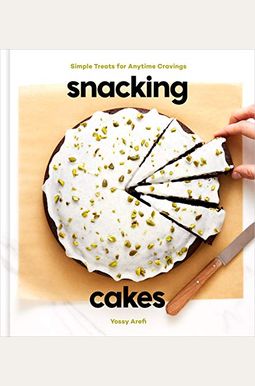 
 
Snacking Cakes: Simple Treats for Anytime Cravings
Book Overview
Find sweet satisfaction with 50 easy, everyday cake recipes made with simple ingredients, one bowl, and no fuss.
NAMED ONE OF THE BEST COKBOKS OF THE YEAR BY BON AP TIT AND ONE OF FAL'S BEST COKBOKS BY THE NEW YORK TIMES AND FOD & WINE
Snacking Cakes] hits the sweet spot. . . . Cake for breakfast? Yes, please --Martha Stewart Living
In
Snacking Cakes
, the indulgent, treat-yourself concept of cake becomes an anytime, easy-to-make treat. Expert baker Yossy Arefi's collection of no-fuss recipes is perfect for anyone who craves near-instant cake satisfaction. With little time and effort, these single-layered cakes are made using only one bowl (no electric mixers needed) and utilize ingredients likely sitting in your cupboard. They're baked in the basic pans you already own and shine with only the most modest adornments: a dusting of powdered sugar, a drizzle of glaze, a dollop of whipped cream. From Nectarine and Cornmeal Upside-Down Cake and Gingery Sweet Potato Cake to Salty Caramel Peanut Butter Cake and Milk Chocolate Chip Hazelnut Cake, these humble, comforting treats couldn't be simpler to create. Yossy's rustic, elegant style combines accessible, diverse flavors in intriguing ways that make them easy for kids to join in on the baking, but special enough to serve company or bring to potlucks. Whether enjoyed in a quiet moment alone with a cup of morning coffee or with friends hungrily gathered around the pan, these ever-pleasing, undemanding cakes will become part of your daily ritual.
Frequently bought together
Frequently Asked Questions About Snacking Cakes: Simple Treats for Anytime Cravings
Books like Snacking Cakes: Simple Treats for Anytime Cravings
Book Reviews
(14)
Did you read Snacking Cakes: Simple Treats for Anytime Cravings? Please provide your feedback and rating to help other readers.
Only complaint? I wish there were more recipes because they're just that good!

Derived From Web

, Jun 20, 2021

This book is really cool and its publication was really timely. During the Pandemic we all needed comfort and many of us turned to baking to find that. I turned to a lot of awesome baking books that I already owned to make cakes for birthday parties that consisted of myself, my husband and my mom. A three-layer cake was just too much for such a small gathering and so much went to waste. And I did not feel good about myself for having to throw so much away. It literally made my heart hurt! This book has changed everything for me! Many of the recipes use ingredients that I usually have on hand, and can be made in a bowl. Even now that things are starting to reopen, I still think I'll turn to this book for small parties and gatherings, because the recipes are just that good. And they're simple and small enough that I can make a small cake for the week ahead and not worry about any of it going to waste. It's a win-win situation.
Don't buy this book if you don't know how fix poorly written recipes.

Derived From Web

, Apr 29, 2021

I baked three cakes from this book, one twice. One turned out well and the others were Abject failures. I am a seasoned and careful baker who weighs and measures ingredients carefully. There seems to be a serious problem with the dry to wet ratios in many recipes. Batters that are supposed to be thick enough require leveling before baking come out as thin as pancake batter. After coming out of the oven, they look cool immediately, but collapse before they are beautiful.
Six stars! Seven! Eight!

Derived From Web

, Feb 18, 2021

My daughter and I cook from this ridiculous amount. Like, three cakes a week? Ridiculous is not Ridiculous. But it's incredible. Simple. One Bowl Bowl. Ingredients in weights as well as measures. Given lots of variations, lots of variations are given. Tons of usable different recipes. We usually halve the sugar or even less and because it is winter often use suggested variations when it comes to summer fruits. I have used a lot of cookbooks, but this one is more than any other.
Like the concept, flavor, not so much.

Derived From Web

, Feb 4, 2021

I love the idea of a simple and easy cake to make, but after making the Cocoa Yogurt cake, I am unimpressed. It was fine and the texture was moist. The recipe was easy to follow. It was easy to prepare. But... so aggressively chocolatey as to be almost unpleasant and actually lacked sweetness, which is a first for any cake recipe. I substituted a plain vanilla frosting and without it, I think it would have been almost inedible. May try another recipe just to see, but I don 't think that my palate corresponds to that of the author's.
Terrific!

Derived From Web

, Jan 23, 2021

I made at least six cakes in this book and each has been fabulous! Neither too wet nor too dry I thought I, and my family members to whom I have given them thought they were delicious and not too sweet. I love all variations round cake, square cake, loaf cake, and all the different glaze options. There are so many different flavors of which to choose from. I have no problem recommending this book to any cook of any skill. The cake in the photo is Cocoa Yogurt Cake with Espresso Glaze and toasted sliced almonds by the way. Disappeared in no time flat!
Great concept, recipes good but not best

Derived From Web

, Jan 2, 2021

I like this book for a new baker looking for quick cakes. The author gives several options in the recipes for variation in the cake itself, different toppings and pan-baking times. In the back, there is even a metric conversion chart for those who use a scale. The photos are beautiful . I made 3 pb jelly cakes with penuche icing, chocolate yogurt cake and tahini cake. I was not wowed by one of them. The cakes themselves are just fine, maybe because they aren 't made with butter. The icings were better, the penguin was excellent.
Great diversity of recipes but accuracy is low

Derived From Web

, Dec 9, 2020

Since then, I have been baking for more than 40 years. And I have enough recipes in my head that I don 't necessarily have to go to a baking book for a good cake recipe. This book was recommended to me, however, and I bought it. The book has a great diversity of recipes, and some are very interesting. But, having tried 6 recipes so far, only 1 of these 6 recipes yielded a cake batter of good equilibrium consistency. All others were either too humid or too dry. Yossy Arefi did not think that she has tried some of these recipes herself. If she had, she would have known that the recipes should be adjusted to provide a good consistency of batter, especially if you want a cake that has a moist and fluffy cake character, especially if they know what a good cake batter consistency should look and feel like. Nevertheless, beginner bakers will really struggle with these recipes.
Guilt-less snacking

Derived From Web

, Nov 14, 2020

Scene : It is 7pm, your husband is upstairs putting the children to bed. In front of you, you have a warm, frosted, gooey cake. All the sudden you blink and the cake is half gone, your husband appears and looks questioningly at you. You tuck your shoulders and shrug in the other half because it doesn 't feel like you ate half a cake. The next night it's the same scene and a new cake. This book is this book and these cakes are delicious. This is the quarantine cookbook that I have been looking for.
Fabulous and flawless recipes!

Derived From Web

, Nov 8, 2020

I was impressed with this book as soon as I started reading it. The recipes are all accompanied by variations that give the book more longevity than other cake cookbooks. So far I have tried three recipes and they have all been delicious. Our favorite is the incredible salted caramel peanut butter cake. It is moist with a delightful peanut butter flavor and the icing is amazing. The author has also given directions for using unique pan shapes and sizes for each recipe, a different feature that I love. Overall, this is an excellent cookbook that I will often use!
Simple, easy, and delicious cake

Derived From Web

, Nov 5, 2020

Great book of 1 bowl of delicious cakes. I made the carrot bread and banana cake. Both were big hits with my family. Happy to keep trying all the different cakes.