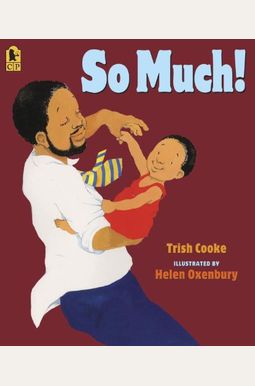 
 
Product is currently Out of Stock.
You can add it to your wishlist and you will be notified once we receive a copy.
Book Overview
This Description may be from another edition of this product.
Auntie and Uncle and Nannie and Gran-Gran and all the cousins want to hug and kiss the new baby--they all love the baby SO MUCH Illustrations by Helen Oxenbury brim with the warmth of a large, loving extended family.
Mom and baby are home alone when--DING DONG --Auntie and then Uncle and Nannie and Gran-Gran and the cousins come to visit. And they all want to hug and kiss and squeeze and eat the baby right up--because everybody loves the baby SO MUCH With Helen Oxenbury lending her characteristic warmth and humor to a most exuberant family party, Trish Cooke's rhythmic, cumulative story captures the joy of being the baby in a large extended family--a baby who knows that he is absolutely, utterly adored.
Frequently Asked Questions About So Much
Book Reviews
(10)
Did you read So Much? Please provide your feedback and rating to help other readers.
For Those Who Complain About Grammar

Derived From Web

, Jun 2, 2022

Beautiful story of a family, gathering together to celebrate Daddy's birthday while focusing on the baby. I did not care for the cousin who wanted to fight the baby, so I changed the words to my liking. Still a beautifully illustrated and written story. My two year old loves it, and after having been holding this book for nearly a month, he can already read it from front to back.
beautiful illustrations and depiction of a warm family life

Derived From Web

, Jun 2, 2022

Beautiful illustrations and the depiction of a warm family life. It is a gathering for a surprise birthday party for the dad. It is unfortunate that they chose to use fighting as one of the verbs. My kid is not yet able to read, so I just change the words to play. What is the point of introducing the concept of fighting, even of playing fighting?
My Grandson's Favorite Book

Derived From Web

, Jun 2, 2022

My daughter, being an excellent aunt, bought this book for my grandson. I love the way it is written with repititious sentences, which helps me develop reading. We have to act out though, because my grandson loves to watch some of the action in the story. We also love the pictures in the book. It is not just my grandson who loves to read from this book, we also love to read it to him. I am buying this book as part of a gift for a baby shower, where the parents have asked the attendees to forego a greeting card and instead enclose a book. What a great idea!
So Good I Had to Repurchase for my Granddaughter

Derived From Web

, Jan 7, 2022

Originally, I bought this book many years ago for my two youngest daughters. I bought this now that I am a grandmother to share it with my granddaughter. The next step to her delight is looking forward!
I want to love it…

Derived From Web

, Aug 22, 2021

... but it is so poorly written! The story is important, but I can 't read it the way it is written. I have to read the entire book to replace the proper grammar, and that is simply unfortunate. Otherwise, it is a pretty good book for children.
FYI Some aggressive language

Derived From Web

, Aug 1, 2021

My 2-year-old loves this book. I love the cast of the characters and the basic story line. I did not love some of the word choices. I've tried to fight the baby, but he slapped the baby and the baby slapped him back. Also, squeezing and purging verses. I was '' thrown off by the aggressive language... I still read it, but a more neutral language like C's instead of squashing, and tickle instead of slapfightpinch.
So Much!

Derived From Web

, May 16, 2021

The book should have been published before it was proofread and edited.
Adorable

Derived From Web

, Aug 4, 2017

Then it was addictive! I love this book so much that I have bought more than one copy and I have given copies of the book to others. I read with my former students and discussed the story with them. They also love the story. The illustrations are lush and the illustrations are colorful. Its different rhythmic patterns are shown as the story flows a gathering of relatives of cute ages that focus their attention on the baby. It shows how relatives often interact and talk in an exaggerated fashion with babies. When my cousin says, I want to hold the baby, my students discuss what means the child really. They are able to figure out what exactly means ''. It is a great book, in fact it is so great that I have to buy it again!
I love this book, SO MUCH!

Derived From Web

, Jul 18, 2017

I love this book just! I remember my brother and I found this as an absolute favorite when we were little, and my mother would read it to us every night. My two toddlers now ask me to read it every night lol. Here there are a lot of reviews that talk about the grammatical errors. Yes, there are errors, but it is geared towards the language of the toddlers. It is such a cute, sweet story. And as far as people getting mad about the I want to fight the baby part, I replace the word fight with wrestle, for my peace of mind lol. But also, it is not graphic or violent, as some reviewers are swaying. It's a big cousin who comes over to wrestle with the baby. Something that my brothers and nephews do with my son. It is a family-based and sweet, loving story.
This book is filled with so much love and written in a way that children want to ...

Derived From Web

, Jan 31, 2017

My 18th month old book, hands down. She brings it to me constantly with a smile saying Hey, Pow Pow '' at the top of her lungs. If you read the book, you will see how it becomes a favorite line from the story easily. This is really a fantastic read that celebrates love and the extended family. I highly recommend it!