Buy 3 Get 1 Free
Our Best Sale Yet! Add 4 Books Priced Under $5 To Your Cart     Learn more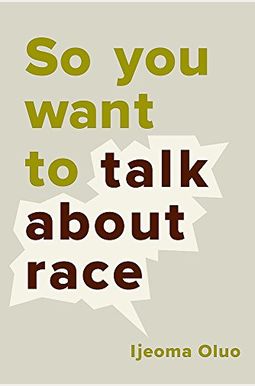  
So You Want To Talk About Race
Book Overview
In this New York Times bestseller, Ijeoma Oluo offers a hard-hitting but user-friendly examination of race in America
Widespread reporting on aspects of white supremacy -- from police brutality to the mass incarceration of Black Americans -- has put a media spotlight on racism in our society. Still, it is a difficult subject to talk about. How do you tell your roommate her jokes are racist? Why did your sister-in-law take umbrage when you asked to touch her hair -- and how do you make it right? How do you explain white privilege to your white, privileged friend? In
So You Want to Talk About Race
, Ijeoma Oluo guides readers of all races through subjects ranging from intersectionality and affirmative action to model minorities in an attempt to make the seemingly impossible possible: honest conversations about race and racism, and how they infect almost every aspect of American life. I am in awe of Ijeoma. She is the smartest, most courageous and electrifying young writer on race relations today -- the voice of our times. ―
Robin DiAngelo
,
author of White Fragility
Simply put: Ijeoma Oluo is a necessary voice and intellectual for these times, and any time, truth be told.
―
Phoebe Robinson
,
New York Times bestselling author of You Can't Touch My Hair
Frequently bought together
Frequently Asked Questions About So You Want To Talk About Race
Books like So You Want To Talk About Race
Book Reviews
(15)
Did you read So You Want To Talk About Race? Please provide your feedback and rating to help other readers.
Too repetative... good, but...

Derived From Web

, Jan 11, 2022

I was very excited to read this book ''. I was very excited to read it. The first 40 or so pages enjoyed the first 40 or so. Then it started repeating the same concept, with different words. Got it. Got it. Then it was again. Got it again... I do want to talk about race, but help me understand how to approach this from different ways, not beating me over the head with the same speech.
Education is Key to understanding.

Derived From Web

, Dec 26, 2020

Not the first book I have read on racism, but I found it to be informative. Racism has been a problem in American my whole life and much longer. I doubt that it will change much longer without putting effort into understanding it. I can only understand the insight from a perspective that I appreciate with books like this.
Educational empathy-building

Derived From Web

, Dec 12, 2020

This is a heartfelt, first-person account of the author's experience of racial discrimination, which she presents in a multifaceted way. She explains why white words and circumstances have been known to trigger a trauma response, and shows why many of the worst fears of color about their specific peers have, in fact, a strong basis.
We Must Talk about Race!

Derived From Web

, Aug 18, 2020

The writing is appropriate and focused with direct anecdotes and stories that bring the reader closer to understanding the challenges of being black. Every day, often unwittingly, those of us who are white crosses and create hurt and humiliation for our black sisters and brothers. This book helps us to become aware of the current BLM movement and helps us develop sensitivity and care on many fronts.
Great book-- awful Amazon product

Derived From Web

, Jul 27, 2020

I leave this as a 5-star review to not deter anyone from reading the book. In fact, I honestly think that EVERYONE should read this book. Ijeoma presents a real and refreshing look at systemic racism that affects the lives of so many people, but remains mostly unseen in our white supremacist culture. She sheds light on appropriate ways to discuss race as well as what we could all do to bring justice in areas of our lives. I can 't wait to recommend this to everyone I know. My kindle version was, however, extremely glitchy. Each chapter had several blank pages randomly and no matter what I did, nothing seemed to fix it. I understand that technology has many limitations, but if you're interested in reading this book, I recommend supporting a black-owned bookstore instead of throwing more money at Amazon.
READ THIS BOOK

Derived From Web

, Jul 16, 2020

Incredible. Absolutely incredible. I learned SO much ''. Honestly, I do not have words enough to express how amazing this book is. Put down your boxing gloves and READ THIS. This book will make you uncomfortable in the best way possible, it will answer your race-related questions, it will inspire you to be a better advocate for change, and it will help you become a better ally. I am not kidding when I say that this book will change your life. Come at it with an open mind and a willingness to change, and be prepared to walk away with important tools to make real change and a whole new perspective on important issues. Honestly, I can not recommend this book enough!
Divisive & dangerous

Derived From Web

, Jul 6, 2020

I am a Christian conservative first, but I follow a wide variety of voices on social media. And I agree on social media with a wide variety of people. I tend to believe that the truth is found somewhere in the messy middle, rather than on a side or the other. I have been recommended this book by several trusted Christian black voices. I went with an open mind, wanting to learn something new. However, I stopped reading it about half the way through because it made me so angry. To say that all white people are racist and that other races can not be racist is racist, demeaning, divisive and dangerous. And above all, if you are a Christian, it is against the Gospel and against Christ. Instead of reading this book, I encourage everyone to listen to Voddie Bauchaum's sermon entitled Ethnic Gnosticism instead of reading it. He offers a very balanced and Christ-centered approach to this topic.
Very disappointing read

Derived From Web

, Jul 5, 2020

With the recent protests, marches, the political polarization in our country, I was looking for some books to give insight into real concerns and real issues. I am interested in learning more about racial inequality, perspectives from the dis-enfranchised, how to have a conversation and how to make things better. This book, however, contributes little to these goals. This was the most racist book I've ever read. It was a difficult book to read because her every view is biased and racist. Any slight, actual or perceived, is made a statement on racism. And finally, towards the end, she says outright that if you are white, you are a racist. Well, there you have it. In discussion there is no room for you. She labels you a racist just because of the color of your skin. I feel sorry for her. Need to look elsewhere for well thought out discussion on racial issues.
Outstanding!

Derived From Web

, Jun 24, 2020

Oluo articulates our lives as we live them, so if you want to talk about race. I learned words in my own life, where my pain and rage felt soul destroying. It helps to see the systemic racism we have accepted and internalized without words. It helps to be able to feel that there is an opening of the minds that have been closed for centuries. It helps most of us to read, see and feel that there is a better way to live together and is attainable.
Wow! What garbage!

Derived From Web

, Jan 22, 2020

Nothing but straw man arguments and stories once upon a time. I have received nothing from reading this book. Wasted of time completely.