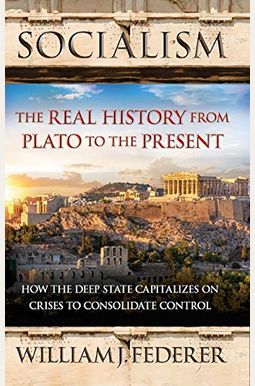 
 
Socialism: The Real History From Plato To The Present: How The Deep State Capitalizes On Crises To Consolidate Control [With Paperback Book]
Book Overview
SOCIALISM: THE DREAM OF AN IDEAL SOCIETY? Is it a wonderful utopia or a totalitarian nightmare? Will everything be free or will deep-state bureaucrats decide who gets what? Did Plato, Thomas More, & Francis Bacon propose social ownership of property? Is there a difference between socialism and communism? Did Pilgrims attempt a communistic plan of life? What happened? How did the Pilgrims' covenant under God become the Age of Enlightenment's social contract with a distant God, become the French Revolution's social contract with no god, become Marxism's the state is god? If the state gives rights, it can, and inevitably will, take away those rights-Eisenhower. Was France's Reign of Terror a model for future violent socialist revolutions? The Bible talks about private property, yet Marx wrote: The theory of the communists may be summed up in the single sentence: Abolition of private property. Coolidge wrote: It does not follow that because something ought to be done, the national government ought to do it. What did socialism do to Russia, Romania, Poland, Hungary, China, North Korea, Cuba, Cambodia, and Venezuela? What are honor-shame cultures? What are the group dynamics which can manipulate individuals with peer-pressure to surrender their private views to fit in with a group. Who was Joseph Goebbels, who said: Think of the press as a great keyboard on which the government Read More chevron_right
Frequently Asked Questions About Socialism: The Real History From Plato To The Present: How The Deep State Capitalizes On Crises To Consolidate Control [With Paperback Book]
Book Reviews
(7)
Did you read Socialism: The Real History From Plato To The Present: How The Deep State Capitalizes On Crises To Consolidate Control [With Paperback Book]? Please provide your feedback and rating to help other readers.
The history of Socialism

Derived From Web

, Jan 28, 2022

I am finally finished reading it, sorry I didn't read it through. I highlighted areas that were most impressive, so I caught the redundancy of some of the quotes and, as another reviewer said, it was quite choppily written. However, it reminds me so much of what is going down today, that it should be a must read, should our education system ever be overhauled to reveal the truth. He also writes that forgetting the past and believing in the promise of a utopian future is naive, at best.
Fascinating yet confusing

Derived From Web

, Jul 29, 2021

It's great to be back home, said Blair, "but the format is a little confusing." Rather than proceeding chronologically, the book skips back and forth through the history of socialistic thinking, beginning with the Second Vatican Council and ending with the present. It is a collection of historical events and quotes that do make the case for personal freedom and collective responsibility. I plan to read it again just to digest its wealth of information and applicability to today's world. The movement is being analyzed and it's potential outcomes for America are being debated.
History and Future of Liberty

Derived From Web

, Jul 14, 2021

His books include "Open Court," "House of Cards" and "Waiting for God." Pauley, Jr., executive director of the Pew project, said: "I highly recommend his new book to anyone who cares about the future of our country." This report is highly recommended reading for anyone interested in learning more about systematic medicine. The book has 123 chapters, covering a wide range of topics, and incorporating many significant quotes from historic government leaders and thought leaders dating back to Plato, America's founding fathers and many U.S. Presidents and government leaders, as well as significant teaching from the Bible. Only by making government the servant, not the master, only by positioning sovereignty in the people and not the state can we hope to protect freedom and see the political commonwealth prosper, Reagan said.
Very informative

Derived From Web

, Jul 13, 2021

Very good book, very good introduction to the game of thrones. It took me a while to get used to the font and layout of the site. It's not like reading a regular book. The book differs from most political books of today in that it is written in a way that draws attention to the issues at hand. There are no end notes and no reference material incorporated into the book. The book is almost finished, and I almost quit because of the strangeness of the print layout. Next time we have an issue, perhaps we can get one corrected. It does get extremely good at times, and the author relates how past history may be repeating itself today. Parts of past mistakes are shockingly similar to today's, the report said. Stick with it, it's worth reading.
Eye Opening!

Derived From Web

, Mar 30, 2021

History and politics aside, this is a great book to get an overview of the origins, history and failures of socialism. Socialism is perhaps the best strategy to destroy a nation, he said. It is, on the other hand, hugely beneficial to those in power, financially and otherwise.
...it's uncanny!

Derived From Web

, Mar 1, 2021

Pauley, one of the jurors, said he was "totally enjoying" the book. I am very happy with the outcome, Penguin Random House said. However, the format is a bit different than the conventional format, and the content is exceptional. What we are seeing in American politics today with the Democrat Left is the continuation of the old-world governance,' said Dr. Carl Weathers, director of the federal Centers for Disease Control and Prevention.
The hand of God revealed in self ruling government vs socialism

Derived From Web

, Aug 23, 2020

It's a Christian and American citizen. History is a foundation to build on. It also gives us a healthy appreciation for those that have pasted this great experiment in self-government. Our style of govt vs socialism will always be on the right side of history, he said. He added that the Lord's Prayer is "a God thing."