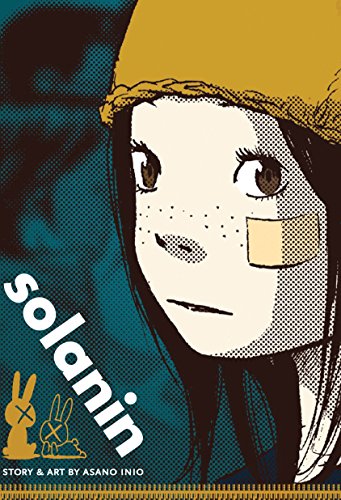 
 
Book Overview
Will Meiko find her place in the world, or will the world force her to fit?
Meiko Inoue is a recent college grad working as an office lady in a job she hates. Her boyfriend Naruo is permanently crashing at her apartment because his job as a freelance illustrator doesn't pay enough for rent. And her parents in the country keep sending her boxes of veggies that just rot in her fridge. Straddling the line between her years as a student and the rest of her life, Meiko struggles with the feeling that she's just not cut out to be a part of the real world.
Frequently bought together
Frequently Asked Questions About Solanin
#1-2
Books like Solanin
What should you read after Solanin Book? Here is a list of books to read if you read and loved Solanin
Book Reviews
(11)
Did you read Solanin? Please provide your feedback and rating to help other readers.
Perfectly captures post-college twenties angst

Derived From Web

, May 9, 2022

The story is about a group of rich and cool or smart twenty-something guys and girls who are not trying to find their paths. It loved her! Perfectly captures angst post-college. This time of life, after university, but before a permanent job and partner - it's an adventure and Solanin renders it beautifully. If you like anime or manga of any kind, you will probably love this book.
Solanin some of the best fiction I've ever read about being an aimless twentysomething

Derived From Web

, May 9, 2022

Solanin has written some of the best fiction I ever read about being an aimless twentysomething. The Japanese are uniquely well-equipped to tell these stories between their lost generation and regimented society. Unlike something like Welcome to NHK Solanin, it is about the very average people living their lives. This makes it very relatable and easy to recommend. The story is told so effortlessly that you just drift through the days of their lives. What is not to say that the book lacks drama. Art and writing are of equal importance. Some scenes are driven by one and some by the other. If you have never read manga, this is one of the best starting points I can think of. Give it a go, it's great.
A tale of youthful hope in an uncertain Japan ~

Derived From Web

, May 9, 2022

Solanin is a graphic novel that s a great writing ''. The story revolves around a group of 20... something friends in modern Japan. The art is exclusive, but it is very clean and crisp. The story moves very well. One is attached to these youths as a reader. They are pretty good ; they seem to have a floating time, but they are lost and confused, abandoned by the stringent demands of modern Japanese society. The characters are all musicians, but are all trying to make ends meet with part-time jobs. There are some darker moments but also some funny twists and turns. It is not all fluffy and happy. It's real-time. The writer wanted to present his own insecurity about the future, and i think he did one hell of a job. This is, I believe, one of the better manga series that I have read. My expectations exceeded.
Other works are better, seems like filler

Derived From Web

, Aug 29, 2021

I was excited because I love Inio's work and music. The characters have no depth, the dialogue is insanely mediocre and so the plot is. Donated it because it frustrated me how much space it took in my collection. They are dark and brutal, but solanin is subpar for a breather.
Heart warming

Derived From Web

, Jan 3, 2021

I loved this manga really! This storyline really touched my heart.
Great book, but misprinted product

Derived From Web

, Nov 10, 2020

I've read this manga twice and loved it! Genuinely Life-Changing and I highly recommend reading! '' That said, I was a little disappointed that the first two color pages were misprinted. I am not sure what happened, but they are significantly darker than they are supposed to be. Some of the panels are so dark that you can not see the beautiful illustrations and the strange grainstreak makes everything look muddied. It is only available on these two colored pages, so it is not too big of a deal, but it is still disappointing, given that this is one of my favorite mangas and is not in pristine condition out of the box.
The back cover was completely bent.

Derived From Web

, Sep 4, 2020

I received it quickly, and the rest of the book was in fine condition... but the back cover was ruined. It has a large crease from being bent directly in the center. I am still annoyed at this, but the book is at least readable.
you should

Derived From Web

, Aug 29, 2020

This manga is featured on so many top 5 lists. I'm only halfway into this and it hits all the feels. From the age of 16-30, I'd be willing to connect with it, to bet. I hope you give this shot a shot. Its connection to the characters and its story is a compelling force.
Beautiful

Derived From Web

, Nov 28, 2018

This feels in a lot of ways like a more grounded Scott Pilgrim kind of story. As a 20-year-old, I found an incredible amount of narration about the uncertainty of life to capture my feelings perfectly, so that I connected deeply with it.
Well done contemporary fiction about 20 something's growing up in Tokyo

Derived From Web

, Mar 5, 2018

I really enjoyed this new adult graphic novel about 20 somethings trying to make a living in Tokyo. The illustration is very detailed, very well done and easy to follow. Here there is some very deep and meaningful conversation about life, the coming of age and the current state of society. The themes of this story involve chasing your dreams and how big people can even be lonely in a lonely city. Overall, I really enjoyed it. Everything is well done about this book. I would recommend graphic novel fans who enjoy contemporary stories or new adult fiction.