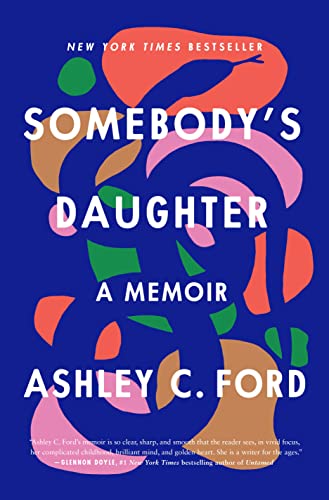 
 
Somebody's Daughter: A Memoir
Book Overview
This Description may be from another edition of this product.
This program is read by the author.
One of the most prominent voices of her generation debuts with an extraordinarily powerful memoir: the story of a childhood defined by the ever looming absence of her incarcerated father and the path we must take to both honor and overcome our origins. For as long as she could remember, Ashley has put her father on a pedestal. Despite having only vague memories of seeing him face-to-face, she believes he's the only person in the entire world who understands her. She thinks she understands him too. He's sensitive like her, an artist, and maybe even just as afraid of the dark. She's certain that one day they'll be reunited again, and she'll finally feel complete. There are just a few problems: he's in prison, and she doesn't know what he did to end up there. Through poverty, puberty, and a fraught relationship with her mother, Ashley returns to her image of her father for hope and encouragement. She doesn't know how to deal with the incessant worries that keep her up at night, or how to handle the changes in her body that draw unwanted attention from men. In her search for unconditional love, Ashley begins dating a boy her mother hates; when the relationship turns sour, he assaults her. Still reeling from the rape, which she keeps secret from
Read More chevron_right
Frequently Asked Questions About Somebody's Daughter: A Memoir
Book Reviews
(12)
Did you read Somebody's Daughter: A Memoir? Please provide your feedback and rating to help other readers.
An Emotional--and Ultimately Uplifting--Ride

Derived From Web

, Mar 12, 2022

You know the book that moves you in so many ways that you can 't put it into words? This is that book's title. What an emotional rollercoaster is. There were times when I felt so bad for Ms Ford that my chest was ached and my stomach was balled in knots, and other times when I identified completely with her. But it was seeing herself in her mother that made me the most uncomfortable-and sad at myself. She emerged from the wreckage of her childhood with a strong sense of herself, a renewed relationship with her mother and the determination to get everything out of life she so rightly deserved is a testament not only to her own strength of character, but also to the grace of a God that Ms Ford claims not to believe. Ashley C Ford Here's to you, C Ford. ''
Too much imagery, not enough memoir

Derived From Web

, Jan 7, 2022

My English teacher of high school would have loved this book. The full imagery and flowery words are vivid, but details are scant. It was really disappointing for a memoir. There was just not enough story to tell the story. I wanted to write more about anything, but it seemed like the author wanted to write a memoir, but she wasn 't really comfortable telling her story, so she told some surface elements. Based on the high praise, I expected more. Obviously, I'm not in the minority, but if you wanted to make a rich, deep memoir, this isn 't it.
Painfully real

Derived From Web

, Sep 20, 2021

I am not usually a huge fan of memoirs - they usually feel too vague and all over the place for me, but I really enjoyed reading Ford's story. Ford details with her earliest childhood memories a family life that is both loving and abusive and a father who has been in prison for as long as she can remember, but no one will tell her why. Young Ford finds herself in a world where her quick wits are often necessary to save her from, whatever the situation. Despite her best efforts, she still experiences endless trauma, including rape when she is only thirteen. Despite all that, Ford does not linger with pity or a victim mentality in the past. She is intelligent and inquisitive and goes into survival mode, doing whatever it takes until she can enter a life where she can finally thrive and excel. The readers will root for her from start to finish!
Definitely not a page turner. Could not finish.

Derived From Web

, Aug 30, 2021

I got pretty far, but had to concede that it was just boring. And I grew tired of the racial comments just. I am a color person and I'm over the victim mentality. The last comment about the white librarian looking at her when she was borrowing books was enough for me.
Not for Me

Derived From Web

, Jul 11, 2021

Perhaps my head wasn 't in the right place, as I read this, but I didn 't find this book as compelling as the reviews. Ford certainly writes well, and her experiences are a testament to her strength of character and will. Personally, I wouldn 't recommend it.
When hiding and leaving is your safe place

Derived From Web

, Jul 5, 2021

In this book, you will find your mother, your sister, your aunt, your grandmother, yourself. If you have ever felt different, odd, misunderstood, tethered or lost, you will be able to relate to Ms. Ford's recounting of her childhood. This book brings so much emotion so that it is sincerely hard to translate it into words. As a black child who was raised until I was 5 with my cousins and then regularly saw them until I was 9, Ms. Ford speaks volumes : Wanting to feel part of your family and not being part of your family ''. This does not begin to touch the topic of having an absent father. This truth telling story is one you will want to share with your mother or your sister to share laughs about the similarities and share tears and discussions about your shared history. Excellent read.
Beautifully Honest

Derived From Web

, Jun 27, 2021

I have followed Ashley C. Ford's writing for a few years now so that I knew a bit of her story. I moreso knew the story of her and her father that made her a well-known and regarded writer. What I found particularly engaging and even related to was her childhood, even if it was her childhood. Not the family dynamic, but the feeling of being bad and wrong and wanting to be so good, but always that feeling of being disappointing. That... is where I found the magic of somebody's daughter personally. I do not want to co-opt Ford's feelings, but I do want to express my thanks. Because this is what the books can do. Make us feel connected and seen.
Well written memoir

Derived From Web

, Jun 15, 2021

Somebody's Daughter is a very good memoir. About her coming of age, Ford writes about poverty, abuse and having a father in prison for decades. I can still feel visceral anger for some of the cruelty she endured. Throughout the year, she does a great job of putting her experiences and feelings into words. I won 't give the details so as not to spoil any content, but there is a description in particular that will stick with me for years to come. The narrative seemed to meander at times. I am not sure if it is simply Ford's style or if it's something that should have been better structured during the editing process. Honestly, it bothered me because I didn 't want to miss a single word. The audiobook is told by the author and is well done. It was a treat to hear these words in Ford's voice. It was a treat to hear them in his voice.
Excellent read!

Derived From Web

, Jun 13, 2021

I am '', perhaps because I had this young woman as a student. I found this book to be thought provoking and endearing ''. It was impossible to lay it down. It is my belief that in Ashley's book, every reader can find a piece of their own history. It was a very special thing to see inside this young woman's soul.
Best Memoir I've Read All Year

Derived From Web

, Jun 9, 2021

Beautifully written story mostly about her relationship with her mother, bookended by her relationship with her imprisoned father. It's a story of the coming of age when comfort is not at one's fingertips. Ford uses fantastic visceral descriptions and knows how to keep a reader from turning the page.