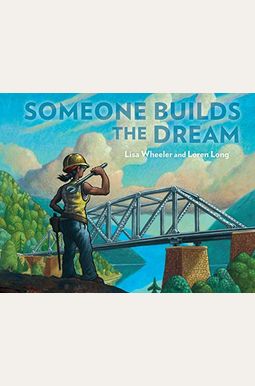 
 
Book Overview
Buildings, bridges, and books don't exist without the workers who are often invisible in the final product, as this joyous and profound picture book reveals from acclaimed author of The Christmas Boot Lisa Wheeler and New York Times bestselling illustrator of Love Loren Long
All across this great big world, jobs are getting doneby many hands in many lands. It takes much more than ONE.
Gorgeously written and illustrated, this is an eye-opening exploration of the many types of work that go into building our world--from the making of a bridge to a wind farm, an amusement park, and even the very picture book that you are reading. An architect may dream up the plans for a house, but someone has to actually work the saws and pound the nails. This book is a thank-you to the skilled women and men who work tirelessly to see our dreams brought to life.
Frequently Asked Questions About Someone Builds The Dream
Book Reviews
(7)
Did you read Someone Builds The Dream? Please provide your feedback and rating to help other readers.
Really cool book

Derived From Web

, Jan 20, 2022

I've read the entire book, and I'm in love. We happened to discover it in the store one day and fell in love with the pictures and the story, Blair said. It's neat to think about the behind-the-scenes work that no one else thinks of! Very well done!
Good book for the truck and construction worker loving child in your life.

Derived From Web

, Dec 28, 2021

Thanks, Ralphie, for the book. In addition to appearing in numerous movies, Schwarzenegger has played lawn care worker, construction worker, fireman and has many other vehicles.
This is a great shout out to the people who deserve the recognition.

Derived From Web

, Dec 7, 2021

I've had several books signed by Elizabeth Warren. I'm just a fan of hers in general. But I think she nails it with very book I've read of hers. Only a handful of people were injured, Morgenthau said. But 3 of those 4 are the favorites of all time reading with my son. As a mom, I can't stop crying because my son can recite them all we read. It's just that we're not seeing the results we were hoping for." It took three years for the scandal to come to light.
Honoring Workers and Builders

Derived From Web

, Oct 26, 2021

What a beautiful concept, said Gillian Kent, executive director of music for AOL Europe. My husband works in the construction industry and we marvel at the beauty of what is created by groups of hardworking people, following a plan, she said. We often forget, they make the plans, many of these pairs of skilled hands make the dreams come true. A perfect complement to this inspiring text, Long's illustrations are also available in book form.
Fantastic book

Derived From Web

, Oct 15, 2021

This book has all the makings of a hit. Very good book, very well illustrated. Youngsters are encouraged to dream big and see possibilities for themselves and their futures. But there are also some mechanical engineers who realize a bit of the work that goes into a finished product. Wouldn't mind a similar book with characters we can relate to too. I mean, put a bit of story into it, Tunick said. It was my 5th birthday and I got it for free. She can't read it, but she can appreciate it. Many children's books, too, have such sections devoted to the scientist.
The book I've always been looking for

Derived From Web

, Jul 7, 2021

I first found this book in our public library and absolutely loved it. I liked it so much I bought it. In his book, he details many of the principles I strive to instill in his children team work, hard work, ingenuity, value of all careers, and an understanding of how the things we have were the result of many people's efforts. Pauley, Jr., said: "This book is a great read.
Must have for your bookshelf

Derived From Web

, Jun 18, 2021

A beautiful message, perfect illustration and rhythmic verse. Only in recent memory has this book been requested by my 3 and 5 year old. Young readers will find this book indispensable.