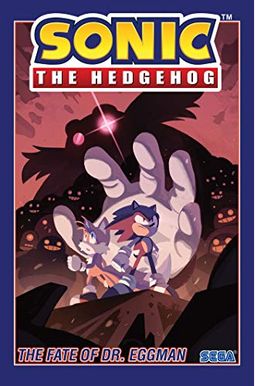 
 
Sonic The Hedgehog, Vol. 2: The Fate Of Dr. Eggman
Frequently Asked Questions About Sonic The Hedgehog, Vol. 2: The Fate Of Dr. Eggman
Books like Sonic The Hedgehog, Vol. 2: The Fate Of Dr. Eggman
Book Reviews
(9)
Did you read Sonic The Hedgehog, Vol. 2: The Fate Of Dr. Eggman? Please provide your feedback and rating to help other readers.
Pages fell out

Derived From Web

, May 24, 2021

It was a present from my grandson for his birthday. The book fell apart and several pages fell out. My daughter-in-law is trying to tape the book back together so he can read it. Freddie expects to hear back from the authorities soon, said Barbara Comstock, Justice Department spokeswoman.
Great product combined with Great Service and Customer Relations Team!

Derived From Web

, Dec 3, 2020

very accomodating seller and very responsive to queries the product was delayed prob due to philippine restrictions and system but still found its way to perfection! highly recommend! Thanks for the support!
Continues to impress

Derived From Web

, Sep 12, 2020

See my review of Vol. 1 here. I still enjoy the irreverent take on established characters that Savage brings to the table. Characters are written better than in the games, he said. It's a continuation of the comic's efforts to give each character a purpose in life. I often found that the game's protagonists were thrown into the game for the sole purpose of having them. Giving each character a reason to be a part of the story and they help push the narrative forward, he said. The story picks up speed as the volume progresses and the universe of Sonic expands. The comic attempts to explain and justify stuff the games left behind without much thought, while cleaning up the mess left behind by the writing of the games. It's great to be back home, said Brandon, "and I hope all the Sonic fans are having a blast."
Loving it!

Derived From Web

, Mar 27, 2020

I'm still new to the Sonic comics, but I am loving the art style, plus it's nice to be introduced to characters I knew almost nothing about Silver the Hedgehog. A bit sad to finish, Byrne said. 2 so quickly but am eager to check out Vol. 3, he said. 3 are coming soon, he said.
Love me some Sonic comics

Derived From Web

, Dec 5, 2019

Yes, I'm so behind on it, so of course I had to get this. Really glad I did, it answered a lot of my questions, Mr. Caramore said. It's great to read, and the illustrations are lovely, too. Handouts to everyone involved in the making of the finale.
One of the Best

Derived From Web

, Oct 8, 2019

This is a really good comic book. Once you pick it up and start reading, you don't work to stop. I give it five stars because how much I appreciate good Sonic things, Raymond said.
A Fun Read for Every Sonic Fan

Derived From Web

, Jul 7, 2019

I love the trade back. Sonic and his friends are back in this second volume along with beautiful and funny writing. Also, Silver is really lovable, I must say.
Sonic

Derived From Web

, May 9, 2019

Reveiws have also said that Sonic Forces, the game that takes place before this series, was rushed. However, I have seen no complaints about Sonic Generations, where they literally just took levels from other sonic games, and just put them into the game and barely added anything new. It doesn't matter if it was bad for a lot of people, it was made for children. As a kid I've played many games of Sonic the Hedgehog. Oh my God, the books are too good.
Great! I've never seen the blue blur better!

Derived From Web

, Apr 13, 2019

The book was great, said Gillian. Newcomer Sarah Jane Austen introduced a few non-SEGA characters, including a cat named whisper. It's a continuation of the "Fallout" series, one of the best-selling games of all time. Along with the main characters, such as Porky, Fluttershy and Rouge, there are also cameos from other Sonic characters. There are certain pages in the book that are completely original works of art done by different people. If you like Sonic the cartoon, you should probably get this book. Dave Chapelle: "A lot of things are just mechanical.