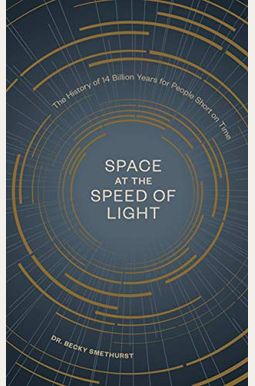  
Space at the Speed of Light: The History of 14 Billion Years for People Short on Time
Book Overview
From the big bang to black holes, this fast-paced illustrated tour of time and space for the astro-curious unlocks the science of the stars to reveal fascinating theories, surprising discoveries, and ongoing mysteries in modern astronomy and astrophysics.
Before the big bang, time, space, and matter didn't exist. In the 14 billion years since, scientists have pointed their telescopes upward, peering outward in space and backward in time, developing and refining theories to explain the weird and wonderful phenomena they observed. Through these observations, we now understand concepts like the size of the universe (still expanding), the distance to the next-nearest star from earth (Alpha Centauri, 26 trillion miles) and what drives the formation of elements (nuclear fusion), planets and galaxies (gravity), and black holes (gravitational collapse). But are these cosmological questions definitively answered or is there more to discover? Oxford University astrophysicist and popular YouTube personality Dr. Becky Smethurst presents everything you need to know about the universe in ten accessible and engagingly illustrated lessons. In
Space at the Speed of Light: The History of 14 Billion Years for People Short on Time
, she guides you through fundamental questions, both answered and unanswered, posed by space scientists. Why does gravity matter? How do we know the big bang happened? What is dark matter? Do aliens exist? Why is the sky dark at night? If you have ever looked up at night and wondered how it all works, you will find answers--and many more questions--in this pocket-sized tour of the universe
Frequently Asked Questions About Space at the Speed of Light: The History of 14 Billion Years for People Short on Time
Book Reviews
(10)
Did you read Space at the Speed of Light: The History of 14 Billion Years for People Short on Time? Please provide your feedback and rating to help other readers.
A Fantastic Book On Astronomy

Derived From Web

, Nov 28, 2021

I was impressed how clearly she presented various aspects of time and space in her presentations. When I found out that she had written a book, I ordered it immediately. I was personally impressed with her chapter on the prospects of alien life. For those of you who are novice or well read in astronomy, I highly recommend this book.
The book gives an excellent, simple to understand, explanation of complex topics.

Derived From Web

, Jun 27, 2021

In this book, Dr Becky gives simple explanations for complex topics. This is a great book for someone who wants to get a general understanding without mathematics.
Great book on some key points of space/time.

Derived From Web

, May 16, 2021

This book touches on some of the important theories of space and time. Great for the layman or astronomer alike. I wish it was just longer.
Beautiful conversation about astrophysics

Derived From Web

, Oct 26, 2020

This is a short work, as one might expect from a conversation that packs an amazing amount of import. Its word count to idea count is high, and yet Dr. Smethurst renders it in conversational terms and is soon accessible to the curious. If you live in lives busy or not, you have probably time to do this and enjoy. Her message is as simple as the universe is complex, we came as cosmological processes in their own right, and still others about which we remain ignorant. And this understanding is ours to appreciate and advance if we are only curious.
A Delicious Taste of the Stars

Derived From Web

, Sep 23, 2020

Dr. Becky's remarkable ability to explain the unexplainable was put on full display in this brief glimpse of the cosmos. I was also taken by the layout of the text on some pages and illustrations. It is clear that some thought was given to making a big impression in a small package. My only disappointment if you take this word with the tiniest grain of salt is that it wasn 't long enough. Granted, the book was intended for people short on time '', by the way, I don 't get that brilliant play on words for anyone or anything traveling at the speed of light, but a good part of me wanted more. Probably in the next book.
A great overview...

Derived From Web

, Sep 8, 2020

A good overview of interesting, topical questions in astrophysics. As the title states, a quick review of 14 billion years of activity in our universe for people who are not interested in the subject while they may lack time. An engaging, serious and occasionally amusing read.
A great book for astrophysics beginners or old salts

Derived From Web

, Sep 4, 2020

Dr. Becky is so engaging and fun to listen to, I didn 't know if I really liked her book as much as her videos. The illustrations are also of special note. They are wonderfully simple and beautiful . In these dark times, a fun, light read.
An even briefer history of time that resonates with wonder

Derived From Web

, Aug 23, 2020

A beautiful little book that is quick to read, but hard to forget. I loved the scope of the book '', just right for a whimsical tome like this. You can finish in two sittings, but it should really be savored. Kudos to Dr. Becky for this captivating work, full of delightful prose and inspiring drawings.
Great read

Derived From Web

, Jul 17, 2020

I found it to be a brief read, but is not in the information deficient. From beginning to end, it was completely enjoyable. Dr. Neil DeGrasse Tyson '' finds me to be a lot like Dr. Becky. If you have a teenage girl or a friend who likes space, I would highly recommend this book as a gift.
An easy, entertaining and informative read

Derived From Web

, Jul 13, 2020

A captivating introduction into some of the things that are present in our universe. The author made it easy to read and enticing to understand. I look forward to her sequel book, hopefully ).