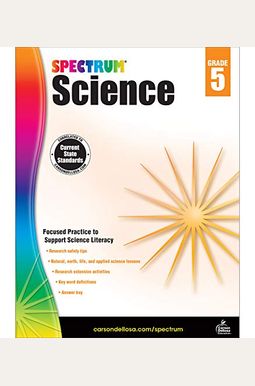 
 
Spectrum Science, Grade 5
Book Overview
Workbook Features:
- Ages 10-11, Grade 5
- 144 pages, 8 inches x 10 inches
- Covers earth and space science, physical science, life science, and more
- Research extension activities, end of chapter reviews, mid-test, and final test
- Key word definitions and answer key included
Focused Practice: The Spectrum Grade 5 Science Workbook features 144 pages of lessons, research, and more to help engage 5th grade students while strengthening their science literacy skills for future success in the sixth grade.
Correlated To Current State Standards: The standards-based workbook helps your child enhance their science knowledge by teaching research safety tips, natural, earth, life, and applied science, new vocabulary, research extension activities, and more.
How It Works: Each section in the workbook features illustrations and detailed lessons with practice pages. Research extension activities, chapter reviews, and mid and final tests evaluate students' skills to ensure they understand each concept.
Working Together: Parents love using the fifth grade workbook for added practice from home, and teachers love to incorporate it into hands-on lessons-- tracking student progress through chapter reviews and mid and final tests using the answer key.
Why Spectrum: For more than 20 years, Spectrum has provided Read More chevron_right
Frequently Asked Questions About Spectrum Science, Grade 5
Book Reviews
(7)
Did you read Spectrum Science, Grade 5? Please provide your feedback and rating to help other readers.
Well-written with questions that prompt deeper thinking and actually processing ...

Derived From Web

, Apr 20, 2022

The author has a good grasp of deep thinking and actually processing the information that was read. It tests the student's ability to retain not just the reading, but that deeper level of processing that they used in the lessons. Our homeschooler usually finishes a lesson within 30 minutes, thanks to a little help from us, Mr. Dhaliwal said.
and I hate Spectrum. It took me 3 years to decide ...

Derived From Web

, Apr 20, 2022

I have been homeschooling my children for 6 years and I hate Spectrum. It took me 3 years to decide this, but after using the Science, Reading and Math workbooks for the past few years, I found that the workbooks are not worth purchasing. The science workbook is arranged in such a way that it becomes almost illegible. I wouldn't care that the lessons absolutely cannot stand alone without additional instruction, as many supplemental workbooks are meant to be, but the lessons are mainly exercises in reading comprehension. I am done trying to give this publisher the benefit of the doubt and will not be buying any more books.
Excellent Supplemental Product

Derived From Web

, Apr 20, 2022

I bought this workbook because I wasn't satisfied with my son's science. The reviews I read were largely correct, in that it is an excellent review product, but wouldn't stand alone as a home-school resource. The test is broken down into four sections: one-page readings followed by a quiz. The format limits the depth of the lesson. However, it has proved to be a very good refresher on the subjects my son had problems with. Each evening, he logs one lesson in addition to his homework. in which he doesn't have homework, he completes two lessons. I've been impressed enough with this course that I'm going to have him take it again next year, he said.
Love Spectrum

Derived From Web

, Apr 20, 2022

I've always loved books. Their science books stand in a class by themselves. They are great, daily, bite-sized, short pieces of science, Raymond said. Each page has a lesson on a subject, and the following is comprehension questions about the subject matter. Thus, they can be used for both extract language arts practice and also for research. My only complaint about this would be that it would be possible to condense the lessons from one to the next, without any problems. One page may be all that scientists need to know about DNA. As long as you are supplementing with a real science curriculum, I think this is a great book, said Dr. Julie Gerberding, director of the federal Centers for Disease Control and Prevention.
This is an excellent book to have to keep your student learning and ...

Derived From Web

, Apr 20, 2022

This is an excellent book to have on your student's shelf, to keep them learning and to help struggling ones as well. The book is filled with different levels of work that the child can complete, he said. I would say these books would also be good for any home-schooled children as well, as they keep up with the current curriculum they would be learning in school. Great value for money, said Gillian.
It's perfect!

Derived From Web

, Apr 20, 2022

The book arrived earlier than expected and was in excellent condition, the seller said. However, I still missed out on learning the basics in so many subjects. This is perfect for catching up and learning what I want to do with my life, Mr. D'Antonio said.
Great product!

Derived From Web

, Apr 20, 2022

Each teacher has a lesson plan with multiple questions to make sure students understand the concepts. There is also a review at the end of each chapter that I use for a test. Overall, a great product and I would definitely recommend it to anyone.