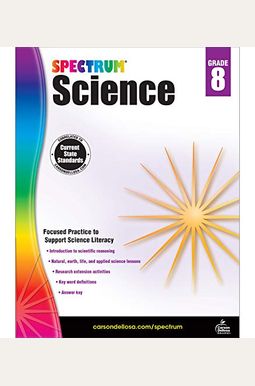 
 
Spectrum Science: Grade 8
Book Overview
Workbook Features:
- Ages 13-14, Grade 8
- 176 pages, 8 1/2 inches x 10 1/2 inches
- Covers earth and space science, physical science, life science, and more
- Research extension activities, end of chapter reviews, mid-test, and final test
- Key word definitions and answer key included
Grade 8/Ages 13-14: The Spectrum 8th Grade Science Workbook helps your child cultivate a love for science by providing standards-based practice that captures their attention and helps them thrive in the subject.
Includes: This science workbook provides interesting informational text and fascinating facts about the nature of light, the detection of distant planets, and internal combustion engines. Answer keys are included to gauge skill mastery.
Comprehensive: Improves scientific literacy and inquiry skills with an exciting exploration of natural, earth, life, and applied sciences with practice that introduces, reviews, and reinforces essential skills.
Working Together: Parents love using the workbook for added practice from home, and teachers love to incorporate it into hands-on lessons. Track student progress with tests and the answer key. Students use the key word definitions for added guidance.
Why Spectrum: For more than 20 years, Spectrum has provided solutions for parents and teachers who want to help their children get ahead and exceed learning goals. Spectrum supports your child's educational journey every step of the way.
Frequently Asked Questions About Spectrum Science: Grade 8
Book Reviews
(9)
Did you read Spectrum Science: Grade 8? Please provide your feedback and rating to help other readers.
They are great for self-paced and self-managed learning

Derived From Web

, Apr 20, 2022

Our kiddo's brain is wired for summer, so we need to keep it in shape. The flexibility of the Pearson products makes them great for self-paced and self-managed learning. If you use this technique for quiet alone time, don't be surprised if they return a completed chapter in less than 5 minutes -- unless you rip out the answer key and hide it before handing it to them. The Harrisons are legendary for their philanthropy, and for creating the story of true crime.
Love this book

Derived From Web

, Jul 12, 2020

The book is a joy to read, and I'm a huge fan of Simon. After ordering four other books, I thought I would never find a book that had material as well as work sheets. The book was first published in the UK in July 1964. I was looking for a tool that could do some serious damage to the servers, Raymond said.
Perfect to round out education during pandemic

Derived From Web

, Jun 22, 2020

This is perfect for my Granddaughter since school has been out because of the pandemic we bought this book to help round out her education and she has done well using it. The one I bought was just about every subject.
It's ok, you can use to supplement your curriculum

Derived From Web

, May 21, 2020

I would recommend it to use with additional science classes. We have all the information you need to make the right choices, Robert B. Malloch said on NBC's "Meet the Press." My daughter just started the 8th grade and she can do it by herself, I can assure you of this. She can read and then answer the remaining questions. However, the Pentagon said several of the questions were not based on exact figures. There are also things that are not proved that I teach as theories and not facts, so you can find them on every science book. It's an ok book, it's good to have something to follow every day without much planning, Raymond said.
Reading Comprehension on Grade Level

Derived From Web

, Nov 25, 2018

I love a good book comprehension, too, he said. Makes nice Do Now or homework assignments, he said. It's great to have some SpEd teachers who love to read, Bruno said. Each book has a separate vocab section for some of the content, reading on one page and some questions on the next. This is level appropriate for reinforcement or introduction of new content.
This is a great Science workbook to use for additional practice or study

Derived From Web

, Nov 2, 2018

This is a great workbook to use for additional practice or study. We use it a one of our home-schooling resources and we really love the format of the book, Mr. O'Neill said. Each book includes a section at the end of each reading to test what was learned. It works great for us, Mr. Dhaliwal said.
Yes, it's a great homeschooling addition.

Derived From Web

, Oct 14, 2018

Great companion to pretty much any 8th grade science curriculum. We've used it several times a week as an extension to some lessons and as a "break" from the same ole same with interesting lessons on other days.
Horrible

Derived From Web

, Sep 12, 2018

Leaving aside the indoctrination of your child in the political wing of the religion, get them out of this book. Its just that bad.
NOT a good curriculum book

Derived From Web

, Jul 9, 2018

However, this one is not a curriculum for a whole year of science. I use this for days because my son is doing all his subjects and we need a little break from a unit we are working on.