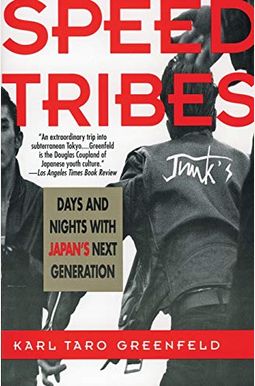 
 
Speed Tribes: Days And Nights With Japan's Next Generation
Book Overview
Journalist Greenfeld exposes elements of Japanese culture that most Westerners never knew existed--the gangsters who control Japan's drug trade, a lucrative porn industry, and more. Greenfeld uncovers a Japan out of kilter with the orderly society of popular conception, and teaches how Japan's once miraculous economy has given rise to a predatory subculture.
Frequently Asked Questions About Speed Tribes: Days And Nights With Japan's Next Generation
Books like Speed Tribes: Days And Nights With Japan's Next Generation
Book Reviews
(7)
Did you read Speed Tribes: Days And Nights With Japan's Next Generation? Please provide your feedback and rating to help other readers.
Small Vignettes of Buried Big City Life

Derived From Web

, Feb 8, 2022

Some of Japan's many interesting subcultures have an interesting insight. The main character in each chapter is immersed in a particular subculture. A quick glimpse into the seedier side of Japan is usually provided by a disaffected youth who doesn't identify with Japan's sterile, salaryman, borg mentality. You wish that particular storyline would continue after some of the chapters end abruptly. It's a good read to get a sense of the other side of big city life in Japan that isn't apparent to a tourist.
Very interesting, but somewhat disjointed...

Derived From Web

, Feb 8, 2022

The book was supposed to be an analysis of the Japanese speed tribes. The book looks at many different sub cultures that are not traditional japanese culture. I would have preferred more investigation in many areas.
Japan = temples, geisha & haiku? Think again!

Derived From Web

, Feb 8, 2022

It's essential to read about the idyllic and serene temple gardens and kimono- clad women which appear in every Japanese calendar and book. This is the real Japan, with focus on some of the juicier topics. From motorcycle gangs to porn stars, surfer dudes to the teenagers, this book takes you inside, to the realm not usually shown to outsiders. I found myself smiling at the ultra- nationalist youth who hates foreigners and wears only expensive Italian designer suits because Greenfeld has a great eye for detail. I could not detect a flaw in Greenfeld's description of the attitudes of young Japanese women, perhaps the result of an unhealed personal wound? Don't want to be spoiled for you, just get it! This is a wonderful book.
Interesting take on Japan, but a lot of this is more widely known now, 26 years later

Derived From Web

, May 1, 2020

There were a lot of cool details on the yakuza, the different layers of players, but I still find this panders to the over fascination of all things Japanese. He describes tokyo in a way that shows it to be the same as any large metropolis today, just with different names.
Great book

Derived From Web

, Jan 26, 2020

A look into a japan that we now know about thanks to movies. All of it is put into perspective. Fans of japan and those living on the fringes of society should read this book.
Timeless

Derived From Web

, Sep 15, 2018

The book has been around a long time. There are still areas of relevancy. A good read with a lot of interesting people.
A fantastic book

Derived From Web

, Feb 11, 2018

Karl Taro gave a glimpse of the Japanese youth. Several stories were written to highlight the different aspects of Japan's new youth. This made for an interesting read and gave me an idea of a fascinating world. I didn't know much about Japan and what it was like to grow up there. Speed Tribes highlights an important topic. Many of the Japanese youth fall through the cracks of a well balanced society. I enjoyed this book.