Buy 3 Get 1 Free
Our Best Sale Yet! Add 4 Books Priced Under $5 To Your Cart     Learn more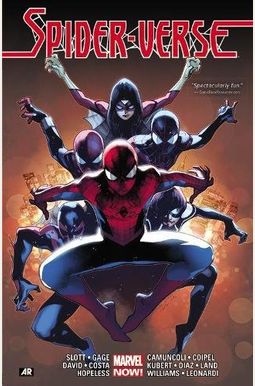 
 
Book Overview
When the evil Inheritors begin exterminating spider-characters throughout the multiverse, every single Spider-Man ever is needed to save the day An interdimensional spider-army gathers to fight Morlun and his deadly family, but as the Prophecy comes to fruition, none of them are safe What will this brutal war for survival mean for Peter Parker.and the rest of the spiders? Starring hundreds of Spider-Men, from the beloved to the obscure COLECTING: AMAZING SPIDER-MAN 7-15, SUPERIOR SPIDER-MAN 32-33, FRE COMIC BOK DAY 2014, SPIDERVERSE 1-2, SPIDER-VERSE TEAM-UP 1-3, SCARLET SPIDERS 1-3, SPIDER-WOMAN 1-4, SPIDER-MAN 2099 5-8
Frequently Asked Questions About Spider-Verse
Book Reviews
(7)
Did you read Spider-Verse? Please provide your feedback and rating to help other readers.
The format is ridiculous

Derived From Web

, May 27, 2022

It is seriously ridiculous. It took me about 1.5 hours using correct notes to get this in the post-reading order. The chronology is listed at the beginning of the book, but has no page numbers, you have to hunt for everything. I have no clue what order this is actually in, but it is defiantly not alphabetical or chronological. As stated in other reviews, it also does not include 5 issues, those are in a separate book, Edge of the Spider-Verse. I say it's a fun story, not super deep plot wise, which I probably would have enjoyed even more. Unsure if it was worth the read for the extra time I had to spend, but I loved the jokes and Spidey Oneliners. Made me interested in a couple of the comics, which was probably the point. But would it have been so hard to put this in order?
Guilty Pleasure

Derived From Web

, May 27, 2022

There, with the best of Slott's SpiderMan Run, you can find Slott. He makes it look easy by presenting a compelling high-concept that builds several years of his own run, meaningably ties in all the other Spider-Family ongoing titles and homages to some of the great spider chapters of Yester-year. Coipel carries the art as always, but Camuncolli keeps better than I expected with him. Too much fun supplementary material. I did not mind the non-chronological order because the truth is that if you read it straight through from the front, you get a well-paced narrative, followed by what can be summarised as bonus material. If it were chronological, it would be a confused mess with a repetitive and meandering prologue, followed by an unevenly paced and perpetually interrupted main story. I recommend the five-issue edge of Spider-Verse with Spider-Gwen and others to complete this collection.
Pretty Amazing, Spectacular, and Ultimately great!

Derived From Web

, May 27, 2022

If you like SpiderMan, you know that this story is good. It is packed with all the different variations of SpiderMan from different dimensions ever! I have always loved SpiderMan, but now we have all the SpiderMen in a big book packed with great artwork. In every different universe we go in, there are different styles of artwork. Some are more grim, some more cartoonish, but all are drawn beautifully. The story is pretty good ; it has some twists and turns, but it ends in the same way that all superhero stories do ; the good guys prevail. If you want to read an adventure, funny and action packed comic book with great artwork, pick this one up.
The greatest Spiderman epic of all!

Derived From Web

, May 31, 2021

This is the greatest Spiderman epic of them all. The movie it inspired is arguably the greatest comic - book - movie of all. The movie was great, but the comic arc was larger in scope. Here there are some throwaway items, but the total is far greater than the sum of its parts.
Great story

Derived From Web

, Jan 11, 2019

This is definitely in my top 10 SpiderMan stories! The story over all is great, but my main problem is the trade itself. It is missing the edge of the spiderverse stories and everything is out of order. It tells you the order in which to read it, but there are no page numbers on this book anywhere. I used sticky notes to do everything and it took two hours to number that. If you read this in order, it is fantastic, but if you want to see the story justification, I suggest reading Vol 3.
Grandson loved it-that was all I cared about

Derived From Web

, Sep 4, 2017

Grandson loved it - that was all I cared about. He worked for several weeks over this book or inaction figures.
Not being in chronological order makes reading this a pain

Derived From Web

, May 7, 2017

I am not much of a fan of big mocks in general, but I was interested in this because I like some of the books that follow it. I'm about half way through and it's a bit headstrong and hard to follow plot-wise, but I won 't go into that much. The biggest problem is that issues are not chronological in order. Rather, they are grouped together by series. So you can either read them out of order or keep flipping to the chronological listing in the front to see what book next to read. It is only mediocre and there is no real good reason why they just put them in order in the first place. The spider-verse event is kind of a mess anyway and having a sloppy collection does not help. Even if you like the plot, it would be hard to say that this collection was well thought out.