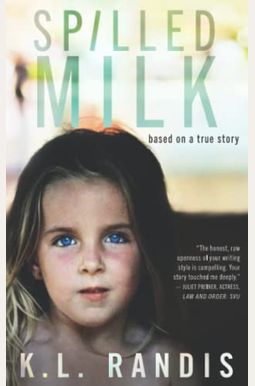 
 
Spilled Milk: Based on a true story
Book Overview
Based on a true story, Brooke Nolan is a battered child who makes an anonymous phone call about the escalating brutality in her home. When Social Services jeopardize her safety, condemning her to keep her father's secret, it's a glass of spilled milk at the dinner table that forces her to speak about the cruelty she's been hiding. In her pursuit for safety and justice Brooke battles a broken system that pushes to keep her father in the home. When jury members and a love interest congregate to inspire her to fight, she risks losing the support of family and comes to the realization that some people simply do not want to be saved. Beautifully written, hauntingly real, Spilled Milk is a must read for any young adult today. - F.P Lione, Author
Frequently bought together
Frequently Asked Questions About Spilled Milk: Based on a true story
Book Reviews
(17)
Did you read Spilled Milk: Based on a true story? Please provide your feedback and rating to help other readers.
Empowering

Derived From Web

, Apr 20, 2022

This book is an easy and empowering read. The detailed descriptions of the abuse are the biggest hurdle. You can experience the world of misery if you can see beyond that and enter the strength of the author. It opens your mind to why people are who they are. The book reminded me that we are all a product of our experiences, and no one knows what we have experienced. The book may teach you to be more sympathetic to others or it may remind you to forgive yourself.
I love a good "based on a true story"

Derived From Web

, Apr 20, 2022

I like a good based on a true story, and appreciate the author telling it as hard as possible. She did a great job despite being a novice author. I appreciated that she finished the book after a slow start. She didn't show you the plot. To have the guts, the spunk, and the bravery to face such evil gives me hope for others. I love the last chapter. It helped me a lot. Thanks for sharing your story!
Read this book in about 8 hrs.

Derived From Web

, Apr 20, 2022

I didn't know what this book was about when I read it. I downloaded the book because it was a true story and I'm a sucker for that. I couldn't wait to get home to finish it after I read it during some down time at work. Well written and kept my attention. When the subject matter was too close to home, I wanted to stop reading, but it helped me deal with some past demons by forcing me to continue. It's a touchy subject, but one that needs to be talked about.
I couldn't put this book down!

Derived From Web

, Apr 20, 2022

I wanted to read on the treadmill, but I was not an avid reader. It was so much for the workout. The account of the horrors that took place in this family was well written. We need to be aware of signs of abuse in those we meet and not stand on the sideline. Be that bubble for those in need by getting involved. The world needs more Gina's and Midge's.
So good I stayed up all night to read it

Derived From Web

, Feb 25, 2022

I cried when I read a sad story with a happy ending, and I have never cried when reading a book before. After reading a few sample chapters, I decided to buy this book. Highly recommended reading for everyone. The author has a wonderful writing style and I can't wait to read more of her books.
Speechless

Derived From Web

, Oct 22, 2021

For this one, I needed to leave a review. I discovered this book on TikTok and was looking for good recommendations. When I got this book as a fill in book, I thought it would be a quick read. I am here to tell you that I was wrong. The book made me cry in my break room. I recommend this book to everyone because it gave me a perspective that I have never thought to think about. If you have not been affected by sexual violence, it falls in the shadows. Everything that was hidden was revealed by this books.
Crying

Derived From Web

, Oct 16, 2021

After reading the introduction, I started reading the book. I didn't know if I wanted to relive my nightmare. I couldn't wait to see what happened next after I woke up with thoughts of the people in the book. I wondered if they would be allowed to go free. Many people think it's normal, then realize it's not, and wonder why. Thank you for writing this. God bless you for helping others.
Applause to you for telling your story.

Derived From Web

, Aug 10, 2021

After having this with my daughter, understand, agree with her suggestions. I have been a survivor of both mental and physical abuse. I applaud you and my daughter for being brave going into a courtroom and telling their life stories to get justice for them.
My heart!

Derived From Web

, Jul 21, 2021

I was looking for some books to read while I was bored. I stumbled across Spilled Milk and thought it would help. I could not. Put. It's happening. Go down! When children come forward, our systems fail them and that makes me sick. This was a gut wrenching story. Definitely worth the read.
I'm so happy I found this book

Derived From Web

, Apr 17, 2021

I was in a familiar situation as a child. My own mother is one of the people who don't know many of the details. I was thankful for the book. Many people don't understand the woman's courage. This was a must read. I read it in 48 hours. The book was very triggering for me, and I am sure many others. If you are not ready to read it, you can read it another time. It was well written and not too graphic, but there were times when I had to put it down and concentrate on breathing.