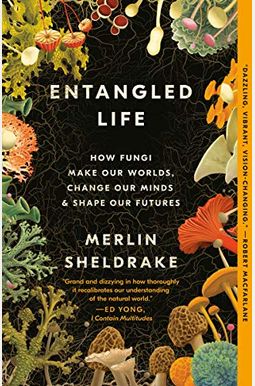  
Sportsguide For Team Sports
Book Overview
INTERNATIONAL BESTSELER - Merlin Sheldrake's marvelous tour of these diverse and extraordinary life forms is eye-opening on why humans should consider fungi among the greatest of earth's marvels. . . . Wondrous.--Time
A mind-bending journey into the hidden universe of fungi, one of those rare books that can truly change the way you see the world around you (Helen Macdonald, author of
H Is for Hawk
).

NAMED ONE OF THE BEST BOKS OF THE YEAR BY Time - BC Science Focus - The Daily Mail - Geographical - The Times - The Telegraph - New Statesman - London Evening Standard - Science Friday

When we think of fungi, we likely think of mushrooms. But mushrooms are only fruiting bodies, analogous to apples on a tree. Most fungi live out of sight, yet make up a massively diverse kingdom of organisms that supports and sustains nearly all living systems. Fungi provide a key to understanding the planet on which we live, and the ways we think, feel, and behave. In
Entangled Life
, the brilliant young biologist Merlin Sheldrake shows us the world from a fungal point of view, providing an exhilarating change of perspective. Sheldrake's vivid exploration takes us from yeast to psychedelics, to the fungi that range for miles underground and are the largest organisms on the planet,
Read More chevron_right
Frequently Asked Questions About Sportsguide For Team Sports
Book Reviews
(8)
Did you read Sportsguide For Team Sports? Please provide your feedback and rating to help other readers.
An amazing life form.

Derived From Web

, Oct 16, 2021

Almost all life forms are affected by the fungi. This book is the best on the subject. The photo of the'stinky ink cap' is included in the book because all the beautiful drawings in the book are made with the black ink that appears as the mushroom matures and collapses. In the chapter titled The Wood Wide Web, I learned that trees communicate over large areas through the mycelia that spread underground. fungi can be made into cloth and strong fabric It's one of those books that you keep and refer to.
Thinking with mushrooms

Derived From Web

, Jun 30, 2021

The book gave me new lines of inquiry that branched off into unexpected connections and insights. It's inspiring to know how we humans can work with these creatures to remedy our health and the planet.
Beautifully written

Derived From Web

, May 30, 2021

Something that was invisible to me before and now I realize is everywhere around me is a fascinating perspective on fungi. The book has opened my eyes to a different world.
Excitingly Educarional

Derived From Web

, Apr 27, 2021

Captivating and engaging! Sheldrake weaves his knowledge and story to create an enjoyable meandering around the lives of organisms. If you are interested in aliens, life's beginnings or end, I would highly recommend you!
Lovely botany and philosophy

Derived From Web

, Apr 24, 2021

Interesting points of view from many people. Excellent writer who is fun to read and challenging to think about.
Fascinating subject but poorly edited

Derived From Web

, Aug 24, 2020

When I started this book, I didn't know a lot about fungi, but I now know how important and fascinating they are. It wasn't the absorbing read it could have been. I know how fruitful the collaboration between a writer and editor can be because I was a technical writer for 30 years. Dr. Sheldrake's writing is very good. A skillful editor would have flagged the text and suggested some changes. I would have enjoyed a chapter on basic fungi. It would have been beneficial to work with a good technical illustrator.
The science is good but the 'philosophical' side is too loopy for me

Derived From Web

, Jul 13, 2020

I loved the start but didn't know what it was about. After it went off the rails I stopped. I just wanted to know about the different kinds of fungi. His ideas about reality and using the networking of fungi as a metaphor come off as self-indulgent. Just sayin. I have already lived through the 60's and don't need to go through that again. I know people who love this and feel it's insightful. I have not been interested in listening or the patience to do so. That is me, that's me. I like science the way it is for what it is and I don't confuse it with Greater Truths.
Let's Save the World

Derived From Web

, Jul 3, 2020

All of our problems are going to be solved by mushrooms. Don't misunderstand me. The book describes the science of fungi. We learned about plants in biology class, but it is a different way to think about living things. The benefits of fungi described in the book are worth pursuing. Artificial Intelligence will solve all of our problems, according to books I have read. I have read books that claim to have answers to our ills. There are many things that will save us. What is the solution? What can we do to save ourselves? It is possible that all of these things are involved. We will figure out a way if we really care about the world and are willing to change our behavior. This book seems to be a part of the solution.