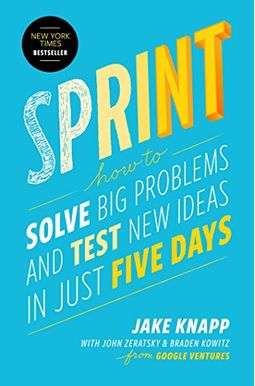 
 
Sprint: How To Solve Big Problems And Test New Ideas In Just Five Days
Book Overview
This Description may be from another edition of this product.
From three design partners at Google Ventures, a unique five-day process for going from problem to prototype.
The companies that Google Ventures invest in face big questions every day: Where s the most important place to focus your effort, and how do you start? What will your ideas look like in real life? How many meetings and discussions does it take before you can be sure you have the right solution to a problem? Business owners and investors want their companies and the people who lead them to be equipped to answer these questions and quickly. And now there s a sure-fire way to solve their problems and test solutions: the sprint.
While working at Google, designer Jake Knapp created a unique problem-solving method that he coined a design sprint a five-day process to help companies answer crucial questions. His sprints were used in the development of everything from Gmail to Google X to Chrome. When he moved to Google Ventures, he joined Braden Kowitz and John Zeratsky, both designers and partners there who have worked on numerous products, including the YouTube redesign. Together Knapp, Zeratsky, and Kowitz have run over 100 sprints with their portfolio companies, inside Google and in others companies or environments who have sought their help. They ve seen firsthand how sprints can Read More chevron_right
Frequently bought together
Frequently Asked Questions About Sprint: How To Solve Big Problems And Test New Ideas In Just Five Days
Books like Sprint: How To Solve Big Problems And Test New Ideas In Just Five Days
Book Reviews
(18)
Did you read Sprint: How To Solve Big Problems And Test New Ideas In Just Five Days? Please provide your feedback and rating to help other readers.
Run your first sprint with confidence

Derived From Web

, Apr 20, 2022

The product design process has been up in the air for too long. Sprint packages together the best of design thinking and other methods into a process that adds much needed structure. The book does a great job of speaking to you through the practical step by step process you'll need to understand how to facilitate your own sprints. But it also helps you understand the underlying principles behind Braden, John and Jake based their design of the process. If you've been following the articles of the GV website about the sprint process, the book fills in all the gaps. The accompanying facilitator notes at the end of some chapters also go into further detail, so that you can develop an understanding that will enable your first runs successfully.
A fascinating and seemingly replicable plan to come up with and test ideas quickly (and with less risk)

Derived From Web

, Apr 20, 2022

I am impressed with the strategic and tactical rigor that this book articulates. Great examples of great companies across several companies. It includes an accessible step-by-step articulation of process and tool suggestions to maximize the time of a team. It also identifies realistic challenges to anticipate. As a fan of Lean Startup, who has struggled with implementation at times, I am particularly struck by how this constrained process appears to validate a problem, market, hypothesis, prototype, and get to real world testing while reducing product launch risk. I'm very excited to take on this new process in earnest in the days to come.
Lots of useful tips, FAQs and checklists make it useful in ...

Derived From Web

, Apr 20, 2022

Oddly, I could put this book down just by the book. It provides a comprehensive guide for running a sprint, accompanied by very vivid examples from known startups. Lots of useful tips, FAQs, and checklists make it useful in running a sprint on your own, which I hope to do sometime soon.
Really great read. They take a lot of great ideas ...

Derived From Web

, Apr 20, 2022

Really great read ''. They take a lot of great ideas and combine them in a way that you can actually solve problems. I really want to give a try to a sprint soon.
It's a revelation and its so simple to carry out these brilliant author's step by step process

Derived From Web

, Apr 20, 2022

One of the most important books that any startup, entrepreneur, intra-preneur, manager, can read. I read this in about a day - could not put it down. Since then, I have bought 5 for my senior managers and put them just on their desk, hoping that they read it. It is a revelation and its so simple to carry out these brilliant steps by step process of the author. BUY :
A look inside the start up world

Derived From Web

, Apr 20, 2022

The book provides detailed instructions on how to run a design sprint, but I found the opportunity to get a peak at how GV and their start-up companies operate, to be of far greater interest. A much more engaging read than many business books.
#1 Tactical Problem-Solving Book

Derived From Web

, Apr 20, 2022

This book is the single most tactical book problem-solving. If you've been wondering what you need to do to get something done and build a solution to a real problem, this book and the Sprint method cuts right to the chase and gives you a set of tools you can actually use. Sprint is an outstanding read with a real tangible approach to solving problems. There is so much that has gone behind this book in the design sprint method and so much to learn from the design sprint itself, e.g. Team behavior, human behavior, team work, focus, efficiency, successfailure, etc. I have been using their Design Sprint method for years now and I am really excited to see it codified in this book. The best part is that you can use the Sprint method for almost any kind of project that aims to solve a problem. If the key to getting something done is to do it just, this book and the sprint demonstrates how to do part of it.
Amazing and MUST read book

Derived From Web

, Oct 5, 2021

It is really a game changer - book. First of all, it is written in a wonderful, fluent, fun and the most important - very easy to understand. In this book, I loved everything. I am so excited to try my first race already.
Yes, it is a guide, but a good one

Derived From Web

, Nov 5, 2019

This is really a guidebook with every single step and detail to successfully conduct a sprint session on your own. As the whole process reminded me of a lot of expensive sessions that big corporations hire from off-site consulting firms to improve engagement or motivation, the book itself sounded like those pre-work materials one would receive for those off-site meetings or maybe the tutor's manual. But here is the whole dynamics employed with a much more objective and clear purpose and that is what makes the whole difference.
GREAT Content, but find a mentor before you actually try this

Derived From Web

, Aug 24, 2019

Excellent content '' prepared with actual experiences. Easy to read. Easy to understand, simple to understand. I read this as part of a 3 day design sprint workshop training session. The only thing worse than not doing a design sprint is to do it badly and have it backfire. I strongly recommend professional training or mentoring before you try this in real life. enlist the help of a seasoned designer. I am a project manager and while the concepts and examples in this book are very easy to understand and each concept is relatively simple and doable on its own, the real value is in executing the entire process end-to-end and on a suitable project. Read it, enjoy it, wrap your head around it, then find the right project and team to implement it with. The results will surprise you.