Buy 3 Get 1 Free
Our Best Sale Yet! Add 4 Books Priced Under $5 To Your Cart     Learn more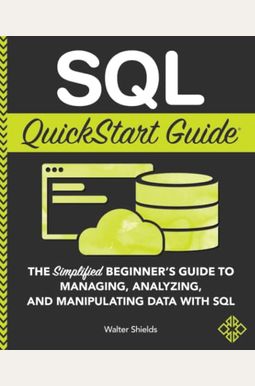 
 
Sql Quickstart Guide: The Simplified Beginner's Guide To Managing, Analyzing, And Manipulating Data With Sql
Frequently bought together
Frequently Asked Questions About Sql Quickstart Guide: The Simplified Beginner's Guide To Managing, Analyzing, And Manipulating Data With Sql
Book Reviews
(17)
Did you read Sql Quickstart Guide: The Simplified Beginner's Guide To Managing, Analyzing, And Manipulating Data With Sql? Please provide your feedback and rating to help other readers.
Clear, concise, basic

Derived From Web

, Apr 20, 2022

My wife will write this review I have an accounting degree. The one thing I wish my college focused more on was the software commonly used by accountantsaccounts payable employees. After reading this book, I feel as though I could easily use SQL in a work setting. I can put it on my resume to say that I am knowledgeable about software. Although I still have no experience, I can get an employer's attention by stating that I know how to use the software. I think this is good for someone who needs to know enough to get started. I have never worked with the software before my life. It is definitely a good guide for beginners. The descriptions are clear and concise. I use it probably as a reference guide for any job in which I keep this software as a reference guide for any job in which I use it. It is not overly long, so it doesn't take days to sift through complicated material. In total, a great purchase.
Contributes too understanding SQL in easy to follow increments

Derived From Web

, Jan 20, 2022

I used this Kindle version to study all the examples from the front to the back. You can download a sample database for a music store and browser called DBbrowser from the publisher Clydebank. The database has 14 tables that you can use to test your SQL code. Here is a great way to open the book from the Kindle Book-o-Read the book in your laptopdesktop Kindle reader on the left side of your monitor. -o- test the DBbrowser included with the book supplement Comb by chapter and chapter in the book and open the SQL snippets yourself. The author provides comments on the SQL statements he comes from his corporate experience. I 'd buy it again. This is a well-organized, easy to follow introduction to the language SQL.
I'm just Amazed

Derived From Web

, Jan 17, 2022

One of the biggest hurdles to learning programming languages is overcoming technical jargon. It is a real challenge, but Walter Shields has made SQL concepts and query writing so accessible in this book. Sometimes technical authors put their foot in their own way with their communication styles, written and verbal. However, this book reads like a Sunday newspaper-very clear but substantial. I was not sure what to expect when I bought this book. After reading this book, I can literally write SQL queries, but after reading this book, I can write SQL queries. Don 't underestimate this book and conclude that you will learn only a few useless statements and that's it. This book will teach you to listen to the business needs of your organization and how to use SQL to translate them into a solution. I use to listen in awe and confusion to Data Scientists. But now I feel like I can communicate with the best SQL experts. BUY THIS BOOK! BUY THIS BOOK!
Great for ease of understanding

Derived From Web

, Dec 17, 2020

I am rusty, but very self-taught. This book does a great job of describing the basics of SQL query writing and gives good explanations. The data, which comes with it is also nice. My one complaint is that there are typos scattered throughout the book, some causing confusion, but I was able to figure it out. Another reviewer also commented on this and said that the typos were fixed, but it does not seem to be the standard file downloaded from Amazon, hence the 4 out of 5 rating. I still recommend this book for anybody who wants to learn or brush up their SQL skills. It would be nice if there were some more advanced questions added to the book or otherwise provided by the publisher. To the publisher's credit, however, when I asked about it, they sent a great email containing several sites that I could go to for further SQL development.
Does a good job, but too much philosophy.

Derived From Web

, Nov 9, 2020

I'm about halfway through this book, and I'm halfway through this book. I have a condition that makes it hard to read ''. This book does a good job of teaching SQLite, but spends too much time stressing the importance of comments and style. I agree that these things are important, however, not to the audience of the book, by getting into the grit of SQL syntax and what keywords to use when versus ensuring that every query had a comment block with name, date and description. Moreover, requiring every reader to download a prewritten database to work from and special utilities to follow along, takes away the learning experience. You will learn SQLite basics, and by the end of the book you will be able to handle most problems you will encounter when developing an application.
Impressed. Fantastic Information AND Writing!

Derived From Web

, Oct 13, 2020

Book of the excellent is a great book. I actually know SQL and have a great deal of experience with it. I am very qualified to review this book. So, I am very qualified to review it. I haven't worked with SQL though, in two years, though. Which is why I wanted to read this book ''. A refresher is necessary. Plus, I think even the experienced can learn something from someone who has written exceedingly well about a topic. I learned a great deal ''. The author writes in a way that is missing from nearly every technical book on the market. His explanations, style of writing, everything, are fantastic. I only wished he wrote all the technical books I needed to read or want to own! Fantastic guide to have on hand. I have it on my computer and on my phone so that I am never without out.
LEARN SQL!

Derived From Web

, Aug 1, 2020

Book is great! Includes free audio book, sample database, SQL software download, SQL statement references and video tutorials.
Great book - I can now do SQL queries!

Derived From Web

, Jul 13, 2020

I got the printed version. The e-version is probably just as good. This book has allowed me to learn basic SQL queries to do. I am not a techy person by any means, and I took several online tutorials, but found them confusing. Except for the most simple problems, I was unable to do the homework. After using the book, I was able to query what I needed from my databases at work. I even exceeded the queries that others had done before me by cleaning them up. The reason I give 4 stars instead of 5 is that some of the lessons did not work in my DB. Some of the functions are different in different versions of SQL. If you're a beginner with questions, I highly recommend this. Downloading the practice DB is easy. It was also helpful for me to learn a bit of DB background and syntax that the other online lessons did not address.
Good introductory that hits on vital fundementals

Derived From Web

, Jul 11, 2020

Good examples and useful for coding beginners or experienced people who want to learn SQL. Approximately 80% of the book is on query approaches, and the last sections are on views and database record updating. If you do all the examples and work all challenges and maybe 15-25 hours of work depending on your skill, but a very productive 15-25 hours.
Beginner level yet PRACTICAL for real world

Derived From Web

, Jul 3, 2020

Fantastic beginner reference. Easy to understand and most importantly, PRACTICAL with examples and exercises to do. I had a few starts and stops with SQL stalls, but this was easy to stick to... and the best reference for going back to. Thank you so much for the kind words! !