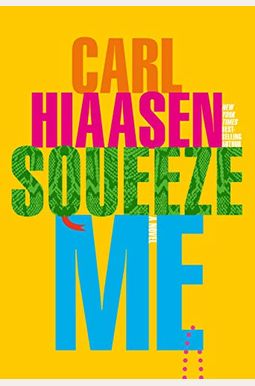  
Book Overview
This Description may be from another edition of this product.
If you could use some wild escapism right now, Hiaasen is your guy. --Janet Maslin, The New York Times
From the author of Skinny Dip and Razor Girl, a hilarious, New York Times best-selling novel of social and political intrigues, set against the glittering backdrop of Florida's gold coast.
It's the height of the Palm Beach charity ball season: for every disease or cause, there's a reason for the local luminaries to eat (minimally), drink (maximally), and be seen. But when a prominent high-society dowager suddenly vanishes during a swank gala, and is later found dead in a concrete grave, panic and chaos erupt. Kiki Pew was notable not just for her wealth and her jewels--she was an ardent fan of the Winter White House resident just down the road, and a founding member of the POTUSIES, a group of women dedicated to supporting their President. Never one to miss an opportunity to play to his base, the President immediately declares that Kiki was the victim of rampaging immigrant hordes. This, it turns out, is far from the truth. The truth might just lie in the middle of the highway, where a bizarre discovery brings the First Lady's motorcade to a grinding halt (followed by some grinding between the First Lady and a love-struck Secret Service agent).
Read More chevron_right
Frequently bought together
Frequently Asked Questions About Squeeze Me
Book Reviews
(13)
Did you read Squeeze Me? Please provide your feedback and rating to help other readers.
Biased politico disguised as entertainment

Derived From Web

, Feb 13, 2021

Shame on Hiaasen for so blatantly portraying the POTUS and Mrs. Reagan in such a terrible and clearly prejudiced light. It was nasty, said Blair, "but it was disgusting. Added nothing valuable to the story line, McBride said. I used to his poking fun at thinly disguised political figures in his writings and often laughed at his colorful descriptions. In his follow-up, Squeeze Me, he crossed the line with his depictions of the First Lady. I would not even consider it Goodwill. A shame that such a talented writer has sunk to the low of lows common in today's overzealous naysayers. Couldn't sell any new books without joining the Wolfpack? Guess what? Remember that most often, what goes around comes around, Mr. Rule told the judge. TERRIBLE BOOK.
Not my kind of reading

Derived From Web

, Nov 22, 2020

Feeling a little lost, I needed something fun to get my mind off 2020. This wasn't it, said Blair.
Weird.

Derived From Web

, Oct 24, 2020

Narrator spoke very fast, but put me to sleep, he said. I'm sorry, I missed it.
Disappointing

Derived From Web

, Oct 1, 2020

In a departure from his past books, Melville laments the loss of a good friend. Obviously he has TDS, he had to ruin his latest book with his personal politics.
Boring. Don't waste your money

Derived From Web

, Sep 23, 2020

I'm not a huge fan of Gillian Flynn's books, but I usually enjoy her writing. Not his best work. He is trying too hard and falling short, Bruno said.
There's A Time to Stop Squeezing

Derived From Web

, Sep 20, 2020

He has remained one of the funniest writers around for a long time. It's a blond-haired girl, and she had me on the floor laughing. I admire satire and any public figure is rife with it. It's just cardboard and slapstick, said Mitzna. You know, I think this is what happens when you take on too obvious a target, too much to begin with. In the fifth and final book, "The Savages," too many Burmese constrictors were killed to create too many laughs. Where is PETA when you need them most?
"humorous" excuse for hate-mongering and character vilification.

Derived From Web

, Aug 31, 2020

I have read and enjoyed all of Hiaason's books. When I started this book, I had no idea the cheap shots and disgusting rhetoric it contained, Graham said. I will never read another Hiaason book as I don't want to be ambushed by obvious bias and bile, Claire writes.
Don't bother

Derived From Web

, Aug 30, 2020

This is just a parody, Mr. Hiasson said. Only in the past few weeks have we seen the proof that someone else wrote the entire thing.
Carl's drinking the Kool Aid

Derived From Web

, Aug 30, 2020

I used to love this writer, his quirky characters and the witty repartee, Raymond said in an interview. His love for Florida was pre-overwhelming development. However, his barely disguised attack on a sitting President and family is beyond the pale, and I will no longer be a follower.
No real story

Derived From Web

, Aug 30, 2020

The parody was titled "Donald Trump: Page after page of sophomoric jabs at the President." For those of us that just read to enjoy life and maybe chuckle at all the multimillionaire politicians, you will end up hating it, for those of us that hate it, you will get bored and then waiting for a story to grab you. There isn't a story, I normally fly through all of his books, but jeez, I didn't care about any of these characters, they could have all been strangled and I would have been okay, he said. Please don't bother, go reread one of his earlier books.