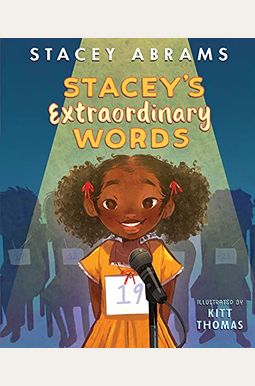 
 
Stacey's Extraordinary Words
Frequently Asked Questions About Stacey's Extraordinary Words
Book Reviews
(10)
Did you read Stacey's Extraordinary Words? Please provide your feedback and rating to help other readers.
A great story for elementary age!

Derived From Web

, Feb 23, 2022

An inspiring story with vibrant illustrations is a recipe for a wonderful book. This story was a great example of being true to yourself, working hard, showing kindness, and being a good sport, and my oldest is in second grade. The story line flowed and was engaging. My four year old sat calmly and asked questions. I will refer to this book a lot when we talk about perseverance.
Self centered much?

Derived From Web

, Feb 8, 2022

If you are looking for the greatest accomplishment a politician has ever had and you would like to instill your children with your politocal ideology, I can't think of a better read! It would have been a shorter read if it had been titled "Stacy's amazing accomplishments".
Great story about trying.

Derived From Web

, Jan 29, 2022

I received this book for my 83rd birthday as I love Children's books. The illustrations are wonderful and the book has a good story line. The illustrations are bright. The story emphasizes that trying is more important than winning.
Amazing book

Derived From Web

, Jan 25, 2022

This book is about love. I donated it to a children's group because I wanted to give it to my adult self and I was glad I did,Stacey is amazing and there's no surprise that she has a love for words. I hope that children will see the character challenge herself, be intentional, be kind when others aren't so kind, and how important it is to overcome and continue on in the face of disappointment.
An excellent read

Derived From Web

, Jan 16, 2022

I was excited to read it. I want my great nieces to read. Every black girl, woman and child needs to learn words to feel confident in doing so.
So relatable

Derived From Web

, Jan 14, 2022

My 7 year old granddaughter struggles to read. She felt that she understood her friend,Stacey. She said that written words are powerful and that she had difficulties in reading them. She loved it! It's!
Beautiful story about the power of words

Derived From Web

, Jan 4, 2022

Pre-ordered this to see what he had written. She had earned my respect and my vote for her advocacy work. The book is a beautiful story of perseverance and the power of words. This subject was right up my alley as a total spelling bee nerd. I passed it along to my cousin, who is a teacher. I hope that many people read it. There is a glossary in the back of the book.
BUY IT!

Derived From Web

, Jan 2, 2022

This book is perfect. It's for all the kids you love. I can't find anything wrong with this book. I will be ordering copies number 7 and 8 right now. !
Fantastic for kids and parents

Derived From Web

, Dec 30, 2021

I read this book to my kids. We read it twice because they enjoyed it so much. The kids and I really liked it. My kids liked the glossary at the end of the book. The illustrations capture the emotion very well. I hope she writes more children's books. !
Words Are Important

Derived From Web

, Dec 28, 2021

I have been waiting for the book to be released. I knew it would be great. I can't wait to show it to our children. Ms, we need more picture books. It's Abrams! .