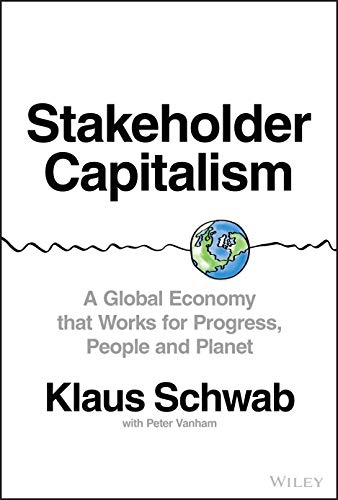 
 
Stakeholder Capitalism: A Global Economy That Works for Progress, People and Planet
Frequently bought together
Frequently Asked Questions About Stakeholder Capitalism: A Global Economy That Works for Progress, People and Planet
Book Reviews
(8)
Did you read Stakeholder Capitalism: A Global Economy That Works for Progress, People and Planet? Please provide your feedback and rating to help other readers.
Great Read

Derived From Web

, Apr 27, 2021

Every CEO, CFO,COO, and government leaders at all levels should read this. If we have the will, it can work. The problem lies there. Selfishness is a virtue. We need to break through this somehow. Only then can we have fewer problems than in this world. I live in the United States. I am pro - 2 - Amendment. The gun is not the source of the violence. It is a tool. I have always believed that when you increase the areas of social, housing, education and economic opportunities, you have always believed. This book gives us a good start.
Fourth Industrial Revolution agenda

Derived From Web

, Mar 22, 2021

Not interested in world economic forum partners and Klaus Schwab's company, trying to make a profit off the economic collapse and Fourth Industrial Revolution.
Mostly economical history

Derived From Web

, Mar 17, 2021

Two-thirds of the book is mainly historical context about the industrial revolution, the roaring 1920s, the post-war economy and globalization. When it comes to explaining stakeholder capitalism at the end, they limit themselves to some overview description. The fact that the author is a leader of the international entity, which is supposed to indicate how to solve the current economic collapse makes me concerned about the future of the world.
Easy to read and understand

Derived From Web

, Mar 14, 2021

I think that it would make even more sense if I read his other books before reading this. But this is still a good read and I ordered the rest of his books. )
Mostly ramblings and platitudes. No real points made. No real plan outlined.

Derived From Web

, Mar 2, 2021

The goal seems to be to create a new base of power with him and his in charge of it. And if you don 't do what they want, they will sicken you with social media. Everyone wants a better system, planet and life, but this book does not say how.
Found from Johnny Harris...was not disappointed

Derived From Web

, Feb 22, 2021

This book builds itself, giving basic knowledge on where this economic boom began and why. While it took us through the golden era of the for-profit corporations and how greed and the short has taken a larger toll not only on the world we leave for our future generations, but also on the well that we share for humans today.
Excellent!

Derived From Web

, Feb 17, 2021

It points out the problems of modern economic systems, from the inequality to pollution and climate change. But it is not doom and gloom, as the conclusion states, the state of the world is not a given, but we can improve it if we are all committed to a better world. It is excellent and I would recommend it to anyone.
Yes change is possible

Derived From Web

, Feb 10, 2021

In the optimistic view, I find the book very interesting : proper cooperation between all stakeholders in business and society can create a much better world for people and a better planet. And it is for all living on this planet.