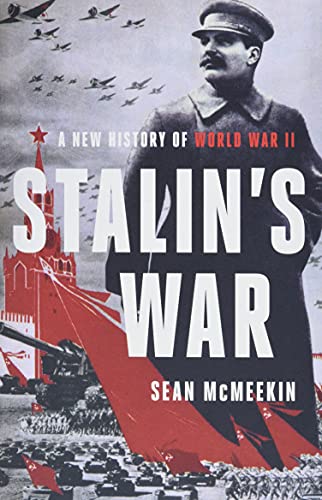 
 
Stalin's War: A New History of World War II
Book Overview
A prize-winning historian reveals how Stalin--not Hitler--was the animating force of World War I in this major new history.
World War I endures in the popular imagination as a heroic struggle between good and evil, with villainous Hitler driving its events. But Hitler was not in power when the conflict erupted in Asia--and he was certainly dead before it ended. His armies did not fight in multiple theaters, his empire did not span the Eurasian continent, and he did not inherit any of the spoils of war. That central role belonged to Joseph Stalin. The Second World War was not Hitler's war; it was Stalin's war. Drawing on ambitious new research in Soviet, European, and US archives,
Stalin's War
revolutionizes our understanding of this global conflict by moving its epicenter to the east. Hitler's genocidal ambition may have helped unleash Armageddon, but as McMeekin shows, the war which emerged in Europe in September 1939 was the one Stalin wanted, not Hitler. So, too, did the Pacific war of 1941-1945 fulfill Stalin's goal of unleashing a devastating war of attrition between Japan and the Anglo-Saxon capitalist powers he viewed as his ultimate adversary. McMeekin also reveals the extent to which Soviet Communism was rescued by the US and Britain's self-defeating strategic moves, beginning with Lend-Lease aid, as American and British supply boards
Read More chevron_right
Frequently bought together
Frequently Asked Questions About Stalin's War: A New History of World War II
Book Reviews
(11)
Did you read Stalin's War: A New History of World War II? Please provide your feedback and rating to help other readers.
Fantastic read, skilled writer

Derived From Web

, Jan 23, 2022

I am very familiar with this era but the author constantly brings in new and incisive information. Very readable.
Strategy and spies

Derived From Web

, Jan 19, 2022

A wise man recently said that he studies data and does not summaries or conclusions, according to The Age. The volume of data in this book is mind-boggling. The vanity and naveté of FDR are on full display here, and we are paying the price to this day. The arrogance of all the involved elites echo in today's world. This book is so well-written that it is a page-turner. I am wiser, but sadder as a result of this knowledge.
Sad

Derived From Web

, Jan 7, 2022

I was browsing in Branes and Noble. I mostly purchase books through Amazon, but the thesis intrigued me and I returned several times and got through perhaps a third of the book. It was obvious to me after the first few chapters that I didn't want to provide the author with pecuniary compensation, he said. Stalin was a very sick man, but it is apparent from what I read that the author has his own problems with which to deal. I feel for him.
Stalin Won WWII

Derived From Web

, Oct 19, 2021

Interesting look at WWII. The British and Americans funded the war with Germany and Japan, allowing him to create a Communist Block if countries but saving British and American lives.
Excellent book

Derived From Web

, Sep 14, 2021

This explains how the Nazi's advanced so quickly in Russia in the Barossabar campaign better than any book I have read yet. Also, the way Joe Stalin took advantage of naive Allies is very instructive for anyone trying to understand history.
The politics behind the events

Derived From Web

, Aug 13, 2021

Many of the books reviewed by The Age were written by noted historians. Based on new sources, including Soviet files, this book lays out the meetings, discussions and correspondence between leaders and key players that drove events. It fills in the gaps that are in most of the histories I have read. Anyone who has a better understanding of the power politics of that day will find much to enjoy.
A good analysis of a confusing aspect of history

Derived From Web

, Jul 26, 2021

History aside, this is a good description of the complex motivations of Stalin leading up to World War II. It is definitely difficult to read Stalin's duplicity to friends and allies before, during and following the purge. hostilities begin. Amazing in support of Stalin's master plan to have the allies and Germany exhaust each other prior to the Soviet Union entering the conflict.
A honest look at Western appeasement of Stalin

Derived From Web

, Jun 28, 2021

I enjoyed reading this book a lot. It offers a fresh new look at how Roosevelt and Churchill were duped into creating a new monster to combat the old one. Author's ideas might not fit well with people believing in official version of the history written by the victors but Me Mcekin supports his thesis with ample documentation.
Extremely biased view

Derived From Web

, Jun 9, 2021

Extremely view although thoroughly researched Need to take his arguments with a HUGE PILE of salt Many key facts are wrong.
Real History

Derived From Web

, May 16, 2021

All one has know about this book is that as usual the left wing liberals are screaming because someone like this author finally told the truth about King Roosevelt....