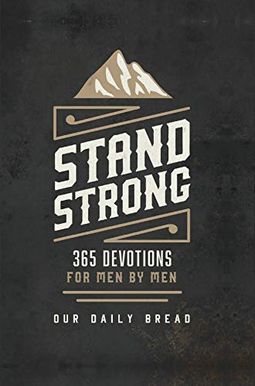 
 
Stand Strong: 365 Devotions For Men By Men
Book Overview
Stand Strong in the Power of the Lord

Stand Strong encourages you to reflect on God's Word and apply it to your life. Each devotional is practical and brief, taking only five minutes to read. This collection of personal stories and relevant Scriptures will inspire you to grow in your relationship with God, live a life of integrity, and embrace God's strength in every area of your life.
Frequently Asked Questions About Stand Strong: 365 Devotions For Men By Men
Books like Stand Strong: 365 Devotions For Men By Men
Book Reviews
(10)
Did you read Stand Strong: 365 Devotions For Men By Men? Please provide your feedback and rating to help other readers.
This isn't about the product but, rather about the delivery.

Derived From Web

, Dec 31, 2020

We had several inches of snow, followed by rain which froze and made it difficult to get from the driveway to the front door. Your delivery person went beyond a good delivery by walking over the snow and placing our package by the front door. It would have gotten wet from the slush if it was left by the garage door. Thank you so much for high praise and thanks to your employee. I've been impressed with Amazon's concern for customers for years.
The Lord had his hands in this devotional

Derived From Web

, Feb 21, 2020

A great daily devotional. There are very relevant topics. Many have pointed out that the word "Lord" was deleted from the scripture references. I find myself reading the Bible verse slower because I have to fill in the blank with "Lord" which adds an emphatic effect to my reading. I was initially annoyed by this publishing mistake, but he works through it. .
Word Lord Missing throughout!

Derived From Web

, Feb 11, 2020

I bought this devotional for my husband so he could take it on deployment. The word "Lord" is missing in the Bible. How can you make a devotional that doesn't include the word Lord? Very disappointed. Did nobody read this book before it was printed?
Good but not Great

Derived From Web

, Feb 3, 2020

It is a good devotional for men. The short stories that go along with the main verse are well written. I wish I could give it 5 stars, but I just can not get over the mistakes. The book of the Bible is missing in some cases and the name "Lord" is missing from a lot of the verse. You don't know what to read. You can only see a chapter and a verse. The February 2 devotional has a title of "223-28". The verse that goes along with the devotion is the one that says "Lord" What is the purpose of "223-28"? This example is repeated several times. It is expected but expect better from Our Daily Bread.
LORD is missing from the scriptures

Derived From Web

, Jan 13, 2020

See the attached pictures. The Lord's name is missing in the scriptures. How can a devotional remove the Lord's name from the scriptures? ?
Nice, but there are some errors

Derived From Web

, Jan 11, 2020

Several times the word "Lord" is deleted from the scriptures. I'm not sure if I got a good one or a bad one.
Perfect for my mornings...

Derived From Web

, Aug 7, 2019

This has been a great devotional for me. A small page a day is perfect, as I usually read a more involved book after the morning commute. I like the short message with each verse to start my day and give me time to read. The messages are relevant and uplifting. This is a great starting point for a quick word to motivate you for the day and build on your spirituality.
Great Devotional

Derived From Web

, May 1, 2019

I wanted a year long devotional, so I used the Bible App. I like the message of the day. Highly recommend.
Love

Derived From Web

, Mar 26, 2019

I love this as a whole. The size is perfect, it sits on my bedside table so I can wake up and grab it. The quality is good and it is an easy read, which is nice since some devotionals are long and lose track of the true message. I will be giving these to other men at my church.
Very good men's daily devotion

Derived From Web

, Mar 5, 2019

The daily devotion book has been enjoyable for me. If I have a few minutes of downtime, I can read my daily devotion on my kindle app, even if I don't get to do a good sit down devotion.