Buy 3 Get 1 Free
Our Best Sale Yet! Add 4 Books Priced Under $5 To Your Cart Learn more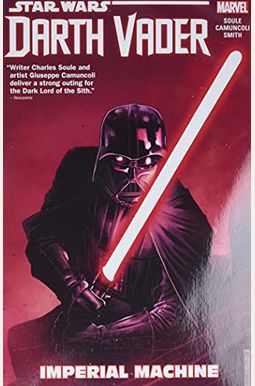 
 
Star Wars: Darth Vader: Dark Lord Of The Sith Vol. 1 - Imperial Machine
Book Overview
From acclaimed writer Charles Soule comes a brand-new, exhilarating series exploring Darth Vader's early history. Picking up directly where Star Wars: Episode I - Revenge of the Sith ends, follow Vader as he receives his legendary red lightsaber and witness Vader's rise to power as a Dark Lord of the Sith COLECTING: STAR WARS DARTH VADER 1-6
Frequently Asked Questions About Star Wars: Darth Vader: Dark Lord Of The Sith Vol. 1 - Imperial Machine
Book Reviews
(9)
Did you read Star Wars: Darth Vader: Dark Lord Of The Sith Vol. 1 - Imperial Machine? Please provide your feedback and rating to help other readers.
Quick, but very good read

Derived From Web

, Feb 15, 2021

Vader can be a lot of things, according to Charles Soule. Vader is on a quest to get a light saber after the end of the trilogy. The books fit in nicely with the source material and the characters introduced were interesting. The art by Camuncoli is beautiful. A very good read that goes by quickly.
They must make this into a movie!

Derived From Web

, Feb 16, 2020

I hope the story line makes it into a Disney movie. Vader has a lot of comic book and animation series exposure. His exposure in live movies in his post- Sith form is very weak. I agree that he was a part of the original trilogy, but I think it's time to bring in some serious Vader stories with this book. I thought Vader had it too easy with the Jedi.
All of the comics/graphic novels in this series are considered to be "Canon."

Derived From Web

, Jun 26, 2019

My boys and I are huge fans of Star Wars, so we decided to try these out. Not disappointed! The story lines helped us understand Darth Vader better.
Thrilling and illustrated beautifully

Derived From Web

, Jan 27, 2019

If you' re a Vader fan, this is a must read comic, as it goes into Vader's early days and his journey to become a true champion of the dark side. I had to put it down several times so it wouldn't end. I love my second read of the same volume as well. The writing in this book is much better than I thought it would be. This is one of the few new comics that can hold its own with the classics and Dark Horses. The illustrations are topnotch and the story is well thought out.
Young Vader in Action!

Derived From Web

, Dec 21, 2018

Picking up directly with the conclusion of Episode III, this volume shows the first trial of young Vader, securing a Kyber crystal for his lightsaber. The pages crackle with energy and Vader's emotional state in the early days of his transition to the Dark Side has never felt more electric and poignant. A key scene showing Vader considering an alternate path is moving and powerfully presented. The new introduction to the Grand Inquisitor will flesh out his story a bit. The volume was on sale for a steal. The power of the Dark Side is not known until you read the story.
I find myself rooting for Vader

Derived From Web

, Dec 14, 2018

The events of Vader at the end of Episode III are explored in this comic series. I thought of Darth Vader as the baddest villain in the universe when I was a child. Lucas wanted us to know that Vader is a sad and sympathetic villain. Some of the mystery and horror of Vader was taken away from the prequels. If you love the Vader scene at the end of Rogue One and you want to know how he became more machine than man, then you will enjoy reading this comic written by Charles Soule and beautifully drawn by G. Camuncoli. When I was a kid, Vader was cool, frightening, and powerful.
Darth Vader: Dark Lord of the Sith Reading Review

Derived From Web

, Aug 23, 2018

The first volume of a new comic book series was written by Charles Soule and features many talented artists. The comic- book continuation of Lord Vader's rise and the fall of Anakin Skywalker is a great story. The series really hits the Star Wars spot, despite a few weak moments of un- polished character and backdrop artwork. The 3 rd Star Wars c-b series is another winner and the action is quite cracking.
Vader .......The Early Years

Derived From Web

, Mar 21, 2018

The story is made up of Darth Vader's rise to power. Vader is testing his armor. Vader's limitations as a leader and how he builds his reputation as a ruthless villain are shown in a short graphic novel. The computer color is spot on. The depiction of the dark lord is accurate to the films. Charles did a great job of capturing Vader's early career.
Birth of a Sith Lord

Derived From Web

, Feb 10, 2018

The Darth Vader series did not live up to the first edition. It shows that there are different artists and authors. While the storyline is good and features a great white by Palpatine, the artwork leaves much to be desired. Sir Ian looks a lot like Emperor Palpatine. Vader stares off. They should have kept the original crew. The first series and Vader Down edition were very good. This is not great. I was disappointed to say the least.