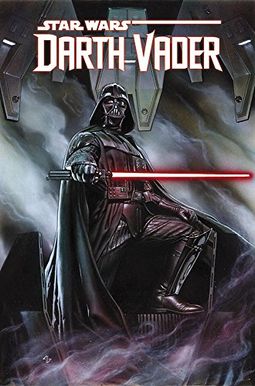 
 
Star Wars: Darth Vader, Volume 1: Vader
Book Overview
The original Dark Lord of the Sith stars in his first ongoing series Ever since Darth Vader's first on-screen appearance, he has become one of pop culture's most popular villains. Now, follow Vader straight from the ending of A NEW HOPE into his own solo adventures - showing the Empire's war with the Rebel Alliance from the other side But when a Dark Lord needs help, who can he turn to? As Vader pursues a very personal vengeance against the Rebels and investigates the Emperor's secret machinations, he clashes with weapons scavenger Aphra and deadly Battle Droids, and returns to Geonosis to build an army. But some very powerful people don't want him to learn the truths he seeks Guest-starring Jabba the Hutt, Boba Fett and more
COLECTING:
Darth Vader 1-6
Frequently bought together
Frequently Asked Questions About Star Wars: Darth Vader, Volume 1: Vader
Books like Star Wars: Darth Vader, Volume 1: Vader
Book Reviews
(15)
Did you read Star Wars: Darth Vader, Volume 1: Vader? Please provide your feedback and rating to help other readers.
Excellent bridge

Derived From Web

, Apr 27, 2022

Like Rogue One, this book is doing an excellent job of bridging the gap between the original movies. A new generation of Star Wars fans will get a glimpse into the lives of Darth Vader, Luke and the new Doctor Aphra.
Does a great job of capturing the menacing power and cleverness of ...

Derived From Web

, Apr 27, 2022

It was a great experience, said Luzerne County Councilman Bob Yeates. Plot was exciting, Crowe said. It's great to be back with Harrison Ford as the villainous Lord Vader.
A great first step into the twisted life and reasoning behind Vader

Derived From Web

, Dec 15, 2020

This book is a great first step into getting into seeing Vader as a main character and for the price point it's worth it.
Some interesting conversations with average adventurr

Derived From Web

, Jan 16, 2020

Palpatine laments that Vader's solo missions bring in some classic and new side characters. Although I think it's a little over the top, I like seeing a bad droid. Vaders's realization that he has a son is really well done with the flashbacks.
Vader: Behind the scenes

Derived From Web

, Dec 23, 2019

An interesting take on the book, and I'm looking forward to reading more of it.
Fills in story between episodes IV and V

Derived From Web

, Sep 16, 2018

Really good book, well illustrated. It's a prequel, taking place before the original Star Wars.
Vader...

Derived From Web

, Jan 2, 2018

The third and final film will be split into two parts, "Caprica." Vader's story is vast and ever-growing that is one shrouded in question, and this sheds some light on his story _ from a certain point of view! A good read for any Star Wars fan.
Good story!

Derived From Web

, Dec 30, 2017

It's a good fit for the series, said Harrison, also of Star Wars fame. Even with the help of Obi-Wan Kenobi, I can't imagine Vader teaming up with anyone. It's just a matter of time, said Dr. Goin.
Oh Hell Yes!

Derived From Web

, Dec 24, 2017

I was with this and thought it could go either way, but the story has some promise and Vader as a character is starting to get interesting, and of course the art is great.
Excellence in Comics-Vader Done Right

Derived From Web

, Nov 28, 2017

There are a number of fellow Star Wars fans who have told me how great the Vader series of comics are. Thanks to Amazon, I got this copy as a bonus from another purchase. Not only did they not find the bodies, they also said they were joking. Marvel's Captain America is a fascinating comic book with an excellent storyline. His Imperial Highness has fallen from favor with the Empire and must redeem himself. Meanwhile, Vader pursues his own agenda to find out the identity of the young rebel pilot who destroyed the Death Star. This is a great book, not just for comic book readers, but for artists and illustrators as well. His scenes with his son are also memorable, as is his visit to Jabba the Hutt. Television's most versatile cast of characters has earned Emmy and Golden Globe Awards, and is a household name.