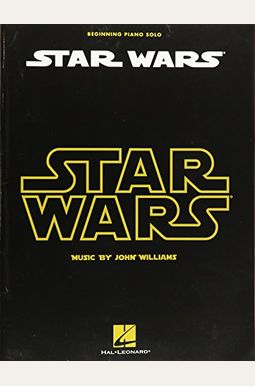 
 
Star Wars for Beginning Piano Solo
Book Overview
(Beginning Piano Solo). Piano students will love these easy arrangements that will let them play the themes they recognize from all of the Star Wars movies Ten songs in all: Across the Stars * Cantina Band * Duel of the Fates * The Imperial March (Darth Vader's Theme) * Luke and Leia * May the Force Be with You * Princess Leia's Theme * Star Wars (Main Theme) * The Throne Room * Yoda's Theme.
Frequently Asked Questions About Star Wars for Beginning Piano Solo
Book Reviews
(10)
Did you read Star Wars for Beginning Piano Solo? Please provide your feedback and rating to help other readers.
Beginner book

Derived From Web

, May 9, 2022

This has been a life saver for my son. He wasn't really thrilled to play the piano and we had to constantly nag at him to get practice time completed. Once we got this book for him, he started playing the piano more on his own. This is a book for beginners, but he has so much fun playing these songs.
Helped my Son practice over the Summer of his own free will ;)

Derived From Web

, May 9, 2022

This is PERFECT for kids who love Star Wars and are still early intermediate to advanced beginner. It has large printing which makes it easier for younger kids to play with their toys. My 10yo son who has been taking piano lessons for 2 years was able to pretty easily learn the songs and it kept playing piano over the summer By Choice! Win-Win! It's great to be back home, said Blair.
Great quality scores for a relative novice

Derived From Web

, May 9, 2022

I'm very impressed by the quality of music this book offers without being overly complicated, Levine said. My 7 year old son, who has studied the piano for about one year, is able to teach himself some of his favourite Star Wars songs!
"Luke...I am your father..."

Derived From Web

, May 9, 2022

Very simple arrangements, Mr. Dhaliwal said. Purchased to use for beginner pianist having taken piano lessons for about 1 year. The biggest complaint I have is that the notes are large enough that they often cover multiple pages. I hate page turns for anyone, especially kids. Many of the pieces of music require a teacher duet to play along an increased tempo in order to make the tune recognizable. Only purchased it because this particular student is a Star Wars fanatic and has been begging to learn to play music from the films. Happy Student and Future Pianist.
This is perfect for someone who's been playing for a year

Derived From Web

, May 9, 2022

This is perfect for someone who has been playing for a year or two. Both my 7 and 8 year olds can play the songs. It took them about a week to two weeks to be able to master a song. Wish they had more books at this level.
Great way to get my kids to practice

Derived From Web

, Jan 1, 2022

Now that my kids are old enough to love so things Star Wars, picking up some Star Wars sheet music for them seemed like a natural progression. Songs like "May the Force Be With You," "The Imperial March" and "Return of the Jedi" are classics that make practice fun. There are a few songs in here that are a little out of reach, and there isn't any songs from the sequel trilogy. But they do have songs from the prequels, including "Duel of the Fates," which the kids love. It's great to have a book like this for aspiring musicians of all ages.
Fun book for early intermediate piano players

Derived From Web

, Feb 23, 2021

My 7 year old who has been playing piano since 3rd grade has fallen in love with the book. Broomhead adds a fun element to break up the monotony of learning books. The boys are fun and sound like they should be at this level, he said. While some songs are tricky due to finger placement and counting, he is doing well and sometimes plays old songs to show off to his friends.
All in the key of C-- sounds so bad

Derived From Web

, May 11, 2020

Not a fan. All of the songs sound wrong because they have been transposed into the key of C, so I wasn't expecting it to be artificially easy! The Imperial March in the key of C sounds so silly. The key they're writing in sounds so bad that it's super distracting. I guess I don't see why only the key of C counts as a beginner book, since my other piano books aren't.
Front of book creased.

Derived From Web

, Dec 15, 2018

I strongly dislike how almost every book I receive from Amazon is slightly damaged. It is usually not damaged enough to make it worth returning, but is in a condition where I would not buy it from a brick and mortar store, it is. It leaves me with a bitter taste in my mouth and the feeling that I am just a hostage to Amazon, because many items seem to be only available on Amazon. The book is fine but arrived late and the front cover is creased. Now I have to ask a student to pay me full price for a book that looks like it was written by a professional. Thanks a lot, Amazon.
Good for beginning players

Derived From Web

, Oct 25, 2018

My sons are year two piano players and lifelong Star Wars fans, so this book is great. It has a few tunes from the prequel trilogy, but the lion's share of songs are from the classic Star Wars movies. Simply put, the arrangements are fairly and still true to the music.