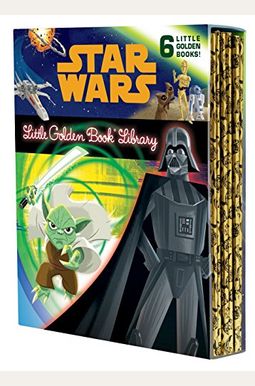  
The Star Wars Little Golden Book Library (Star Wars): The Phantom Menace; Attack of the Clones; Revenge of the Sith; A New Hope; The Empire Strikes Ba
Book Overview
The first six episodes of the epic Star Wars space saga--The Phantom Menace, Attack of the Clones, Revenge of the Sith, A New Hope, The Empire Strikes Back, and Return of the Jedi--are retold in this Little Golden Book library Featuring stunning retro illustrations, this boxed set of six Little Golden Books is perfect for Star Wars fans of all ages
Frequently bought together
Frequently Asked Questions About The Star Wars Little Golden Book Library (Star Wars): The Phantom Menace; Attack of the Clones; Revenge of the Sith; A New Hope; The Empire Strikes Ba
Books like The Star Wars Little Golden Book Library (Star Wars): The Phantom Menace; Attack of the Clones; Revenge of the Sith; A New Hope; The Empire Strikes Ba
Book Reviews
(15)
Did you read The Star Wars Little Golden Book Library (Star Wars): The Phantom Menace; Attack of the Clones; Revenge of the Sith; A New Hope; The Empire Strikes Ba? Please provide your feedback and rating to help other readers.
I am a Jedi like my Father before me....

Derived From Web

, May 1, 2022

My daughter and son have recently discovered and fallen in love with Star Wars just like their mom and dad. And, for the first time, they are reading all the books. I was so excited to find some age appropriate books for them, said Jennette. I am so happy we have found something to encourage their love of reading and their very active imaginations, Mrs Hughes said. I can't wait to search for more of these little Golden Book gems.
The Force is strong with this one...

Derived From Web

, May 1, 2022

As any good father in a galaxy far, far away does, he introduces his children to the Star Wars universe who grew up loving! My daughter, who only started watching Star Wars movies when she was 3, only got interested in them because I watched the trailer for The Force Awakens and some additional Star Wars nerd-fan videos online. And now she is obsessed, too, with this Little Golden Book collection. It shows how important the stories are to a developing child, and makes them palatable for a toddler. It avoids going into more detail, but holds their attention with great pictures, solid writing and just plain fun. Before you can say "I do," you must have seen the film "The Empire Strikes Back."
A great alternative to many other Star Wars Series books from the 6 movies.

Derived From Web

, May 1, 2022

So I purchased them and immediately found that my daughter who is 3, was much more interested in reading them than the others. These books are much softer than most others and really more about Star Wars being fun and everyone being nice with interesting creatures, rather than the evil Empire. Evil Sam again. Even with the editing, the two masters of the story still do a great job roughly telling the story. The artistry is excellent and they have become an integral part of our evening reading time, Mr. Dhaliwal said. This book is recommended reading for anyone who has ever wanted to be a Star Wars fan. I have a daughter who turns 5 today.
Finally!

Derived From Web

, May 1, 2022

I finally understand what's going on with the Star Wars movies, Tunick said. My son absolutely loves them, said Cara. They were great prizes for potty training because he was always hyped to get the next book in the series, Melissa said.
Awesome little books

Derived From Web

, May 1, 2022

I just love reading them all night. If you are a Star Wars fan then these are for you.
OUT OF THIS WORLD!!!

Derived From Web

, May 1, 2022

A great story, said Harrison Ford, director of the "Star Wars" movies. The movies go along with the books very well. My kids absolutely love reading them. We have also bought these as gifts for others because of how well made they are. This is the best way to introduce a new generation to Star Wars, one bed time story at a time, he said.
A nice set of books for young Star Wars fans

Derived From Web

, Jul 29, 2020

My Grandson LOVES Star Wars and he's an avid reader, so I got him this Little Golden Books Boxed set. They're not that big a deal, Mr. Rule told the judge. The second book, "The Fifth Estate," is a prequel to "The Godfather Part II." The stories are good and the illustrations are nice, too. Amazon's deal seems a little pricey, but it's still a better deal than buying the entire book. My Grandson just turned 8 and he still loves the books I took one star off because of the price.
Perfect for your little Padawan!

Derived From Web

, Jun 14, 2020

He was absolutely thrilled to read them. He is a huge Star Wars fan. These books do a great job summarizing the movies, and hitting all the high points, Morgenthau said. The books do a great job of covering the plots without being too explicit for little ears. My daughter loved the graphics, too. It's great to be back home, said Blair.
Kids love them.

Derived From Web

, Feb 22, 2020

She has seen the show 1-7, although at 4 years old some of it is probably a bit much for her. Even though she's a huge movie buff, Hepburn would have loved the stories. These are the only books I've ever read that were so good. Obviously it's not every part of every episode, but enough to get the fist of it. She's a huge fan of the Harry Potter series and has read all the books. I was so happy to find them in a collection like this and when they arrived, I had to read every one of them to her that night, at least twice. She is a huge Chelsea fan. It's hard to go wrong with little golden books, Tunick said. They also helped with getting my wife involved, she's a huge movie buff.
A duplicate and a missing book

Derived From Web

, Aug 7, 2019

I've read all the books, but this is by far the best. However, we also received multiple copies of Revenge of the Sith, and are missing the Phantom Menace. My sons have messed up the packaging so I don't want to come back, but bummed about the missing book.