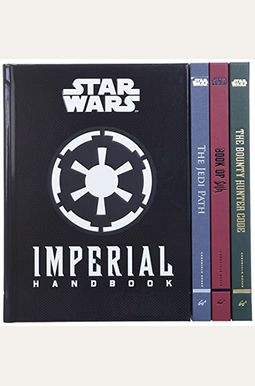 
 
Star Wars(R) Secrets Of The Galaxy Deluxe Box Set
Book Overview
The secrets of the Star Wars galaxy have been recorded in a series of handbooks and guides created and kept hidden by the Jedi Order, the Sith, the Bounty Hunters Guild, and the Empire itself. Set in-world, richly illustrated, and annotated by characters such as Luke Skywalker, Leia Organa, Boba Fett, Yoda, and Darth Vader, each volume expands Star Wars mythology with details from the inside and deepens readers' experience of the saga. This deluxe edition boxed set collects The Jedi Path, Book of Sith, The Bounty Hunter Code, and Imperial Handbook in a handsome and accessible custom slipcase, creating a handy and invaluable library for exploring a galaxy far, far away.
(c) and TM Lucasfilm Ltd. Used Under Authorization
Frequently Asked Questions About Star Wars(R) Secrets Of The Galaxy Deluxe Box Set
Books like Star Wars(R) Secrets Of The Galaxy Deluxe Box Set

Book Reviews
(10)
Did you read Star Wars(R) Secrets Of The Galaxy Deluxe Box Set? Please provide your feedback and rating to help other readers.
Great for the Star Wars Fans

Derived From Web

, Oct 4, 2021

I had to get these, said Elizabeth Byrne, a die-hard Marvel fan. The second book, "The Fifth," contains notes by the three main characters. His notes show that Anakin is not only an arrogant personality, but also shows interest in the dark side. As for Sidious, he showed his disdain for the Jedi and the ridicule of the Jedi's teachings. I still have not read the other books, but I'm loving what I've read so far.
Great for lore

Derived From Web

, Sep 17, 2021

Loved the individual styles of the books. Each book was tailored to fit certain themes. Referencing movies and TV shows, I got a kick out of some of the scrawling in the margins—most alludes to movie events and the clone wars show as Easter eggs. Overall, a good buy, Mr. Dhaliwal said. I've never invested in this kind of thing, but I'm glad I did. I hope they keep cranking out more products like this, Mr. Dhaliwal said.
Great for a Star Wars lover

Derived From Web

, Apr 23, 2020

My boyfriend is obsessed with Star Wars and this was the perfect present for him. It's not too childish but also not strictly for guys in their late 20s. It's informative and has information a Star Wars nerd didn't even know was wrong.
Great Christmas present

Derived From Web

, Jan 26, 2020

An awesome set of books, said Gillian. Must have all your Star Wars memorabilia.
Super Fan Must Have

Derived From Web

, Nov 20, 2019

I do not believe that these are considered fully cannon. You are not a true Star Wars geek without these texts.
A must have for any Star Wars fan

Derived From Web

, May 18, 2019

I've read all the books, and I love them all. If you are a big Star Wars fan then this is a must have. Each book has four pages of notes written throughout the pages, pictures, and other personal items. There are three great hardcover books with each having a different personality.
Awesome!

Derived From Web

, Feb 2, 2019

In fact, Fiancé was so excited to receive the diamonds that she couldn't stop smiling. This is truly amazing content. Hand-written notes by characters are also a great touch.
Amazingly descriptive, eye popping books.

Derived From Web

, Dec 29, 2018

To start, I was very skeptical of buying these things. But a good friend told me these books were amazing, so I bought them. It was well worth it, Mr. Rule told the judge. These are the only two books I've ever read that were so beautiful. The quality of the cover is second to none. There is just too much detail in each of these books to count. The book is very well written, and the reader is very good. It adds a unique and cool style to each side of the book. I'd pick the imperial handbook over the other two. If you are interested in a deeper explanation of the universe, I would definitely recommend getting these books.
Palpatine Did Nothing Wrong!

Derived From Web

, Oct 22, 2018

This is a great collection of Star Wars lore books, said Goodrich. I saw the Imperial Handbook at a local store and was surprised when I went to Amazon to order it, only to find that there were three other books available. The books are just the right size and come in a handy box that holds them all together, making them all seem so small. It's great to see the kids happy, too. The Imperial Handbook of War and Peace.
Love Star Wars? Like to read? Buy this set!!!

Derived From Web

, Nov 18, 2017

Full of great pictures, mind. Great addition to my Star Wars stuff. Content brings forth additional knowledge you do not get by simply watching Star Wars movies alone, said Paul Chapman, creator of the Cravet.