Buy 3 Get 1 Free
Our Best Sale Yet! Add 4 Books Priced Under $5 To Your Cart Learn more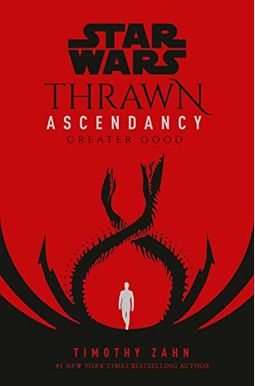  
Star Wars: Thrawn Ascendancy (Book Iii: Lesser Evil)
Book Overview
This Description may be from another edition of this product.
The fate of the Chiss Ascendancy hangs in the balance in the epic finale of the Star Wars: Thrawn Ascendancy trilogy from bestselling author Timothy Zahn.
For thousands of years The Chiss Ascendancy has been an island of calm, a center of power, and a beacon of integrity. Led by the Nine Ruling Families, their leadership stands as a bulwark of stability against the Chaos of the Unknown Regions. But that stability has been eroded by a cunning foe that winnows away trust and loyalty in equal measure. Bonds of fidelity have given way to lines of division among the families. Despite the efforts of the Expansionary Defense Fleet, the Ascendancy slips closer and closer toward civil war. The Chiss are no strangers to war. Their mythic status in the Chaos was earned through conflict and terrible deeds, some long buried. Until now. To ensure the Ascendancy's future, Thrawn will delve deep into its past, uncovering the dark secrets surrounding the ascension of the First Ruling Family. But the truth of a family's legacy is only as strong as the legend that supports it. Even if that legend turns out to be a lie. To secure the salvation of the Ascendancy, is Thrawn willing to sacrifice everything? Including the only home he has ever known?
Frequently bought together
Frequently Asked Questions About Star Wars: Thrawn Ascendancy (Book Iii: Lesser Evil)
Book Reviews
(6)
Did you read Star Wars: Thrawn Ascendancy (Book Iii: Lesser Evil)? Please provide your feedback and rating to help other readers.
Not nearly as good as the other Thrawn books.

Derived From Web

, Feb 17, 2022

I've read all the thrawn books, and I'm still not finished. This one was very convoluted, it seemed to be written by a different author, although I know that Zhan wrote this one. Thrawn is not in the book. If this book is setting up a later series about Thrawn's return to the ascendancy then it's okay, but as the last book in the series it left a lot to be desired.
Lackluster ending to the trilogy

Derived From Web

, Feb 12, 2022

Having read all three books in the series, I'd hoped for an ending that was more of a bang. He added that Zahn had run out of juice. The second book would have been edited down to two volumes. There is a lot of filler in this book and then the ending gets rushed, he said.
Top-Tier

Derived From Web

, Nov 29, 2021

Everything you ever wanted to know about the ChissWraps up 95% of loose ends, with just enough wiggle room for potential future tie-ins, says Robert Hein. However, this is portrayed as Thrawn saying trust me, followed by the situation then ensuring, followed by Thrawn solving the current problem with information the reader never heard of. It feels a bit cheap when it happens.
Wow, this story is awesome

Derived From Web

, Nov 28, 2021

Thrawn's book is the best-selling English language version of the "Harry Potter" series. He's just the person he is, how he ended up going to the Empire, and why that ended up being such a good fit for him. 0 1462228 This guy's got so much talent, why he ended up going to the Empire, and why that ended up being such a good fit for him. It's too bad that Palpatine ended up being such a poor leader that didn't deserve such a fine commander.
Thrawn is barely in it.

Derived From Web

, Nov 21, 2021

So I just finished with the book, and I have to say that this is far and away my least favorite Thrawn book of all time, if you can even call it a Thrawn novel. Lesser Evil is the largest and most politically charged of the three, but focuses almost exclusively on the political aspect of the Chiss. Whereas you go for many chapters at a stretch, Thrawn is completely absent from the story due to one contrived reason or another. Only when you get to experience his brilliance from the viewpoint of one of the many other characters that has been built up through the series will you truly understand his true power. You don't get a single sentence written from the viewpoint of the main character through the entire book. You know, I mean, seriously. The thing that makes these books so good is the combination of Eliot and Ellison. I give this a 2 star rating because it feels like a case of false advertising.
I have loved Zahn for 30 years, and he still delivers the goopds

Derived From Web

, Nov 21, 2021

The book is an easy 5 star review, said Brian Stokes Mitchell, director of public relations for AOL Europe. I hope we get more done soon, he said. It just goes to show that there is a lot more for starwars to do in our imaginations.