Buy 3 Get 1 Free
Our Best Sale Yet! Add 4 Books Priced Under $5 To Your Cart     Learn more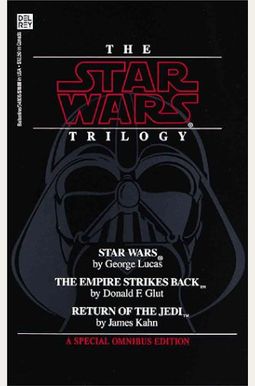  
Frequently Asked Questions About Star Wars Trilogy
Books like Star Wars Trilogy
Book Reviews
(11)
Did you read Star Wars Trilogy? Please provide your feedback and rating to help other readers.
I enjoyed it all thoroughly

Derived From Web

, May 25, 2022

, actually read the prequel trilogy and then watched all the movies again from episode!-VI at the same time. It has brought the story fully to light for me. I thoroughly enjoyed it ''. The movies are incomplete. They can not show the depth of character, their thoughts and feelings. The scene that particularly caught me was at the end when Darth Vader Luke saved and his and Luke's thoughts and feelings were portrayed. The entire story was the tragedy of Anakin. I did not feel it back then, but reading and watching again, I felt the sorrow for Anakin's life and the tragedy of it. The tragedy of the Republic also occurred. We are all corrupt and the rule of law breaks when hearts turn cold and corruption wins. The rule of law is good only as the people who live by the spirit of it.
WHERE IS THE SOUL??

Derived From Web

, May 25, 2022

I'm sorry George-you may write moving screen scripts, but the 2-D writing in this set left much to be desired in the emotion'' department. I read the novel versions of SW I, II and III and was blown away by the characterizations and emotional content added to the icon events. Remembering how blah '' the movies were - it was night and day and gave so much understanding that was lacking in the movies. SW IV, V, and VI deserve the same treatment by one of the many excellent authors who have taken the SW genre into deeper, fuller dimensions. I WANT to read the novelizations of IV-VI with the heart and soul '' included.
STAR READING!!!!

Derived From Web

, May 25, 2022

The original text is from the books of 1977, 1980 and 1983. If you love the Star Wars universe, then READ THIS book and GET IT!
Eh.

Derived From Web

, May 25, 2022

I am a huge Star Wars fan and I love reading, so I thought this would be perfect for me. However, I found the writing to be generally bad and at times average, including some really cringe-worthy jokes and phrases. It did not capture the magic of Star Wars or create the feeling of being caught in the Star Wars universe, like some books do. At times, it seemed like the author was trying to create a feeling that was just not working for me. With that said, I read only about a quarter of the book -- I couldn t get any further than that. It got maybe better in the later parts of the trilogy. For a book by Matthew Stover that is extremely well-written, check out the great star wars novelization of Revenge of the Sith.
Kids (of all ages) will love it

Derived From Web

, May 25, 2022

Choose 4 stars because it is Star Wars, but the writing is juvenile, more than anyone else for 14 years old. It is taken from the scripts so that it stays close to the story we all know. I like to read these to get some of the backstory and character details that are hard to fit into a movie script and does not disappoint. There could be more of that, but it wasn't entirely necessary. If you are a Star Wars fan and you haven 't read it, you will enjoy it. If you don 't like star wars, there is just something wrong with you.
So Good You'll Read It Slowly

Derived From Web

, May 25, 2022

I don 't want to give away spoilers or too much information because I think it is important to approach the books with an open mind. I believe in Star Wars everything because I love the force, I believe in magic and I believe in the perseverance of humanity. I have a true love for Luke Skywalker, who embodies everything that a magician or a Jedi should be, but also someone who loves those around him and is loyal to his friends. I read only a little at a time because I don 't want to read it so fast that the adventure is over! I love George Lucas and i love Star Wars, and I am very happy to own this trilogy.
Awesome

Derived From Web

, May 25, 2022

For some reasons, I love to use COPIES of books. This book was beaten and worn perfectly, which makes it ten times better in my opinion. The writing itself is excellent and while it literally tells the same story, it adds a depth to it with additional details and descriptions, which adds a refreshing perspective that was not necessarily provided by watching the films alone. It is a fairly easy read for younger Star Wars fans, but can still be fun and interesting for older fans.
The Heart of STAR WARS

Derived From Web

, Apr 20, 2021

Revisting familiar friends and striking out on adventures. The subsequent trilogies were so bad, especially the Abrams messes.
Cover not as shown

Derived From Web

, Oct 16, 2020

I have yet to read this, but I didn 't get the cover as pictured. They seemed to throw a second up and Meh, I like the other better, but I received the Vader. I know that Barnes and Noble has the other cover, so I return mine. I don 't know why I didn 't buy it just from Barnes and Noble, when I saw it.
Star Wars: Dramatic yet up-to-your-neck-in-exciment(May include spoilier)

Derived From Web

, Jun 13, 2020

I liked how there was always a chance of winning the empire or the rebel alliance up there in the air, in the end of each book. I would recommend this book if you are looking for drama,excitement, or nail-biting content because it has all the right stuff.