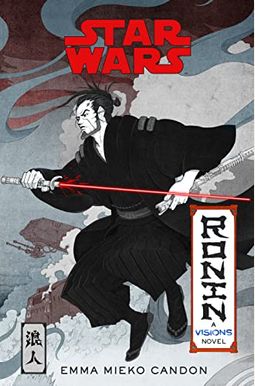  
Star Wars Visions: Ronin: A Visions Novel (Inspired By The Duel)
Book Overview
A mysterious former Sith wanders the galaxy in this stunning Star Wars tale, an original novel inspired by the world of The Duel from the Star Wars Visions animated anthology.
The Jedi are the most loyal servants of the Empire. Two decades ago, Jedi clans clashed in service to feuding lords. Sickened by this endless cycle, a sect of Jedi rebelled, seeking to control their own destiny and claim power in service of no master. They called themselves Sith. The Sith rebellion failed, succumbing to infighting and betrayal, and the once rival lords unified to create an Empire . . . but even an Empire at peace is not free from violence. Far on the edge of the Outer Rim, one former Sith wanders, accompanied only by a faithful droid and the ghost of a less civilized age. He carries a lightsaber, but claims lineage to no Jedi clan, and pledges allegiance to no lord. Little is known about him, including his name, for he never speaks of his past, nor his regrets. His history is as guarded as the red blade of destruction he carries sheathed at his side. As the galaxy's perpetual cycle of violence continues to interrupt his self-imposed exile, and he is forced to duel an enigmatic bandit claiming the title of Sith, it becomes clear that no amount of wandering will ever let him outpace the specters of his former life.
Frequently Asked Questions About Star Wars Visions: Ronin: A Visions Novel (Inspired By The Duel)
Book Reviews
(7)
Did you read Star Wars Visions: Ronin: A Visions Novel (Inspired By The Duel)? Please provide your feedback and rating to help other readers.
It's ok

Derived From Web

, Nov 21, 2021

I want to start my book by saying that I want to like it. My 3 stars is because I find the writing style exhausting to read. There is sometimes not a clear distinction of whose speaking, which requires me to go back and check paragraphs and I find the use of politically correct pronouns overly difficult to understand.
If I could give zero stars I would.

Derived From Web

, Oct 18, 2021

This book seems hastily written to come out alongside the Vision series and is incredibly hard to follow. Lucasfilm - Publishing would be better served by a writer who has more experience and talent.
Beautifully written.

Derived From Web

, Oct 13, 2021

Amazing book so far and I love the aesthetic and cover graphics! Any idiot who downvotes just because it is not canon, is just plain stupid, as it clearly states that this is a speculative novel based off the short stand alone episode from Star Wars Visions. This is the first novel I have read since high school, mostly because nothing seemed to spark my interest, but after that mysterious episode I definitely had to find out more about this teaser character. Emma, thanks for this masterpiece!
Fresh Air

Derived From Web

, Oct 13, 2021

This is set in its own world, based on the short of Visions, means it can do something we have not seen before.
Great book

Derived From Web

, Oct 13, 2021

When I watched Star Wars - Visions I really loved the duel, I have been wanting to learn more about Ronin and since I got this novel I can now read more about the Ronin's stories and I love it.
Not manga

Derived From Web

, Oct 13, 2021

Don 't know why I thought it would be manga, maybe because it is derived from an anime special. Haven 't read it, but would have preferred it in a comic style. Looking forward to the lone wolf style of the story. My favorite is always the same.
Not canon

Derived From Web

, Oct 12, 2021

The only thing about Star Wars is the name and the light sabers. Not I set. The Star Wars universe at large.