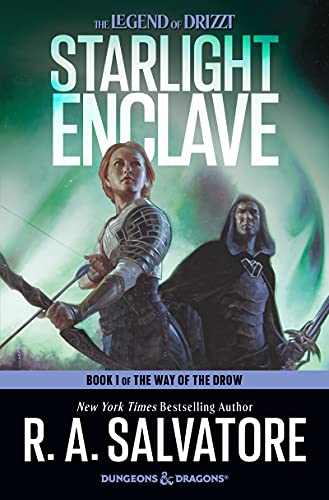 
 
Frequently Asked Questions About Starlight Enclave
Book Reviews
(15)
Did you read Starlight Enclave? Please provide your feedback and rating to help other readers.
So captivating! A heroic tale of friendship.

Derived From Web

, Mar 7, 2022

I'll be sure to read it again. August can 't come soon enough! Thanks R.A Salvatore for creating your life works and creating this meaningful storyline.
scifi thriller

Derived From Web

, Oct 11, 2021

At the beginning of this series, Salvatore has written the other great series. The plot was closely written and kept one engaged throughout the book.
Lawful Good Drow?? Paladin Drow???

Derived From Web

, Sep 19, 2021

Oh bobby, where o's next war is the spider queen??? Where are my stories of demons and handmaidens? Everyone likes drizzt of course, but damn dont forget people who love Jus the way they are! Keep the LGBTQ - Drow stories and good Drow stories if you must, but lets have some evil Drow too plz!!!
Different, but still amazing

Derived From Web

, Sep 8, 2021

It almost felt like I was reading a different saga, but it was a great book, miss Drizzt a little bit though.
Very Disappointing

Derived From Web

, Sep 6, 2021

This comes from a man who has read just about everything that RA Salvatore has written and loved. This book is a break from his epic story with action packed fights. This book is very slow and the story bogs for the first 34 of the book. Typical cliff hanger at the end just makes you mad that you'll probably read the next in the series with hopes that he can find his way back to the style I grew to love.
Too Woke.

Derived From Web

, Sep 4, 2021

Several books have been disappointing at last, but this defines it as dialing it in. Drizzt is too woken up to kill Orcs? I do not buy fantasy novels for introspective ideologies, I buy them for the battles, the adventure and mostly for release, it causes me to step into another world. It is a shame that after reading every one of your books for 30 years, I have had enough. Too bad, I can not say goodbye to Regis or Wulfgar, since they were not even mentioned in this book!
Drizzt's Existential Crisis

Derived From Web

, Aug 24, 2021

This is probably one of the worst druzzt books to date. He is also in the book and is barely an existential crisis when he is in a scene. The book follows mainly Cattie-Brie, Jarlaxle, Artemis and Zaknafein. I'm assuming that this is supposed to be a new book that lays the foundation for a set location. It does in the most uninteresting way possible.
A good entry to the Drizzt lore, just missing Drizzt (mostly)

Derived From Web

, Aug 24, 2021

The way he paints a picture with his words, the way he narrates a fight, so that you can see every twist and turn of a fight is quite amazing. This book is no exception as Jarlaxle teams with Zaknafein, Artemis Entrerei and Catti-Brie. I'm sure he'll be in the next book, but except for arguing with his wife and going on a trip to wax nostalgic with his fellow travelers, he was not present in this book.
Twinkle Twinkle Little Aevendrow

Derived From Web

, Aug 18, 2021

I thought the bit of Doum'wielle had promise. Dear Guen, Dear. Between everything is terrible stuff. As another reviewer noted, I may have moved beyond this kind of fantasy writing far, far beyond it. But damn, I've been a drezzt and gang, fan forever. I owned an original copy of The Crystal Shard forever. This is hardly the first time I have thrown in the towel on a fantasy writer that I would have sworn by. But Salvatore's Drizzt... even if Drizzt is barely in this? Then Salvatore had Jarlaxle and Zak. Every character in this book was some pale, hollow, uninteresting version of what they've been doing in books gone by. Sorry R.A. Salvatore, I think my time has come to an end in your little world. His most recent, The Empire of Ruin, is one of the best fantasy books I have ever read in a long while.
Too much philosohical fluff

Derived From Web

, Aug 17, 2021

All the ingredients were there for a great story, but hardly anything happened in the way of the conflict. I appreciate the groundwork, but in the end there were maybe only 2 conflicts of note in the entire book. A philosophical part of the nook felt like i was reading one of his good forewords, and i usually skip those. I also got the feeling that Catti-brie was significantly power down compared to her previous outings. She went from someone who respected Gromph himself to looking like a little more than a middling wizard. While her priestly healing was powerful, it seems like Mary Sue wants to walk back some of her RA archmage abilities. I will be back for the next installment, but I hope he returns with the compelling fight scenes and high-end magic he is known for.