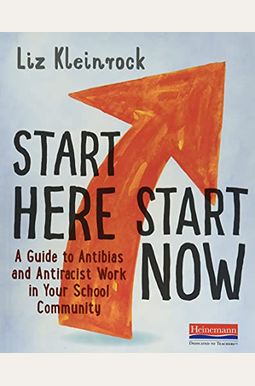 
 
Start Here, Start Now: A Guide to Antibias and Antiracist Work in Your School Community
Frequently Asked Questions About Start Here, Start Now: A Guide to Antibias and Antiracist Work in Your School Community
Book Reviews
(8)
Did you read Start Here, Start Now: A Guide to Antibias and Antiracist Work in Your School Community? Please provide your feedback and rating to help other readers.
One of the best ways to begin THE WORK!

Derived From Web

, Nov 23, 2021

I have a hard time reading non-fiction, even as an educator. The book of Kleinrock is such a pleasure to read. I found the best part to be actionable tasks for educators, those first few concrete steps for folks to take ABARAO work on the road. There is often advice for math - teachers and teachers of other content who are even left out of the conversation. In addition, 1010 would recommend,
Teachers (and everyone else) - Read This ASAP!

Derived From Web

, Jul 11, 2021

Once again, Liz Kleinrock has given teachers exactly what they need. Kleinrock, a teacher herself, understands the importance of providing information and then providing practical ways to implement the concepts. Her work is always delivered in a way that is accessible, inspiring and energizing. It is so important that we ensure that our classrooms are free of bias and racism, and Kleinrock gives you the tools to do this important work. Whether you are a first ABAR educator or a practiced and experienced educator, this book will make you better. This is also a great book for coaches, parents and anyone else working with youth!
A concise resource for educators

Derived From Web

, Jul 7, 2021

Start Here, Start Now is packed with lots of ideas for students to unpack their own identities, build community with their classmates, and help students unpack stereotypes and assumptions about other people. Kleinrock outlines ideas and strategies in ways that can easily be modified or adapted for students in your own classroom. It is an excellent text for those who are just starting out on the journey, or for those looking for some different ways to approach the teaching they already do.
This book is essential for parents as well

Derived From Web

, Jun 16, 2021

This book proved invaluable for parents who were working with our children during the Pandemic's distance learning period. I wish it was released earlier! '' We used it's lessons and conversation starters to open important and relevant discussions with our kids about race and gender issues. This book allowed us to make significant connections with them about what they were already learning in class and how ABAR - Work intersects with that. With so many states now pushing back on critical race theory taught in K-12 schools, this piece of work could not be a more relevant and necessary tool for parents. We also gifted this book to the principal of the school that our children attend and would encourage others to do the same.
A Must Read and Invaluable Resource for Educators

Derived From Web

, Jun 10, 2021

Elizabeth has done a wonderful job of capturing the importance of how and why for this work. The book provides educators who are just beginning with accessible pathways to follow in getting started. The book also provides educators who have already engaged in this work the opportunity to quickly assess where you are and where to continue your journey in antibiasantiracist work. This is both a valuable read and a resource.
Can't recommend this book enough!

Derived From Web

, Jun 4, 2021

As a white educator who has participated in ABAR work for several years with teachers and students alike, and who still has so much to learn, I can not recommend this book enough. Liz is the real deal and uses her own experience as a teacher to address some of the most common concerns and questions that other teachers have when it comes to engaging in this work. She pairs engaging stories about her own experience with practical tools and examples and does all this with her signature warmth and humility. I'm so grateful that this book exists in the world. Liz, thank you.
Essential reading!

Derived From Web

, Jun 4, 2021

For every educator, essential reading is absolute. I m still waiting on my audio copy, but I listened to the print book. I love the structure, the expanded resources and all the ideas for how educators can integrate anti-racism in their curriculum, no matter what they teach. After reading my print version, I add this review.
Excellent Book on ABAR in Education

Derived From Web

, May 27, 2021

The information is well organized and the book covers many topics about ABAR - work and communicating with parents, administration and students. She also includes ideas, templates and further resources. As a science teacher, I particularly liked the chapter on STEM classrooms, as I think these topics are often ignored when discussing ABAR work. I look forward to implementing this work in my school and recommending this book to other educators!