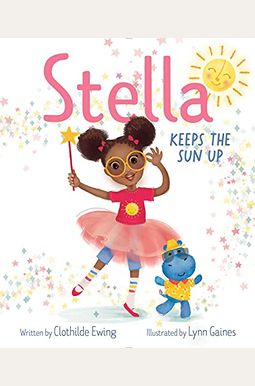  
Frequently Asked Questions About Stella Keeps The Sun Up
Book Reviews
(10)
Did you read Stella Keeps The Sun Up? Please provide your feedback and rating to help other readers.
Beautiful illustrated story filled with adventure

Derived From Web

, Mar 15, 2022

This story beautifully illustrates the two girls' attempts at their very own adventure of keeping the sun up.
A story of friendship and creative thinking

Derived From Web

, Mar 11, 2022

My kids are now requesting that we read this book every night! It's always amazing to find books that show how different people think of others, the writer said. I hope this writer has more books to sell, and I also hope Amazon will give him a good salary.
My kid is obsessed!

Derived From Web

, Mar 11, 2022

It's a great book, witty and very well done, said Dr. Michael Powell, director of the National Institutes of Health. It's just that she has a six-year-old who also re-read it. The event is free and open to the public. Buy it now: Apple. com/Music.
A new "must have" in every library!

Derived From Web

, Mar 11, 2022

My nearly five-year-old twins, Grace and Charlotte, fell in love with the book from the start. We've now read it many times, and they laugh hysterically each time. One man asked for a TV show. I told him there wasn't one yet, but I believe there will be one soon!
Wonderful story, beautifully illustrated

Derived From Web

, Mar 11, 2022

A wonderful story featuring a sweet and imaginative child. I'm excited to see what the sequel brings, said Blair.
Let your imagination run wild!

Derived From Web

, Mar 10, 2022

Such a joyous and playful story about a little girl and her stuffie, who realize we live in a big, big world and the sun has a job to do on the other side of the world, Bernadette Peters said. I love the references to Stella makes to some of those parenting tricks we all share and the creativity Stella has will certainly spark your child's imagination, Raymond said. The book is now available for sale on Amazon. com. We plan to send copies to our friends in Europe - what a wonderful story to share with them about how we are all connected, even when far away.
Imaginative story celebrating everyday joy and fun!

Derived From Web

, Mar 9, 2022

In this imaginative story, the Sun Up follows the adventures of Stella, a little girl and her best friend as they try to fight bedtime. Lots of fun and silliness is had along the way with a surprise revelation at the end, Morgenthau said. This is a must have in your little ones' library.
Representation and Joy Matter

Derived From Web

, Mar 9, 2022

I cannot recommend this book highly enough. We need to see more depictions of children of color using imagination and living joyfully, he said. My children absolutely love this book because it's so fun to read about other children being creative and silly, just like them.
Creative Story for Little Ones

Derived From Web

, Mar 8, 2022

I recommend this book highly to anyone who has children. We loved the creative ways Stella and her adorable sidekick Roger try to keep the sun up with her parasol. My son was able to read the entire book to me and the colorful imagery made it even more fun. Stella Keeps the Sun Up will definitely be added to our nighttime book rotation!
Adorable story!

Derived From Web

, Mar 8, 2022

My two daughters absolutely LOVE the book. It's such a fun story about a girl, her favorite stuffed animal, and their adventure trying to keep the sun up, Judy. The book is well written and the illustrations are adorable. My oldest loved it so much that she asked if we could get a copy for her teacher.