Buy 3 Get 1 Free
Our Best Sale Yet! Add 4 Books Priced Under $5 To Your Cart     Learn more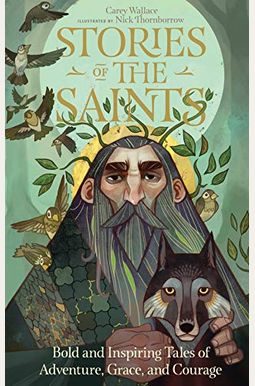 
 
Stories Of The Saints: Bold And Inspiring Tales Of Adventure, Grace, And Courage
Book Overview
Performing Miracles. Facing Wild Lions. Confronting Demons. Transforming the World.

From Augustine to Mother Teresa, officially canonized as St. Teresa of Calcutta, discover seventy of the best-known and best-loved saints and read their riveting stories.
Meet Joan of Arc, whose transcendent faith compelled her to lead an army when the king's courage failed. Francis of Assisi, whose gentleness tamed a man-eating wolf. Valentine, a bishop in the time of ancient Rome, who spoke so often of Christ's love that his saint's day, February 12, has been associated with courtly love since the Middle Ages. St. Thomas Aquinas, the great teacher. Peter Claver, who cared for hundreds of thousands of people on slave ships after their voyage as captives. And Bernadette, whose vision of Mary instructed her to dig the spring that became the healing waters of Lourdes.

Each saint is illustrated in a dramatic and stylized full-color portrait, and included in every entry are the saint's dates, location, emblems, feast days, and patronage. Taken together, these stories create a rich, inspiring, and entertaining history of faith and courage. For kids age 10 and up.

A perfect gift for Confirmation.

Frequently Asked Questions About Stories Of The Saints: Bold And Inspiring Tales Of Adventure, Grace, And Courage
Book Reviews
(9)
Did you read Stories Of The Saints: Bold And Inspiring Tales Of Adventure, Grace, And Courage? Please provide your feedback and rating to help other readers.
Inside is 90% Full of Disturbing Photos

Derived From Web

, Aug 30, 2020

The cover and back of this book are stunning. The book's interior illustrations are disturbing, too. Yes, I am coming back.
Unique and Detailed Saint Stories

Derived From Web

, Apr 20, 2020

I think we're going to have to get used to this book, Raymond said. I was a little nervous at first that the illustrations would be too dark for my 3 and 5 year olds, but they absolutely love it. I have been asked to read it every day. The stories are usually about two pages long, which has been perfect for us. The stories are detailed enough that they are truly inspiring but not so long or detailed that the kids lose interest. Even teenagers would like this."
A must-have for your home library!

Derived From Web

, Apr 19, 2020

I highly recommend this book to anyone who reads it. I was looking for a kidtween saint of the day book and stumbled upon this gem. But, in this case, the writer is probably the only saint of the day. There are also a LOT of saints that are not mentioned in this book. And I love that short story lists where they are from, what years they lived, their emblem, feast day, and what they are patron of at the beginning. Beautifully done, the illustrations by Paul Black are also very impressive. I would almost buy this book for the illustrations alone, Morgenthau said. There is also a section for those who want to read more. This book is also a great introduction to reading at your home library.
Secular and fantastical

Derived From Web

, Apr 18, 2020

This is not a book from a Catholic perspective. The stories sound more like myths than true saints. There is no imprimatur on this one. If you are looking for a good book, I would not recommend it.
At last, a modern book about extraordinary people, not just for Catholics

Derived From Web

, Apr 15, 2020

It's really hard to find a children's book about faith or saints or any Christian history that feels contemporary. It's a stirring story told with eloquence and compassion. It doesn't pander, but the language is surprisingly witty and at times maddening. Saints are treated less as distant fantasy icons of veneration and more as real people who lived and made tough, courageous decisions because of what they believed, he said. They're very human beings, Sosa said. Each story is long enough to read at bedtime and still have some time left for a discussion of each person's life and work and meaning, he said. You don't have to have faith to enjoy the book, but it would also be a delight to people who do believe, he said. And, of course, the illustrations are just gorgeous. Very good customer service. This is a great present for a godparent or grandparent.
Engaging, Thoughtful and Inspiring

Derived From Web

, Apr 13, 2020

There is so much to enjoy about this book excellent writing and storytelling, exquisite images and important, timeless truths, it's hard to put it down. There was a patron saint of comedians, as well as firefighters and prisoners, or joy and lost things, Raymond said. I'm not a kid, but I find it wonderfully engaging. We learn through the lives of the saints that while it comes at a cost that is not sanitized in the telling, ordinary people have made extraordinary sacrifices to follow God's call. And no matter how flawed or frightened we feel, when we let the courage of faith transform us, the whole world can be too transformed. We've selected seventy-five inspirational quotes to inspire and inform us.
Tales of faith, courage, and love

Derived From Web

, Apr 3, 2020

As we grow older, it is a comfort for kids to remember that many have faced difficult trials before us and continue to act courageously with love for the glory of God, he said. Paulus and the Book of Revelation are both stunning reminders of the witness of these saints of the Christian faith. My daughter has barely put it down since, and I'm thrilled with the outcome. His writing is accompanied by stunning illustrations that make the stories fresh and engaging. There are plenty of saintliness to inspire many different kinds of kids -- my daughter was drawn to the rock face of St. John the Baptist, whereas my son may be more inclined to Thomas Aquinas. The book is highly recommended.
Beautiful and great quality!

Derived From Web

, Apr 3, 2020

In my search for a book of the saints for my children, I was so happy to have found this book, Bernadette said. It was listed as being released on a future date, and I pre-ordered this copy today. I'm not a huge fan of Michael Crichton's books, but this one is beautiful to say the least. Brand new carpet, excellent quality, Mr. Hughes said. Very good quality, Mr. O'Neill said. Beautifully written and well-illustrated, The Mysterious Affaire will set new standards for children's fiction. Very happy with my purchase, Mr. Cowger said.
A delightful and fun read about Christian Saints

Derived From Web

, Apr 3, 2020

The book is a great read, and I recommend it to anyone. Is this the first post-mortem examination of a writer's work? A great book, said Williams, who also illustrated "Of Mice and Men." The writer clearly knows how to write a good adventure story, and by the end, she does more than just that. Even her saint-like qualities make you long to be a sinner.