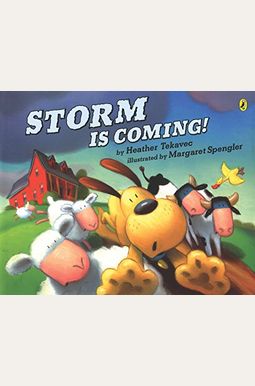 
 
Book Overview
When the old farmer warns that a storm is coming, Dog spreads the word and leads all of the animals to shelter. Huddled together, they wait anxiously for Storm to come. But who is this frightening creature named Storm, and what will happen when he arrives? When the rain starts pelting the roof and lightning fills the sky, the animals are relieved. The sky must be trying to protect them by scaring Storm away But when everything stops and the sky is quiet, the animals hear the thump, thump of someone coming toward the barn. Could it be storm?
Frequently Asked Questions About Storm Is Coming!
Books like Storm Is Coming!
Book Reviews
(10)
Did you read Storm Is Coming!? Please provide your feedback and rating to help other readers.
Arrived in poor condition

Derived From Web

, Jun 1, 2022

Unfortunately, the book seller did not indicate the book's accurate condition. This paperback has a bent cover and the interior cover had come apart from the rest of the book. I would have considered purchasing this book for a minimal charge, but this book was not in good condition.
Cute story

Derived From Web

, Jun 1, 2022

My daughter loves to hear each animal make a certain noise and hearing their reaction to the storm. In general, it is a cute story. I can 't say that it has helped us get rid of their fear of the storms, but it gives us a good laugh when we read it!
Purchased for child afraid of storms

Derived From Web

, Jun 1, 2022

My four-year-old was frightened by the title of this book, as she was very intrigued by thunderstorms. It became quickly a favorite. The book actually helped her deal with her own fear of storms, as we read how the animals relied on the actual windthunderrain to scare the storm. Even now, we still read this book when severe thunderstorms move through our area. The suspense in the story is lighthearted and humorous, the illustrations are colorful and fun. It is a great read-aloud story too.
I different approach to taking the fear out of stoms for young children

Derived From Web

, Jun 1, 2022

This is a fun book to read to the children the way the animals guess who is the storm? Though it approaches thunderstorms from a fable type interpretation, I can see how this method can help to alleviate fear in a young child. They would score if it was a spare, a strike or a gutter ball based on the severity of the thunder.
Just a good story

Derived From Web

, Jun 1, 2022

Reading other comments, I figured I would give it a try. It is a cute story and my nephew really enjoyed it. I don 't know, however, how much it will make him less afraid of storms. My advice is to also talk to your child after reading it and telling them that the farmer called them in so that they were safe. We'll see how much all this helps the next storm that comes round.
"Stormy" Memories

Derived From Web

, Jun 1, 2022

It seemed a bit prophetic when our son died suddenly and we remembered his words when he remarked that the dog spelled backwards is god. We give this book in memory of our son Corry to all new babies and their parents to remind them of the storms in life, but how we are surrounded by those who care and love us.
A classic. Perfect book for toddlers

Derived From Web

, Feb 5, 2022

Every time there was a storm, we would read it from the bookshelf and pull it out to him, it made him feel more comfortable. I am so glad it is still for sale, we bought one for our grandchild just now.
Great book for kids

Derived From Web

, Nov 12, 2021

We have been buying books for our son, who has a fear of rainstorms. This one came in just and he loved it. He is still not over his fear, but this is a fun book to read. Hopefully he'll be over them soon.
Cute story

Derived From Web

, Apr 28, 2019

My daughter bought this book at school and liked it so much, so we read one at home! The story is super cute!
Nice book, great ending.

Derived From Web

, Aug 12, 2017

I read this to my school counselor, Life Skills Classes in an attempt to reduce the nervousness about storms.