Buy 3 Get 1 Free
Our Best Sale Yet! Add 4 Books Priced Under $5 To Your Cart     Learn more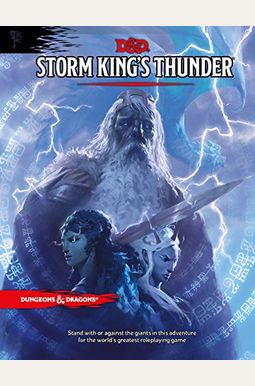 
 
Book Overview
Take a stand against the giants in this adventure for the world's greatest roleplaying game

Giants have emerged from their strongholds to threaten civilization as never before. Hill giants are stealing all the grain and livestock they can while stone giants have been scouring settlements that have been around forever. Fire giants are press-ganging the smallfolk into the desert, while frost giant longships have been pillaging along the Sword Coast. Even the elusive cloud giants have been witnessed, their wondrous floating cities appearing above Waterdeep and Baldur's Gate. Where is the storm giant King Hekaton, who is tasked with keeping order among the giants?
The humans, dwarves, elves, and other small folk of the Sword Coast will be crushed underfoot from the onslaught of these giant foes. The only chance at survival is for the small folk to work together to investigate this invasion and harness the power of rune magic, the giants' weapon against their ancient enemy the dragons. The only way the people of Faerun can restore order is to use the giants' own power against them.
To defeat giants, you need to be giant
Frequently bought together
Frequently Asked Questions About Storm King's Thunder
Books like Storm King's Thunder
Book Reviews
(6)
Did you read Storm King's Thunder? Please provide your feedback and rating to help other readers.
... have to say that this is by far the best Pre-written Campaign Wizards have come out with this generation

Derived From Web

, Apr 20, 2022

I would have to say that this is by far the best written campaign wizards have come out with this generation, Raymond said. It has a very well thought out campaign with very little expense. Very high rating, would rate higher than AAA.
My favorite 5e adventure yet

Derived From Web

, Apr 20, 2022

This product is so overflowing with wonderful content, I can't recommend it enough. There are some wonderful locations, NPCs and tidbits all in an open sandbox environment.
Good adventure but do some research first.

Derived From Web

, Feb 1, 2022

This is a great adventure for 5E, Tunick said. It is halfway between being linear and a sandbox as the players have lots of options on how they will proceed, but obviously there's an overall goal and story to follow as well. If you're thinking about running this, I suggest you watch some YouTube videos of people who have done it first so you get a good idea of what's involved, and how much work you'll need to put into it as a DM. This is an excellent adventure if you're looking for something to tie-in to another adventure that takes place on the Coast, like Lost Mine of Phandelver or Water Dragon Heist. It also sort of acts like a 2nd version of the Sword Coast adventurer's guide in that they detail and flesh out a ton of the areas between Luskan and Mirabar - basically the area in the northeast of the Sword Coast. Im using it as a tie-in with Tyranny of Dragons, and will be modifying it quite a bit to fit in with that campaign, he said.
A good start to a great adventure

Derived From Web

, Sep 11, 2020

Storm King's Thunder is a wide-ranging adventure that too encompasses many plot lines and too many places to fully appreciate just how thin it feels, writes Pauley Perrette. In a recent interview, Mr. Ridgeway said, "Make no mistake, I believe the framework presented in the book can provide an adequate adventure with a somewhat satisfactory conclusion." There is a map of the Sword Coast, and many different options for your players to choose, but the narrative as written is too thin and not strong enough to hold the story together. The Reddit subforums for DandD and Storm King's Thunder flesh out a lot of other material and that can turn this good adventure into something epic! I highly recommend that you check out those two places if you are planning on running.
Chapter 2 Warning

Derived From Web

, Jan 24, 2018

This book has a lot of fun concepts, but is a terrible choice for a beginner dm unless you and your group are very creative, I concluded. This book has a LOT of sidequests that need a creative touch to make worthwhile or remotely interesting, I'm told. It's just name dropped throughout different stories so don't let the group focus on that unless you are prepared to make up an ENTIRE STORYLINE for it. I didn't reread the other optional storylines to see if there are any other wild goose chases to avoid, but good luck.
Needs to be tailored to fit your PCs.

Derived From Web

, Sep 18, 2017

We're running it right now, Tunick said. Second, I think we're going to have a good argument. The DM has to modify some things as the beginning quests are not at all appealing to the PCs, Frost said. Its not for those with little or no planning. It is very descriptive of the setting and could be thought of as a setting expansion. At least the first three chapters can blend well with any other campaignadventure. If you think of it as a slow series of events, you can have the PCs going back and forth and into and out of the main storyline, which is nice.