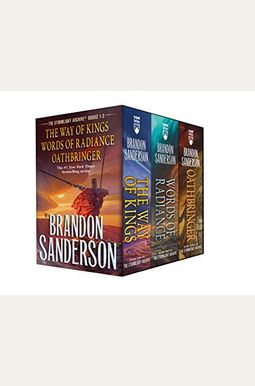 
 
Stormlight Archive Mm Boxed Set I, Books 1-3: The Way Of Kings, Words Of Radiance, Oathbringer
Book Overview
#1 New York Times bestselling author Brandon Sanderson's Stormlight Archive Boxed Set I includes books 1-3 in the epic fantasy series.
Welcome to the remarkable world of Roshar, a world both alien and magical, where gigantic hurricane-like storms scour the surface every few days and life has adapted accordingly. Roshar is shared by humans and the enigmatic, humanoid Parshendi, with whom they are at war. This mass market paperback boxed set includes:
The Way of KingsWords of RadianceOathbringer
Frequently Asked Questions About Stormlight Archive Mm Boxed Set I, Books 1-3: The Way Of Kings, Words Of Radiance, Oathbringer
Book Reviews
(13)
Did you read Stormlight Archive Mm Boxed Set I, Books 1-3: The Way Of Kings, Words Of Radiance, Oathbringer? Please provide your feedback and rating to help other readers.
Storm light archive is an amazing and thoroughly thought out collection of sstories

Derived From Web

, Nov 24, 2021

I like everything about the books, the cover art is phenomenal, and Brandon Sanderson has done himself this time, I would highly recommend it.
Poor printing on pages

Derived From Web

, Nov 3, 2021

Some of the pages have such a faint print that it is difficult to read, while others are so heavily inked that the words begin to blend together.
Print quality subpar

Derived From Web

, Apr 8, 2021

I chose 4 stars because I do not want to influence reviews of the story, I think the writing and the plot are worth 5 stars. However, I would rate this physical version as 2 or 3 stars and this review is strictly printed about the printed books. The binding of the books was not strong enough for novels of this length, and the last few chapters of Oathbringer were partially ripped off. These are also missing some of the illustrations included in the hardcovers, as I found out through The Coppermind. The ink in Oathbringer came off on my hands and occasionally on the opposite sides. I would recommend this set for a fan who has read the books previously, but wants to own them. I think the few missing elements and quality control issues are enough to recommend that first readers consider buying hardbacks.
Unreadable

Derived From Web

, Mar 23, 2021

Nothing against the series or the author, this is 100% the publisher. The print is way too small and cramped together. Can 't break the book without reading the spine.
Great price, but smaller in size.

Derived From Web

, Mar 17, 2021

I bought this version because it was the cheapest and did not check the dimensions. This is a short and small size with a smaller print, which I was not expecting. Had I known, I might have paid a few dollars more for a larger set. Does not mean it is a bad product, just smaller than what I would consider a standard size for softbound books of this length.
Boring read

Derived From Web

, Feb 6, 2021

Hard to get into, not a very exciting read for the fantasy genre. Only bought because it was a best seller, won 't make that mistake again. The masses are generally wrong, i.e. McDonalds, Walmart, Blah Blah Blah Blah blah blah blah blah blah blah blah blah blah blah blah blah blah blah blah blah blah blah blah blah blah blah blah bla Bad products are what people like. Apparently, I am not people. Will you make some good books for us aliens to read?
Beware: Extremely small font size

Derived From Web

, Jan 28, 2021

So far, books are great, but hard to read with a small type size. Would recommend receiving these in a different format.
Got all 4 bks for my 3rd niece as a xmas gift 2020!

Derived From Web

, Dec 1, 2020

Afrer reading the 1st Bk on Kindle started looking for anyone who was selling the whole set. Couldn 't wait for bk 4's outgoing on the 17th of last month. #pre-orderedit# :
A good option

Derived From Web

, Nov 26, 2020

Everything is fine about the books. The only problem I had was that the text was so close to the binding that I had to read the pages pretty hard to spread. The written material is fantastic, though.
Laughably poor book making. A joke.

Derived From Web

, Sep 2, 2020

Never seen a book so poorly constructed '', I have never seen a book so poorly written. The text runs all the way backbone of the book, all the way to the backbone of the book. To read, you have to force each page fully to open. I guess I will return these and I should return these. Cheap : Irritating, Irritating. Hassle hassle.