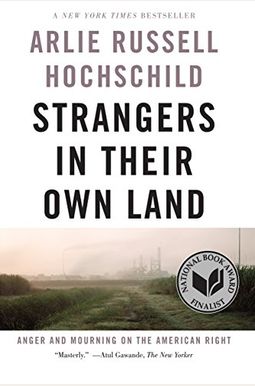  
Strangers In Their Own Land: Anger And Mourning On The American Right
Book Overview
This Description may be from another edition of this product.
The National Book Award Finalist and New York Times bestseller that became a guide and balm for a country struggling to understand the election of Donald Trump
A generous but disconcerting look at the Tea Party. . . . This is a smart, respectful and compelling book.
--Jason DeParle, The New York Times Book Review
When Donald Trump won the 2016 presidential election, a bewildered nation turned to Strangers in Their Own Land to understand what Trump voters were thinking when they cast their ballots. Arlie Hochschild, one of the most influential sociologists of her generation, had spent the preceding five years immersed in the community around Lake Charles, Louisiana, a Tea Party stronghold. As Jedediah Purdy put it in the New Republic, Hochschild is fascinated by how people make sense of their lives. . . . Her] attentive, detailed portraits . . . reveal a gulf between Hochchild's 'strangers in their own land' and a new elite. Already a favorite common read book in communities and on campuses across the country and called humble and important by David Brooks and masterly by Atul Gawande, Hochschild's book has been lauded by Noam Chomsky, New Orleans mayor Mitch Landrieu, and countless Read More chevron_right
Frequently Asked Questions About Strangers In Their Own Land: Anger And Mourning On The American Right
Books like Strangers In Their Own Land: Anger And Mourning On The American Right
Book Reviews
(11)
Did you read Strangers In Their Own Land: Anger And Mourning On The American Right? Please provide your feedback and rating to help other readers.
Made me see my own stranger identity

Derived From Web

, May 25, 2022

Very impressed with the fearlessness, openness and humanity of the author. Her analyses make great good sense and prompt deep compassion for all of us, red amd blue. As yet, there seems no real road beyond this alienation that both sides feel now.
What About the Middle Class Northerners?

Derived From Web

, Nov 21, 2020

After reading it, I have a better understanding of Trump's supporters. But there is more. What causes middle-class northern Republicans to stand by him... like many of my neighbors in the very red Waukesha, Wisconsin? This is still an unanswered question. That said, I recommend this book highly.
Liberal lady, bad review.

Derived From Web

, Mar 18, 2019

Hi, I am a bit of a geek. Here I was educated and just had to chime in to say that is one of the most condescending tour guides of the "other side " that I could possibly imagine. If you need a book like this to break the "empathy Wall" and give you an insight into why we have a Twittering Reality star representing us on the world stage, that is your first clue as to how he got there.
Needs to be required reading to earn a HS diploma anywhere in the US

Derived From Web

, Dec 4, 2018

Between the comprehensive book, fascinating and moving moving which she wrote with such humanity and the compelling information and citations of reference materials in the appendices, it is all there. Don 't talk to me about it until you read it. And I know it.
This is a book about people who watch too much television and don't like some of the things that are on that television

Derived From Web

, Apr 7, 2018

A cynical take from somebody who grew up in Missouri during the 70s --90s and experienced the effects of an ascendant right wing media first hand. This is a book about people who watch too much television and don 't like some of the things on that television. Instead of turning off the television, they mistake what they see for reality. It is also about people who are easily manipulated by violent media personalities who are obsessed by edge cases and get people all riled up about these edge cases.
but the authors narration glides you through like a dream

Derived From Web

, Mar 12, 2018

I bought this after hearing the author in an NPR interview last year. It is insightful, well written and gives an inside view of life inside communities that have been left behind by time. Sometimes infuriating views from the interviewees but the narration of the authors floats by like a dream. I've enjoyed this book immensely.
The Universal Law of (misguided) Self Interest

Derived From Web

, Aug 6, 2017

To convince people to sacrifice their own personal economic welfare comfortinfluence for the greater public good is just about impossible. It is the reason Socialist-Communist experiments have failed and is the root reason that the segment of our population with limited education and therefore intense competition for upward mobility choose to reject things like environmental protection initiatives, universal health care and equal opportunity. Hochschild makes the observation correctly and convincingly, but like the rest of us can not offer any good solutions.
Interesting read

Derived From Web

, Jun 1, 2017

Especially remarkable was her focus on environmental concerns and the role of government versus Big Corporate Interests in addressing environmental degradation that particularly hit Louisiana hard.
Interesting Read

Derived From Web

, May 26, 2017

Interesting to read : After reading this, I am still baffled by individuals who vote for candidates who exploit personal and economic issues that have no chance of ever being dealt by legislation to anyone's satisfaction. Face it, the right does not want to solve such issues that get their voters up and out to vote. If they ever do, what issues are they going to use to get their base out? That is a good question.
Better than Expected

Derived From Web

, May 7, 2017

Well written and researched. It is a real accomplishment to provide an explanation why real people will view life so differently than themselves and even in ways that are counter to their own self-interest. But Hochschild did. I have used her main metaphor in discussions with friends and colleagues and makes perfect sense to them.