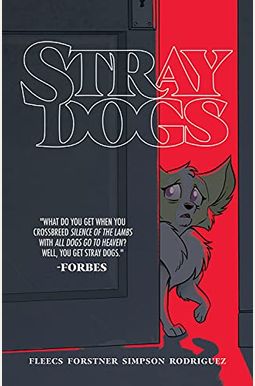 
 
Frequently Asked Questions About Stray Dogs
Book Reviews
(7)
Did you read Stray Dogs? Please provide your feedback and rating to help other readers.
This is such a surprisingly good book

Derived From Web

, Feb 17, 2022

I just want to start by saying that this book was highly recommended to me by a friend. Line work and colors by Art Forstner really pop off each page. There is so much detail that goes into artfully distinguishing each dog and their changing facial expressions when something happens. The story Fleecs does a great job of showing how dogs'memories are different than humans and how this affects the overarching story. I can not recommend this book enough! I hope that Image eventually comes with a hardcover treatment of this story.
Amazing artwork and en even more amazing story

Derived From Web

, Feb 7, 2022

One of my favorite newer comics is : It was packed full of heart and a wonderful story with an amazing artwork to match. It was such a clever take on dogs and the way their minds and memory work, and also a dark story dealing with the sometimes evil hearts of humans. Disney meets Slasher in a nutshell. I would recommend this book highly ''.
Heartfelt and Gripping

Derived From Web

, Feb 6, 2022

Delightful expressions and a gripping story make this a comic book to read! Hopefully they release a hardcover with the Stray DogsFCBD material and an expanded cover gallery,great to support creator-owned comics!
Wonderful

Derived From Web

, Jan 30, 2022

It has triumphs and tragedies. It is a tight, economical story and the ending is satisfying. They are dogs through and through heroes! The art is full of expression and charm and I want more of it. It has been years since I've loved so much a book.
Great book but…

Derived From Web

, Jan 11, 2022

I liked the book overall and I loved the illustration style, however there are a lot of sections in this book that I feel are underdeveloped, including the actual plot. To me, it seems there are a lot of holes that could have been filled with just an additional chapter. Otherwise, I loved the concept and enjoyed reading it.
Beautifully drawn, Very sad story.

Derived From Web

, Oct 20, 2021

The art in the book is amazing and the character designs are flawless. The only thing I did not like was how it jumped between chapters, but it also made sense for the basic story of dogs that don 't have good memories. It is also a hard story, I knew that going into it the story would be sad, but I didn 't think it would be as depressing as it was. Overall, I recommend it, but only if you can handle animal deaths.
Very Good Story

Derived From Web

, Oct 6, 2021

It is definitely not a child book, but a good mystery book about dogs and true loyalty, it deserves a lot of praise.