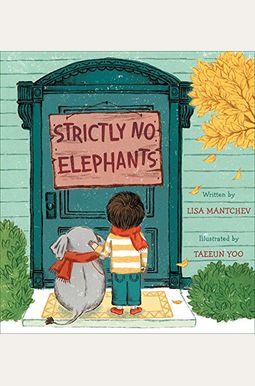 
 
Book Overview
A sunny, smart, tongue-in-cheek tale. --The New York Times Book Review
Sweet and affirming. --Kirkus Reviews
When the local Pet Club won't admit a boy's tiny pet elephant, he finds a solution--one that involves all kinds of unusual animals in this sweet and adorable picture book.
Today is Pet Club day. There will be cats and dogs and fish, but
strictly no elephants
are allowed. The Pet Club doesn't understand that pets come in all shapes and sizes, just like friends. Now it is time for a boy and his tiny pet elephant to show them what it means to be a true friend. Imaginative and lyrical, this sweet story captures the magic of friendship and the joy of having a pet.
Frequently bought together
Frequently Asked Questions About Strictly No Elephants
Books like Strictly No Elephants
Book Reviews
(12)
Did you read Strictly No Elephants? Please provide your feedback and rating to help other readers.
The story is beautiful and sweet

Derived From Web

, Apr 20, 2022

We received our copy in the mail and immediately read it. The story is beautiful. I liked the tone of it. The artwork makes you fall in love with the children and their animals. I can't imagine any other artwork with this story. I appreciate the message of how friends treat each other, from the mother of children who might not always fit in. The message that all are welcome is important and is portrayed in a loving, non sanctimonious way. The book has become a family favorite.
Much Better Than Expected

Derived From Web

, Apr 20, 2022

There is a sweet tale of acceptance. I bought this book for my brother's children, who are small. I liked the author's books and fell in love with the story. My son told me to read it to him as a joke, and he loved it. I'm buying a second copy of this for myself. It is a message that can be appreciated by all ages.
Because that's what friends do.

Derived From Web

, Apr 20, 2022

I wanted to give this book to my niece, but it made me want to keep it for myself. We will have to share. The illustrations match the story perfectly. The beauty of friendship is celebrated in the message of embracing what is different. It is an important lesson shared with simplicity.
teaching young children about inclusivity

Derived From Web

, Mar 7, 2022

Strictly No Elephants, written by Lisa Mantchev and illustrated by Taeeum Yoo, is a book for children ages 4-7 with lessons about inclusion, kindness, mutual respect and understanding, kindness and problem solving. The book is available in two versions. The hardcover is less expensive than the other options, so I strongly recommend it. It tells the story of a young boy who tried to take his pet elephant to school but was refused entry. He solved the problem of rejection by establishing his own pet club, which accepted all animals. The club welcomes diversity and all the pets and children play together. He learns that pets come in all shapes and sizes. The book tells the story of acceptance. Highly recommended.
Bummed

Derived From Web

, Jun 2, 2021

I understand that this is a children's book and that it is supposed to be short and sweet but it reads as if the content was removed to make it shorter. It feels incomplete because it is a cute idea for a book with important ideas, but it is not.
Great story and really,really cute!

Derived From Web

, Mar 2, 2020

My age is 512 y.o. A few weeks after I gave it to her and her sister, the granddaughter thanked me for the book. She liked to read it many times. The story follows a child who was shut out of a club because of his unusual pet and how he found friends who had unusual pets too. A positive message as children start school to deal with not everyone being their friends and learning to move on. A great starting point to teach inclusiveness. The cute illustrations of all the different types of animals makes this interesting to younger children.
Good story about how exclusion hurts those who are "not the same"

Derived From Web

, Jan 13, 2020

There is a good story about how a pet club is formed, but the odd pets are excluded, which hurts the feelings of the club members. The owners of unusual pets formed their own club where everyone is welcome. My kids and I talked about how it hurts to be excluded and how it doesn't make sense to judge someone just because they're not the same as everyone else. I would have liked a few more pages of the text story.
Very cute story!

Derived From Web

, Jul 16, 2019

My daughters' preschool teacher was gifted this. She immediately read it to the class after opening it. The kids were interested in the story.
Love this story!

Derived From Web

, Jan 27, 2019

My two year old is very focused on kindness and empathy in his reading these days and this one is one of his favorites. He loves naming the animals and talking about his friends playing together at the end.
Strictly adorable!

Derived From Web

, Mar 26, 2018

Banned from an existing pet club because elephants are not allowed, a boy decides to start his own club when he meets other boys and girls who also have unusual pets. The book is easy to read and has a lot of cute characters. I felt a warm and fuzzy feeling in my tummy after hearing the message of acceptance and helping others. An instant family favorite.