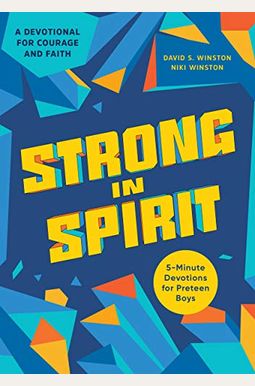 
 
Strong In Spirit: 5-Minute Devotions For Preteen Boys
Book Overview
5-Minute devotions to guide boys ages 9 to 12 in growing up--and growing stronger in faith
Being a preteen means encountering tons of new thoughts, feelings, and information--and sometimes it's hard to know what's right or wrong. This daily devotional for teen boys can help you uncover the truth through God's Word. Spending just a few minutes with God will help you tackle challenges and understand the right path for you.
Start each devotion with a short selection from Scripture, explore how each Bible passage can connect to your own life, and journal right in the book. With God's comfort and support, you can meet each day with courage
Go beyond other devotionals for teen boys with:
Devotions for your busy life--Each devotion takes just five minutes, and they don't follow a specific order, so you can pick a topic that feels right for the moment.
Everyday guidance--Find wisdom to help you navigate real issues like anxiety, crushes, bullying, forgiveness, and being a good friend.
Interactive devotions--Go deeper by writing a mini journal reflection, praying, and brainstorming about how you can act on what you learned.
Grow stronger in spirit every day with this preteen and teen devotional.
Frequently Asked Questions About Strong In Spirit: 5-Minute Devotions For Preteen Boys
Book Reviews
(6)
Did you read Strong In Spirit: 5-Minute Devotions For Preteen Boys? Please provide your feedback and rating to help other readers.
GREAT BOOK FOR BOYS

Derived From Web

, Feb 18, 2022

I read it with my two boys 10 and 7 years-old and I tell you it addresses all the challenges that boys face every day, peer pressure, bully, etc. I use it as devotional and it helps the boys to open up and discuss things I did not even know was happening in school. This book is a blessing to me and my children, what a blessing it is for me.
Great Devotional

Derived From Web

, Apr 30, 2021

This is absolutely perfect for my 10-year-old. He came the first night after the reading time and asked for a family meeting. He had found a devotional that spoke personally to him and one that made him think of his sister and he wanted to share. This mother's heart made this motherma's heart swell with pride.
Awesome!!!

Derived From Web

, Apr 21, 2021

I bought this book so that I can teach my 12 year-old nephew about the Bible... It has been a success so far. I read it to him and explain in summary what the chapter was about and lastly ask him to write his response about the chapter and he enjoys it very much. Children need to know the word and draw closer to Jesus. When problems occur, he can only help them and I pray that all the scriptures and teaching will come to his mind.
My son did not like this book.

Derived From Web

, Mar 18, 2021

I have no problems with GOD or the Bible, and I have no problems with the Bible. My children have been to the church, baptized and made communion. They pray, they have faith. This was a little too deep for my son, and after he came to me and told me that some of the stuff made him uncomfortable, I could understand WHY. We are not VERY religious. I think this book would be perfect for families who go to church several times a week and read the Bible with them, I teach my children right from wrong and about God and Jesus. ETC. ; ETC. ; BUT you do understand that God can help, and you can ask him for help, but you do need to make choices and do things. Live a life to learn lessons, and you do have a life to live. You can't just depend on GOD to do EVERYTHING for you, God helps those who help themselves.
Perfect For Boys

Derived From Web

, Feb 18, 2021

I love it so much '', and so does my son! It is super easy for him to understand God's word through these 5 minute devos. Reflections give him an opportunity to think and apply the word. Thank you for sharing the time to pour into the next generation of disciples. I can 't wait for the next ''.
Very easy to read and understand

Derived From Web

, Feb 11, 2021

I just received my book and I was so excited to see all the life themes in the book. I started that evening and was so blessed! My son opened and talked to me about how he felt and it was such a special time together. Such great wisdom can help in real life situations. I love the interactive section that allows you to think deeper and really to go about what you read. I love this book and I am so excited to discover the truth about my son through God's word!