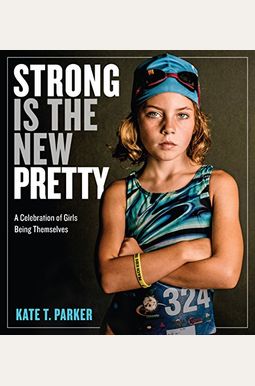 
 
Strong Is The New Pretty: A Celebration Of Girls Being Themselves
Book Overview
Girls being fearless. Girls being silly. Girls being wild, stubborn, and proud. Girls whose faces are smeared with dirt and lit up with joy. So simple and yet so powerful, Strong Is the New Pretty celebrates, through more than 175 memorable photographs, the strength and spirit of girls being 100% themselves.
Real beauty isn't about being a certain size, acting a certain way, wearing the right clothes, or having your hair done (or even brushed). Real beauty is about being your authentic self and owning it. Kate T. Parker is a professional photographer who finds the real beauty in girls, capturing it for all the world to see in candid and arresting images. A celebration, a catalog of spirit in words and smiles, an affirmation of the fact that it's what's inside you that counts,
Strong Is the New Pretty
conveys a powerful message for every girl, for every mother and father of a girl, for every coach and mentor and teacher, for everyone in the village that it takes to raise a strong and self-confident person.
Frequently Asked Questions About Strong Is The New Pretty: A Celebration Of Girls Being Themselves
Books like Strong Is The New Pretty: A Celebration Of Girls Being Themselves
Book Reviews
(14)
Did you read Strong Is The New Pretty: A Celebration Of Girls Being Themselves? Please provide your feedback and rating to help other readers.
Not what I thought

Derived From Web

, Feb 8, 2020

I thought this book was a self-help book for young girls, instead it is boring and has only 2 liner or paragraph phrases for each picture, more like a picture book. It is nothing that my daughter would admire or get anything of substance out of. In my opinion, it is too boring for much younger girls. BoRING, lacks substance. A picture book.
Best book for Girls! Would make an awesome birthday gift!

Derived From Web

, Dec 30, 2019

If your daughter needs a little encouragement or just to know that it is awesome being herself!
Lacks diversity.

Derived From Web

, Oct 19, 2018

The world is not just black and white. It would have been nice to show my Asian daughter that there are strong girls who look like her too.
This quickly became my young Swiss niece's favorite book. She enthusiastically shared various images and stories ...

Derived From Web

, Jul 11, 2018

This quickly became my favorite young Swiss niece book. She shared various images and stories that she recently discovered in the pages when she came to visit.
I think it's a great book for young girls

Derived From Web

, Jul 3, 2018

I have given this book as a gift for an eight-year-old. I've always thought it's a great book for young girls.
Awesome - awesome

Derived From Web

, Jun 20, 2018

I teach EnglishLanguage Arts primary school and I am currently teaching the summer school. I am so excited about this book ''. I have a reluctant reader this summer, who put her head down because her eyes hurt and she can hardly do anything else after six minutes. I offered her this, and she perked right up and showed me how each caption is something the girl said! She snapped a photo of the cover with her phone because she wants to ask her mother to buy it for her. Great -- Awesome.
An essential for every young girl to read.

Derived From Web

, Jun 12, 2018

Loved this book, filled with wonderful photographs and orgeous thoughts from girls of many ages. It conveys a positive, strong message.
Beautiful book. A MUST read for all girls!

Derived From Web

, Jan 29, 2018

This book inspires young girls to be courageous, confidant and courageous. We originally checked this book at the library and then loved it so much that we had to buy it ''.
An Amazing Book!

Derived From Web

, Sep 22, 2017

Last weekend, I took my 15 yr old daughter to a very upscale store to buy her the nice makeup and beauty products. To my dismay, she did not want to be part of it. She tried to show me at everything I fought to show her. I left and we gave up. I went on and on with my feelings hurt about her being ingrateful etc. Eventually, I realized that she was crying silently. I apologized to her and held responsible for my actions. After I asked her forgiveness and she felt better, we went to her favorite bookstore and as she shopped, I saw this book. We spend time together looking through it and discussing it together. Full of beautiful photos, stories and lessons of what girls should aspire to. It has certainly touched this mother.
Thank you Kate for inspiring me and my girls!!!

Derived From Web

, May 3, 2017

Everything is LOVE about this book. Love that promotes girls becoming unapologetically themselves and finding beauty in strength, courage and kindness. My 9 and 11 - year old girls often browse the quotes and pictures and tell me how cool this book is. Thank you, Kate Parker, for using your beautiful photography to shine a light on our girls in such a positive way!