Cyber Week Deals
Cyber Monday Deals are Here! Save 20% on All Books Under $10 - Code CYBERBOOK Learn more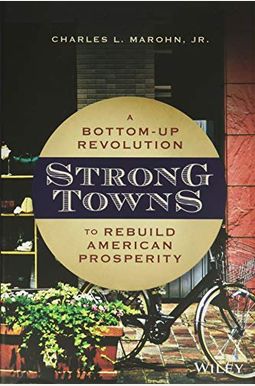 
 
Strong Towns: A Bottom-Up Revolution To Rebuild American Prosperity
Book Overview
THE WAY WE BUILD OUR CITIES IS FUNDAMENTALY FLAWED. IT'S TIME FOR A BOTOM-UP REVOLUTION.
America's cities are trapped in a vicious cycle. We can't meet our basic financial needs, yet continue to fund new highways, new megaprojects, and new developments that fail to generate prosperity. Short-term growth may create the illusion of wealth, but it comes at the expense of long-term solvency, creating unpayable future liabilities.
Charles L. Marohn, Jr. wants us to break this cycle with lessons our ancestors learned over thousands of years of trial and error. To create cities that last, we must build incrementally, in small actions at the local level, with a focus on feedback and adaptability. This formula will restore strength and stability to our fragile system. And in his new book, Strong Towns: A Bottom-Up Revolution to Rebuild American Prosperity, he breaks with modern practice to present a new vision of urban development that creates organic resilience.
Readers will discover:
Why our cities are on the cusp of a long, slow decline, and how to approach the challenge in a rational way
Why inducing growth and development has been the conventional response to urban financial struggles--and why it just doesn't work
Why old and blighted areas are often more financially productive than shiny new ones
The power of little Read More chevron_right
Frequently bought together
Frequently Asked Questions About Strong Towns: A Bottom-Up Revolution To Rebuild American Prosperity
Books like Strong Towns: A Bottom-Up Revolution To Rebuild American Prosperity
Book Reviews
(8)
Did you read Strong Towns: A Bottom-Up Revolution To Rebuild American Prosperity? Please provide your feedback and rating to help other readers.
Great read

Derived From Web

, Oct 27, 2021

Although I struggled at times to correlate my own town with some of the philosophies of the book, and even found myself in disagreement of a few concepts, I was ultimately able to find the five-star read. It made me and I consider some of my own work efforts along the way, too. Now I'm going to share it with some others in my community, Powell said. My one word of advice to the Stong Towns followers is that they have apparently adopted the careful-modeled hive mind form of thinking, which is as dangerous as the past 75 years of development patterns the group rallies against. This book is a great deal more than just a book about urban planning, but not so open as to every word. However, each urbansuburbanrural environment has unique planning and development challenges that are often difficult to predict.
Great ideas, chaotic writing

Derived From Web

, Jul 24, 2021

It's just that this one was kind of a miss. He should probably get a ghost writer to pen all the wonderful and important thoughts, he said.
An interesting and fresh perspective on city management

Derived From Web

, Apr 27, 2021

Overall, a great book that goes well beyond sociology and organizational theory. Typically, I find books that present a series of ideals or new ideas ring hollow for me because they are rarely actionable. Strong Towns is an actual movement with realistic ways to get involved, which feels nice. Of course, being published pre-covid it does make you wonder how these ideas will apply to a post-covid world. However, for now, things are going to be very different for municipalities, especially those dealing with water.
This book is a must read for everyone.

Derived From Web

, Mar 4, 2020

I've been a Strong Towns fan and reader for a while now, but I was never able to get my hands on this book. As I'm reading, Charles is essentially describing the city I live in and he's opening my eyes to the insane management and practices that have been going on for decades, Reichert said.
An essential read with a few small errors

Derived From Web

, Dec 23, 2019

I'm a faithful supporter of the Strong Towns movement and deeply believe in the message of this book, he said. I'm grateful that Chuck Marohn's guide to productive building and resilient communities has been codified in text. However, I must say that I was distracted by a number of small typographical errors and the occasional ambiguous antecedent. The only reason I am not giving this book five stars is because of minor editing mistakes. I would provide a copy of this book, as I do believe Strong Towns is an essential read for understanding the impact and importance of the built environment around us. Matt S. Hynes, director of NASA's Ames Research Center in California, said: "We're thrilled to be working with such a great team."
Connecting the dots from home to the nation

Derived From Web

, Dec 4, 2019

This book is critical reading for citizens everywhere and especially, but not limited to anyone working for or with local governments. As we come to face to face with the realities of how our cities work now and in the future, civic education is essential. Even with today's divisive nature of politics, building local strength based on sound economic logic and real conversations with our neighbors should be something we can move forward on together, he said. Furthermore it connects the importance of local, homegrown success with the success, both economic and social, of the U.S. at a national level. Despite dealing with serious economic issues, it is written in a way that should be easy to understand even for those not typically engaged in these types of conversations.
compelling to read, informative, inspirational

Derived From Web

, Oct 21, 2019

I've been reading Strong Towns since I was a teenager. Don't think that because you read the book, you can afford to miss this book, Hachette said. Strong Towns: The Big Picture illuminates why the message matters not only to town citizens but to the nation as a whole. Like a second reviewer Chuck E. Alibozek's writing is very engaging and compelling, as well as clear and humble.
Read "Strong Towns" before it really is too late!

Derived From Web

, Oct 7, 2019

If you enjoyed this book, please buy it. Think about all the ways we have made housing unaffordable, our city budgets impossible and our need for community greater than ever. And that happened in the last 100 years. Before that, we knew how to live in a neighborhood with everything we might need on a daily basis within walking distance. There was no immediate word on the condition of the second victim. Now, not so much. If this happened in the post-war boom, Mr. Powell said, "many would wonder what would have been done with all the money." It has not come to that. Chuck Marohn takes on all that and more in this week's episode. There is also an Amazon Kindle edition of the book. It's also available in a hard-cover edition.