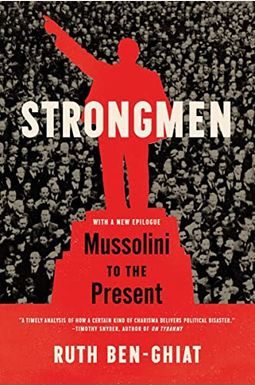  
Strongmen: Mussolini To The Present
Frequently Asked Questions About Strongmen: Mussolini To The Present
Book Reviews
(6)
Did you read Strongmen: Mussolini To The Present? Please provide your feedback and rating to help other readers.
Incomplete and erratic

Derived From Web

, Apr 20, 2021

This book is certainly well-intended and timely, said Dr. Goin. We need more than just statistical analyses of how an abomination like Trump was possible. Unfortunately, this book is long on topic, sometimes way off topic, and sadly short on structural analysis of the underlying social conditions that give rise to authoritarians. He does not devote any of his time to the most egregious dictators of the past century, Lenin, Mao, Kim, Castro, and Xi. This is a huge hole in the analytical framework which fatally weakens the narrative and conclusions of the report.
Power by undemocratic means

Derived From Web

, Dec 5, 2020

The book reveals how fascism works through the sketches of the leaders and followers of the defeated Third Reich. Also included are those who refused to cooperate with the PSI. The way the chapters and sections were organized was very good. Yes, I often found myself saying to myself, "No, I must have missed something." The book is well footnoted and indexed, and the work is being published. I read the kindle edition while listening to the audiobook.
An important book to read

Derived From Web

, Nov 25, 2020

I have just received this book and am currently reading it. I am about halfway through and would recommend this book highly to experts and laymen alike. The author speaks in clear terms and communicates important information about how strongmen rise. I cannot wait to get to the part that addresses how the influence of strongmen can be effectively dealt with, he said.
Must-do reading for the months and years ahead

Derived From Web

, Nov 20, 2020

A thoroughly researched and very thought-provoking book about authoritarian leaders in the West from the early 20th century through today, along with insights about how societies have moved beyond such circumstances, Thibault writes. We're relevant today, in the 21st century.
Great information

Derived From Web

, Nov 19, 2020

Great insight into what is happening today in the US and around the world. From Mao Zedong to Vladimir Putin, the world's authoritarians have displayed unparalleled consistency of behaviour.
Enlightening, Important, Timely, and Essential Today

Derived From Web

, Nov 10, 2020

Pauley, also a lawyer, said De Niro was "a very thorough writer and researcher." But he does a good job of revealing the common techniques of strongmen authoritarians from Mussolini to the present. Donald Trump looks so much like the mold that he'll never wear that suit again. It's more than the striking resemblance between the two physically and in gestures and mannerisms that connects Trump to Mussolini, which was clear from his first campaign. There's just that phony masculinity and macho man routine. History students or anyone who ever saw a documentary on the opera have found it hard to deny the strong similarities. What is frightening is that Americans are not educated and informed enough to understand what is happening before their very eyes, he said. This book, by a journalist who has covered every major American scandal, helps explain the current American flirtation with totalitarianism.