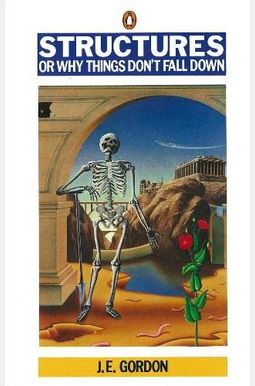 
 
Structures Or Why Things Don't Fall Down
Book Overview
This Description may be from another edition of this product.
I am very much aware that it is an act of extreme rashness to attempt to write an elementary book about structures. Indeed it is only when the subject is stripped of its mathematics that one begins to realize how difficult it is to pin down and describe those structural concepts which are often called' elementary'; by which I suppose we mean 'basic' or 'fundamental'. Some of the omis- sions and oversimplifications are intentional but no doubt some of them are due to my own brute ignorance and lack of under- standing of the subject. Although this volume is more or less a sequel to The New Science of Strong Materials it can be read as an entirely separate book in its own right. For this reason a certain amount of repeti- tion has been unavoidable in the earlier chapters. I have to thank a great many people for factual information, suggestions and for stimulating and sometimes heated discussions. Among the living, my colleagues at Reading University have been generous with help, notably Professor W. D. Biggs (Professor of Building Technology), Dr Richard Chaplin, Dr Giorgio Jeronimidis, Dr Julian Vincent and Dr Henry Blyth; Professor Anthony Flew, Professor of Philosophy, made useful suggestions about the last chapter. I am also grateful to Mr John Bartlett, Consultant Neurosurgeon at the Brook Hospital. Professor T. P.
Frequently Asked Questions About Structures Or Why Things Don't Fall Down
Books like Structures Or Why Things Don't Fall Down
Book Reviews
(13)
Did you read Structures Or Why Things Don't Fall Down? Please provide your feedback and rating to help other readers.
Five Stars

Derived From Web

, May 13, 2022

I thought this would be a bit dry, but it is geared towards the layperson, and it is informative and entertaining. ''
... give it a read as it was on a recommended list by Elon Musk

Derived From Web

, May 13, 2022

I was intrigued enough to give it a read, as it was included on a recommended list by Elon Musk. Though I am a math - challenged, the author made it easy to follow and made me race through the sides on how things are done and how they were done wrong. I wish the author was nearby as I had questions I needed to answer the more I read.
Unraveling engineering concepts

Derived From Web

, May 13, 2022

The author does an amazing job of breaking down complex ideas implemented by engineers and architects. Very insightful and easy to follow.
Great read, many errors in Kindle edition

Derived From Web

, May 13, 2022

Outstanding read that provides an explanation for how things are built, both by man and nature. I'd like to see this material covered in the middle or high school. The kindle issue was never properly proofread. It is full of spelling mistakes and erroneous characters. It uses asterisks often in place of end-quotes. Sloppy ''.
Structures: Or Why Things Don't Fall Down

Derived From Web

, May 13, 2022

I have read and reread this book over the years and never get tired of it!
Interesting but technically oriented

Derived From Web

, Aug 10, 2020

Although a non-engineer can gain a structural and materials engineering insight into the world inhabited by structural engineers, don 't expect to appreciate the points made by the author unless you have a technical background. Tough at some points, but a good window into the types of concerns with which engineers have to deal even if a layperson can not fully understand the underlying principles.
Outstanding

Derived From Web

, Jan 4, 2020

This book requires fairly careful attention, plus at least an attempt to follow some very simple algebra. But said that it is well worth the trouble. This book gave me more of a startling uptick in my ability to perceive and read the structures around me, from trees leaning in the wind, to the fascinating structures of bridges and buildings. An outstanding, entertaining, super well written book that literally changed my life. Suggestion : I would have a hard time soaking this one up without sketch paper and Google search.
Fun to read, and you'll learn something.

Derived From Web

, Jul 31, 2018

I finished reading this just now, and it has been such an enjoyable and enlightening experience that I plan to read it again soon. It is suitable for almost anyone and the writing style has carried me effortlessly. I was surprised to gain an important bit of understanding from this : as our technology advances, the production of engineering materials becomes increasingly energy-intensive, and the economy as well. This is what you read : It's fun and you'll gain a new appreciation of all the things you see every day.
Good book but ebook scanning quality is not good.

Derived From Web

, Apr 14, 2018

I read it due to Elon Musk's recommendation in his list of must-read books. Here I learned the basics of structural engineering, at least qualitatively. I, however, did not like the poor job of turning this into an ebook. Many of the scanned illustrations were of poor quality, and the text had many mistakes caused by poor optical character recognition and poor proofreading. Fortunately, the author's intent was usually clear, though the OCR errors were plentiful.
A comprehensive text that's fun to read.

Derived From Web

, Dec 14, 2017

I wish Gordon was my strength as a material professor. His grasp of the theme is only surpassed by his writing skills. Reminds me of Richard Feynman in his knowledge and his ability to teach a complex topic, BTW this is on Elon Musk's recommended book list. That is a nice endorsement.