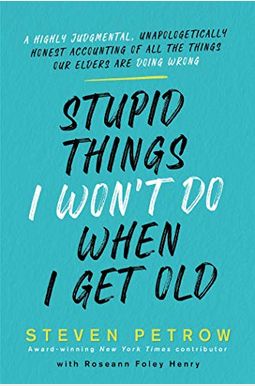  
Stupid Things I Won't Do When I Get Old: A Highly Judgmental, Unapologetically Honest Accounting Of All The Things Our Elders Are Doing Wrong
Frequently Asked Questions About Stupid Things I Won't Do When I Get Old: A Highly Judgmental, Unapologetically Honest Accounting Of All The Things Our Elders Are Doing Wrong
Book Reviews
(19)
Did you read Stupid Things I Won't Do When I Get Old: A Highly Judgmental, Unapologetically Honest Accounting Of All The Things Our Elders Are Doing Wrong? Please provide your feedback and rating to help other readers.
LOVED THE BOOK

Derived From Web

, Feb 18, 2022

I am in my later years and it really opened my eyes about aging. This book helped me to look at aging differently.
Just what I needed to read.

Derived From Web

, Jan 27, 2022

Books, non-fiction and fiction have to flow for me in a certain way to read and finish. In this way, this book was perfect.
Reality Strikes

Derived From Web

, Jan 22, 2022

I felt particularly happy about relating to much of the author's relationship with his parents. Could be a repeat of what my siblings and I went through. Laughter was the absolute best part!
Good book

Derived From Web

, Jan 19, 2022

Sometimes depressing, often uplifting this practical book is something that all 40's and 60's need to read in their 40's.
Get ready

Derived From Web

, Jan 3, 2022

What begins in a kind of serious and sentimental we all gotta go sometime '' manner ends on jaunty themes. But if you think that you might die at any point in the future, this book will be a good reminder of how to first live.
OUTSTANDING!

Derived From Web

, Dec 29, 2021

Hands down, this has to be one of the best books I ever read to date. A guide for consumers on how to age older.
A good read… especially for…

Derived From Web

, Dec 14, 2021

I started to say something for the older folk. I, however, think it is a worthwhile read for anyone over 25. It gives one more than a bit to ponder.
Not even remotely funny

Derived From Web

, Dec 14, 2021

Boring, is an interesting development. I've spent my time dressing the first 100 pages just right. To pick something better, read something else.
A very good read

Derived From Web

, Dec 8, 2021

Can see myself and my friends in these stages, good to know ahead of time. Also, be able to laugh on the way!
Great title, lousy book.

Derived From Web

, Oct 15, 2021

The title caught me in, but the book itself was a boring, narcissistic, and torturous waste of time. Couldn 't even force myself to keep reading and gave up halfway through. Then avoid.